Home » Daily, Food & Health, Parenting, Photography
Making : Despicable Me – Minion Fondant Cake for Vai's 7th Birthday!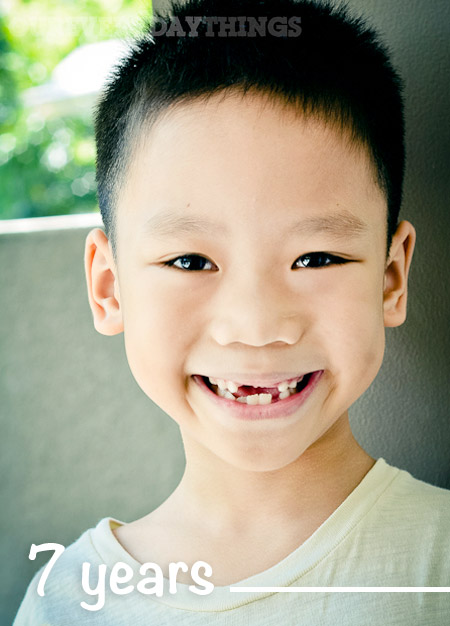 Okay. Get ready for one big pictorial post on Vai's recent 7th birthday! =)
First, let me start by saying, our son – the middle child – had his birthday last week.
And just like what I've been doing for the kids since 3 years ago, I decided to embark on this *mad* project of baking our own birthday cake!
Yeah, despite the lack of 'time and experience', I know I am mad like that.
(Note: I am not a baker. A total amateur actually. I only make birthday cakes for the kiddos, since 3 years ago. I don't even make figurines using play-doh =)
Anyway.
This time round, the theme was a MINION FONDANT CAKE!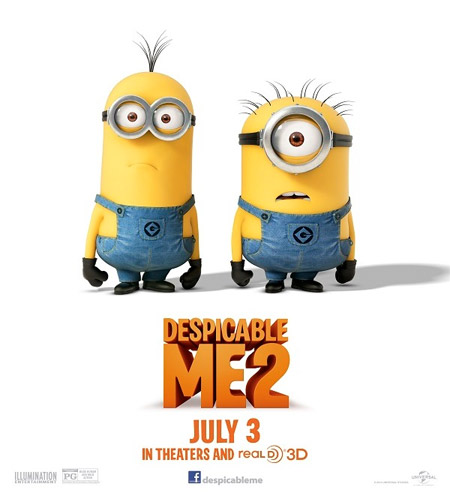 (Note: 'Despicable Me' the movie has been quite a hit with the kids, and since Vai also likes it, I thought a Minion Cake would be a nice change to the usual 'car' theme =)
So, this was what I did when I prepared the cake and the fondant from the start.

(Hope this post is also helpful to those who are thinking of making a Minion Fondant cake too. I'm sure there are many other ways of making the minion fondant and birthday cake, … am just sharing my simple version with you today =)
…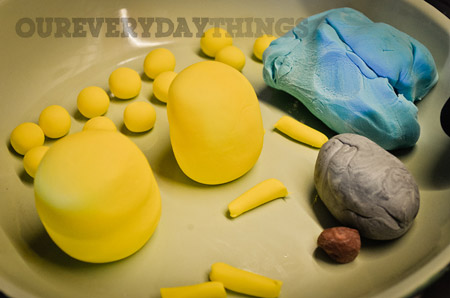 I went to a nearby baking shop to make sure I had the following at home :
– Ready-Made Fondant (I bought 2 x 500g fondant, and in the end I had about 20% unused fondant)
– Food colouring (you'd need : blue, yellow, black and brown)
– wooden (aluminium foil covered) cake base
– Box for the cake and candles
– Paper plates and forks
– Ingredients for the 'Yellow cake'  (see below for the link to the recipe)
…
Now, I'll start with the making of the Minion fondant.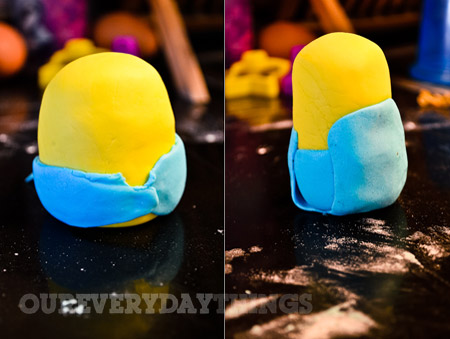 After colouring a chunk of fondant with yellow and blue (smaller chunk), I made an egg shape with  yellow fondant.
Then I 'put on the blue overalls'.
(Note: Stick the fondant together using a teeny bit of water)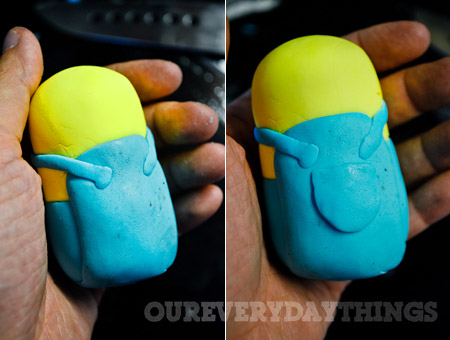 There you see, I couldn't get it all neat and nice =)
This was how I made the eye.
(I tried to keep things as simple as possible. So I decided to just make a one-eyed minion =)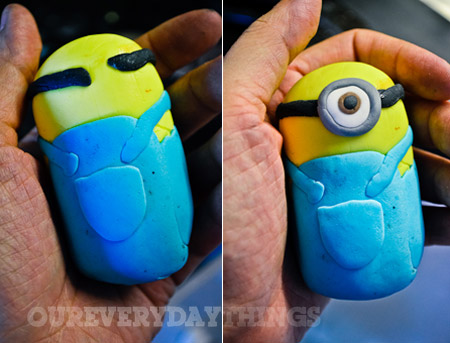 I created stitching marks using … a plastic fork. Haha. I know, I know. I should've used a toothpick.
I couldn't find any at home. So I snapped off a plastic fork, used the pointy fork part and started poking.
This is the first time I ever created a 'stitching mark', and hey … I like!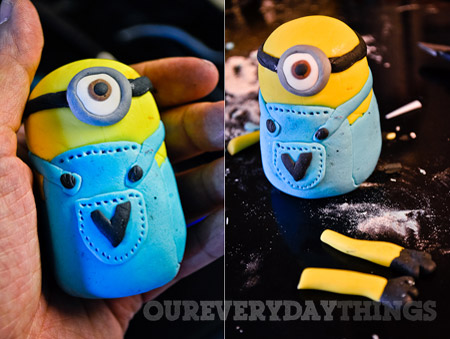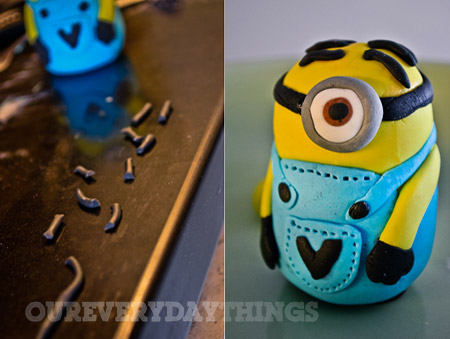 Then, it's 'hair time'!
I rolled a bit of black fondant into a long thin 'snake', cut small pieces of it, poked 6 holes on the head, and stuck the 'hair pieces' on the holes. Yes, with a teeny bit of water as the 'glue'.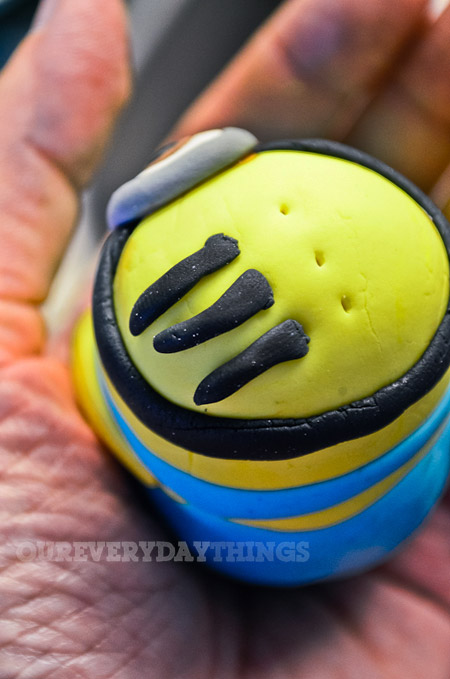 …
Now, it's CAKE time!
I found this really yummy and relatively easy to make YELLOW CAKE recipe off the internet.
It was used by the pioneer woman, so I guess since it's been tried and tested (and recommended!), I better go for this recipe and not be too adventurous!
(Btw, I recommend this recipe! The ingredients are pretty much easy and basic, AND the cake turned out nice and yummy!)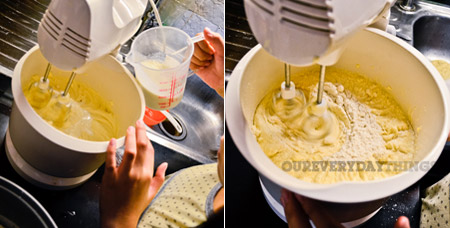 (Anya helped and prepared the cake!)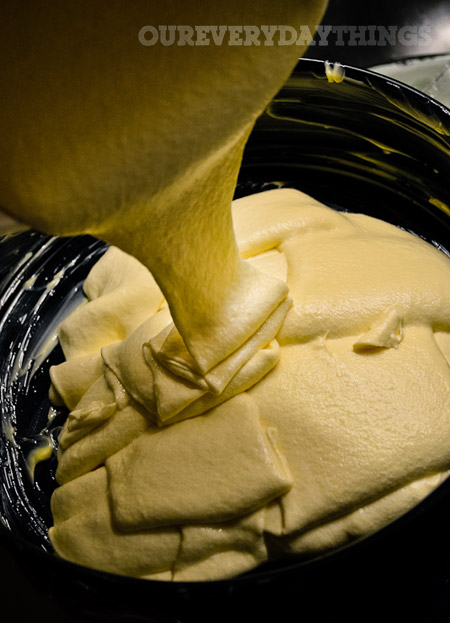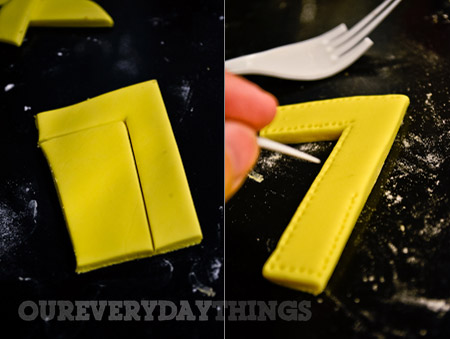 I was thinking of just using a 'number 7' candle.
But then, it's one of those red and white coloured basic candle, and it didn't seem to go nicely with the overall Minion Theme.
So, I decided to just make a number 7 with the leftover yellow fondant!
And as  you can see, I did enjoy making stitching marks on my fondant, haha.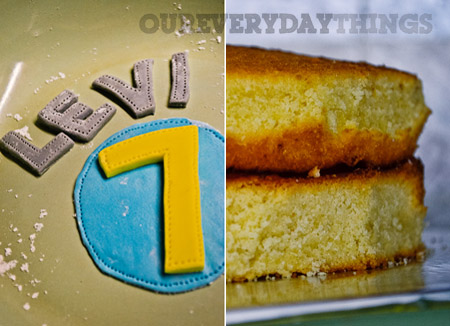 Note on the cake:
– I made TWO batches of this yellow cake
– Sliced out the 'uneven' sides of the cake, as pictured above (well, somehow it was still uneven afterwards, oh well!)
– To keep things simple, I skipped making the icing, and just smeared strawberry jam in between the two layers of cake!
– I smeared more strawberry jam ALL OVER the cake, so it can be the 'glue' when I placed the rolled out white fondant on the cake
– Because I used strawberry jam (and NOT icing), the fondant's surface was uneven *boo* But, since I really am pressed for time (and energy!), I could very well live with the uneven cake surface lah.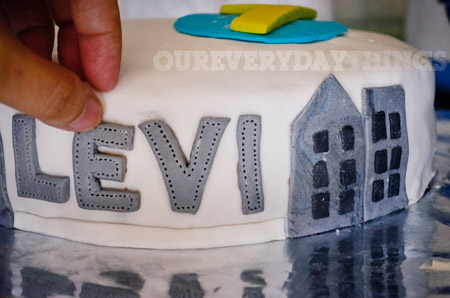 I had some leftover grey and black fondant.
So I made city buildings =)
For the sake of adding a bit more 'touch' to the very 'simple' minion cake =)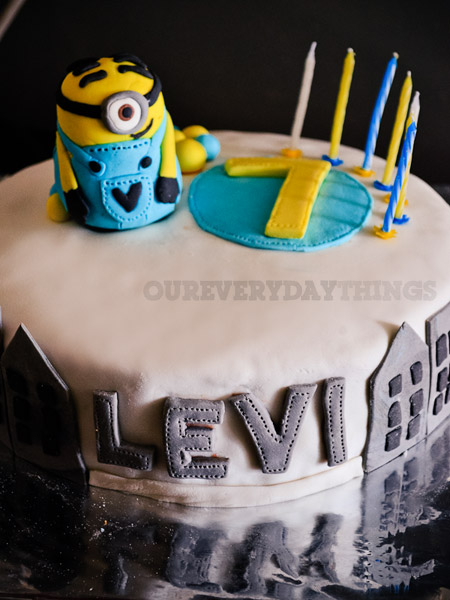 TA-DAA!
There it is.
Our very own Minion Fondant cake for Vai to cut at school!! =D
…
Note on the time taken to prepare the cake and the fondant:
– I spent about 2 hours on the fondant preparation, that's one day before the actual celebration at school
– The cake was baked the day before too. First later in the late afternoon, the 2nd layer, errr … after midnight.
– I put together the cake in the wee hours (Yes, I didn't quite sleep that night =)
– I placed the white fondant and the rest of the fondant in the morning, 3 hours before the actual celebration
(All the effort and lack of sleep was worth the while upon seeing the kids and Vai's smiling faces! =)
…
Now, here're more photos of what we did at his school!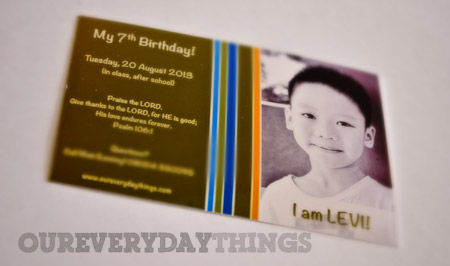 I made a simple 'birthday invitation card', went to a photo printing shop, and print them out.
And oh, I poked a 'star' (on a wire), to add a bit more touch to the cake (ie. So, it doesn't look too 'flat')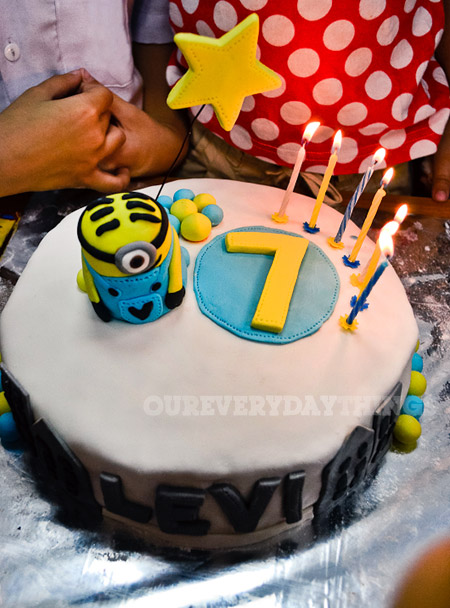 And here's Vai's simple gathering with friends after school!
Vai's classmates were super excited about the Minion Cake that they literally surrounded Vai and his cake, chanting 'MINION! MINION! MINION!'
Haha. It was so cute!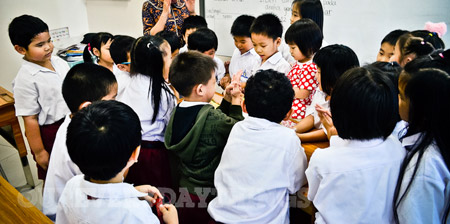 (A shot of the kids, getting ready to say a little prayer for Vai, before he blew the candle and cut the cake)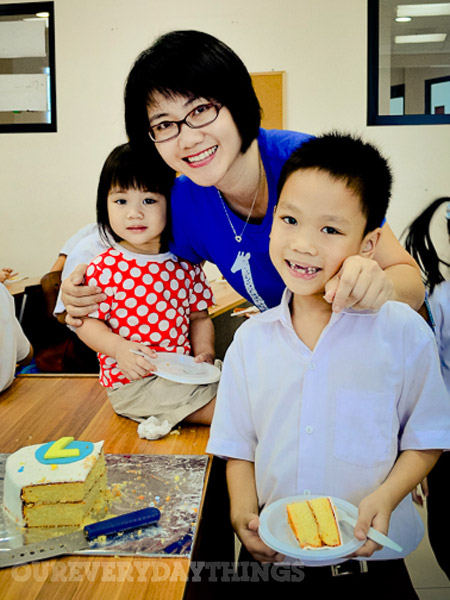 The kids loved the cake! And lots of them even asked for second servings! YAY! SOOO happy! =)
(Read: They're probably just starving because it's lunch time, haha. But anyway, it's an encouraging response to my birthday cake project! =)
Oh btw, they loved the fondant too!
They asked if they could eat the minion, the coloured balls, the number, EVERYTHING! Seriously.
But of course I didn't let any particular child eat too much extra. Sugar overload is never good for little bodies, remember? =)
(Oh, I did spare our one and only Minion, btw. We brought it home, hehe =)
Ah anyway, what a fulfilling project!
So happy that everyone's happy too in the end!!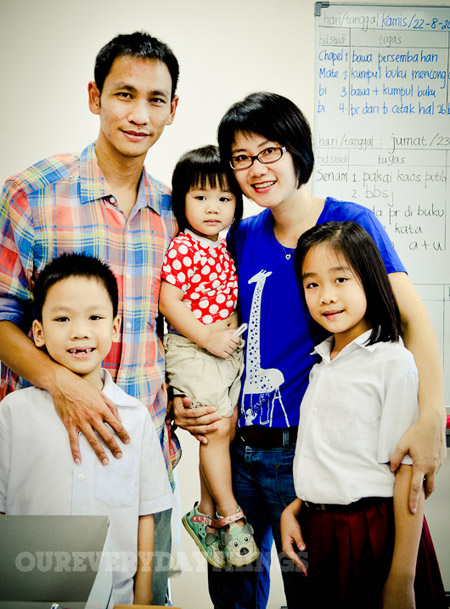 A note to Vai:
Levi,
I hope you had a blast at school on your birthday. I know you've been looking forward to your D-day. Your form teacher shared with me how you've been so excited about it that you counted the days and talked about it a lot at school =)
This year, I only managed to prepare the cake the day before. I've been very busy with so many things, and although in the end I managed to just make one minion (instead of my earlier plan of making two), I'm really glad that everything was done in time!
Daddy had meetings that morning too, but he ended it earlier, and rushed to your school, just so that he could be with you, and to see you spend your birthday with your friends.
Levi,
When you read this years from today, we want you to know that you're very much loved. By Mommy and Daddy. By Anya. By Brie. And most importantly, by God.
Don't you forget about that, ever. No matter what happens.
Love you little guy! *Big hugs*
Happy 7th birthday!