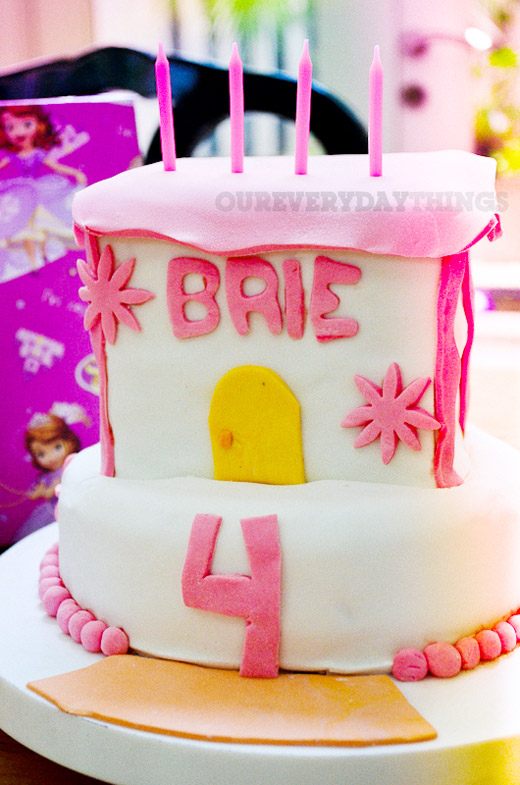 Just like most other kids, Brie had been counting the days (even months) … waiting OH SO EAGERLY for the day to come!
The day she'd turn FOUR! =D
It's not the presents or anything that she's after, I think.
She's simply so excited about becoming BIGGER, TALLER and … well, older =)
And oh, of course, THE cake.
She had always imagined that she had a PINK HOUSE birthday cake for some reason.
Simply put, anything pink would make her very very happy, hehe.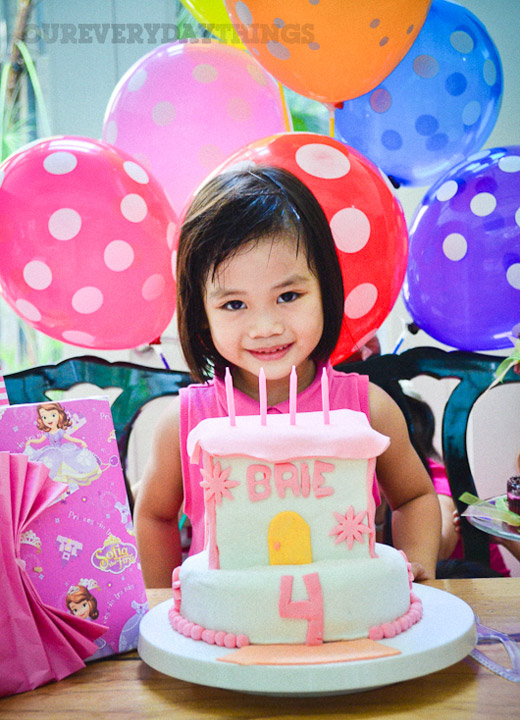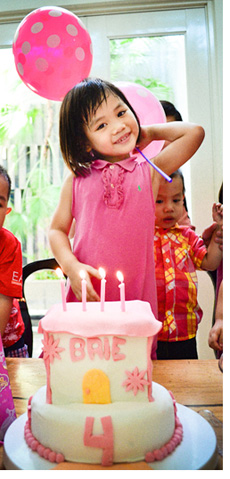 Now the thing is, I really didn't have much time to prepare for the birthday get-together.
I believe birthdays need not be extravagant.
Plus, I told myself that I MUST bake Brie's birthday cake this year (as the last time I baked a proper cake for her birthday was 3 years ago when she was ONE!)
…
And so this was what I arranged for her special day.
Keyword of the day : Pink. Lots of pink things =)
Clothes.
Brie celebrated her birthday when she had her weekly get-together with her friends.
These kiddos (and even most of their moms) actually wore pink that day. And, if they didn't have pink, they wore something red. So nice of them  =)
Goodies.
I got simple pink goodies to share with her friends : Strawberry Pokky sticks, strawberry milk,  strawberry Oreo biscuits and pink pencils.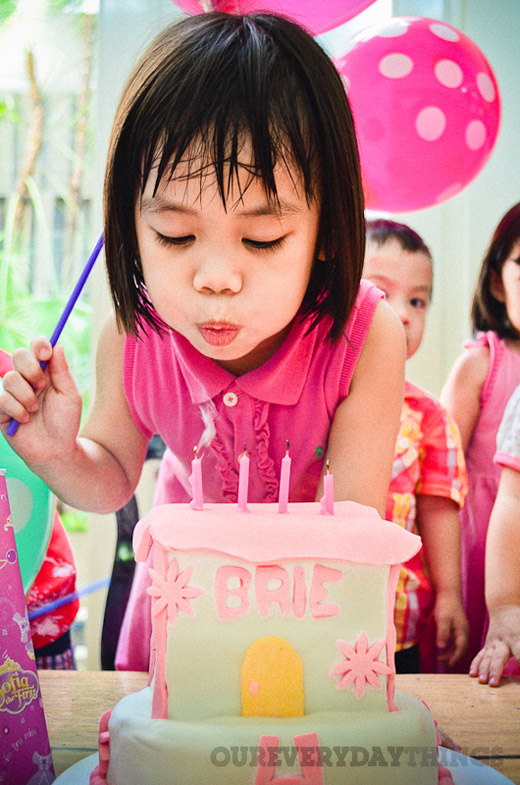 Decor.
Well, I actually didn't decorate anything.
What I did : Got a few colourful balloons (which of course included pink ones! =) and let the balloons be the 'backdrop', giving some 'bright and happy additions' to the moment (kids loved them!).
The balloons made the photos look cheerful and happy too!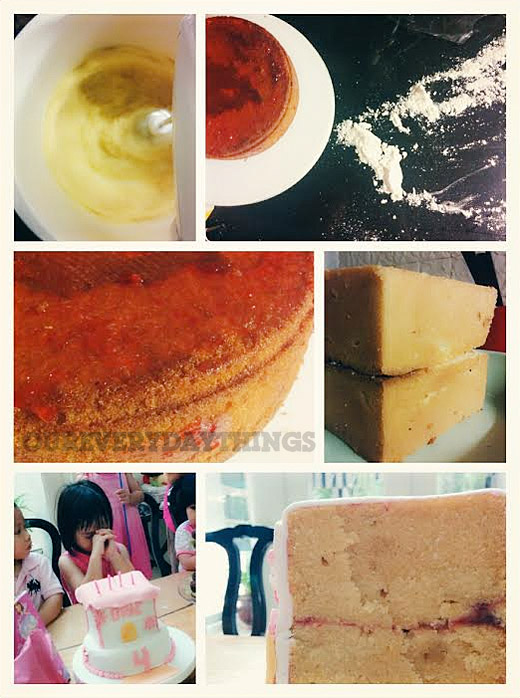 Cake.
I am so happy that I managed to bake a cake for Brie this year!
Frankly, I only had a few hours (started baking only at midnight!), and so I went with my fool-proof cake recipe – Butter Cake!
I used a round  baking pan for the base, and a rectangular baking pan for the 'house'.
I used unsalted Anchor butter for the round cake mix, and I used Blue Band margarine to make the 'house' part (I halved the rectangular cake shape, and stack it on top of each other to make a 'taller building').
(Hey, turned out that I COULD use Blue Band Margarine for my cakes too! =)
Covered it with fondant, and to keep things simple, I only mixed 2 colours into the white fondant : a little bit of red to create pink fondant, and a tiny drop of yellow food colouring, to create that yellow door! =)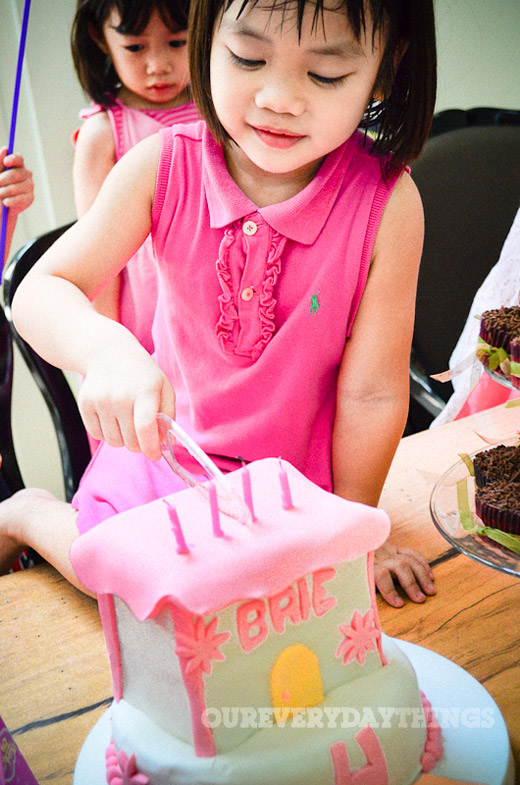 PS: I forgot to slice off the sides of the top cake to create the 'roof' of the house. I only realised this AFTER I placed the rolled out fondant over the cake. Great!
Oh well, I went along with it anyway, and just created what looked like an 'egyptian house with a flat roof', haha.
…
Anyway, it was a nice get-together.
And Brie told me how she's happy with her 'pink house' *Yay*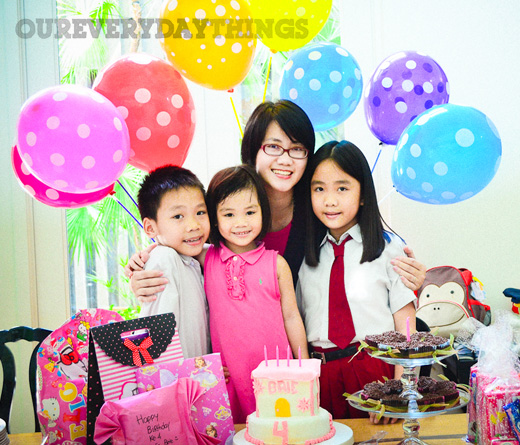 Mission : accomplished!
And you know what, I'm happy that we managed to keep this birthday occasion simple, yet happy and cheerful.
I mean, it was done with a hope that our children's focus was more on the presence of family and friends, loved ones, and on feeling thankful to God for everything that they have and have been given.

Anyway.
Blessed.
We feel blessed.