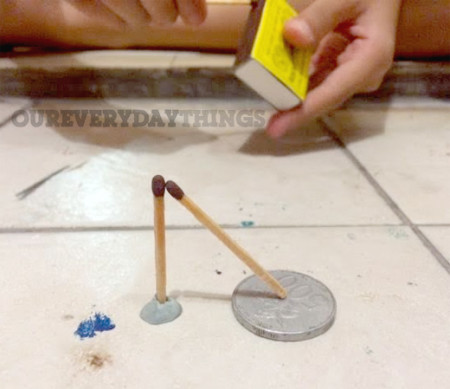 Our 9.5yo Vai finds science fascinating.
He loves the different kinds of experiments done at his school's science club (How fun and inspiring the teacher is, plays a great deal here, if you ask me =)
So anyway, the other day, we did this simple 'magic trick' together.
What we did:
1. We put one 'shortened' matchstick on a gluetag, just to make it stand firmly
2. Lean another matchstick onto it.
3. Light up the 'body' of the leaning matchstick.
That's it!
…
What happens after is this:
The tips of the matchsticks will magically stick together.
The 'leaning' matchstick will be lifted and the coin under it can then be moved without touching the matchstick!:)
(You see, this is the 'magic' part, ie. How do you remove the coin, without moving/touching the matchstick=)
…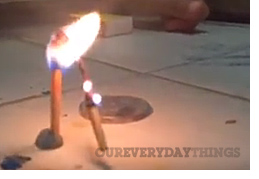 Why it happens:
Someone shared that this is because the 'phosphorus tips' of the matchsticks fuse together when burned (mmmm …. 'combustion' and 'phosphorus fusion'?)
(Btw, anyone else can explain what has happened, in simple words, may be?

Anyway, we don't have proper scientific explanation for this, but we believe such fun experiment leads to fascination, and we hope it continually drives the kids to want to discover and learn more and more

(They can learn what this is all about and explain to me later =)
AND oh, one last thing.
The fact that Vai failed so many times and yet tried and tried again without complaining (when putting the matchsticks together and when wanting to light up one of the matchstick) is to me, another valuable lesson on perseverance and not giving up too.
Here's the video of the experiment.
Have fun!