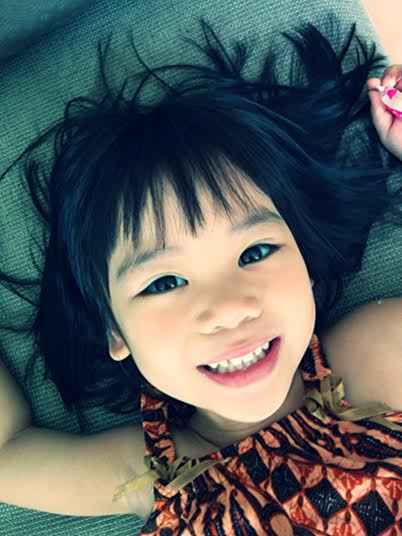 So how has it been raising Brie who is now 3 years and 5 months old?
Hmm. Let's see.
Here's how I'd describe what she's like these days:
… chatty
… LOVES dancing
… LOVES singing and making up songs with her own words
… pronounces words quite clearly by now
… increasing vocabulary
… at times surprises us with her phrases, eg. When our car just avoided a close 'touch' with a motorbike, she said, 'Puji Tuhan kita ga apa-apa ya, Mommy' (Indo for : 'Thank God we're alright, Mommy)
… had three cavities treated last week! The first kid in the family who has problems with her teeth at such a young age!
It was her first time ever getting 'treated' at a dentist, and she did very well, I thought.
(The first time she sat on the dentist chair, she wanted to hold my arm for comfort. And I did sit next to her, opposite the dentist. After 3 minutes, she's all fine)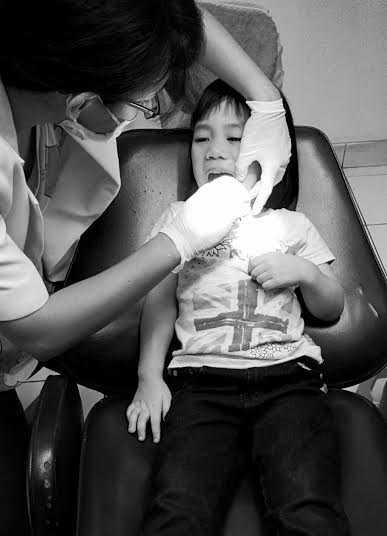 … can pick her own clothes, put them on, comb her hair, brush her teeth, put on her shoes, all ready to go out
… likes to dance in front of the mirror (and make silly faces)
… likes to change her home clothes to a DRESS, though we are at HOME (Seriously, we never encourage her to be 'princess-y' at all. Brie somehow has this love for girly stuff since she's little for some reason =)
… remembers things quite well (eg. When we passed one particular place, she'd tell me how she's been there and who she's with when she's there)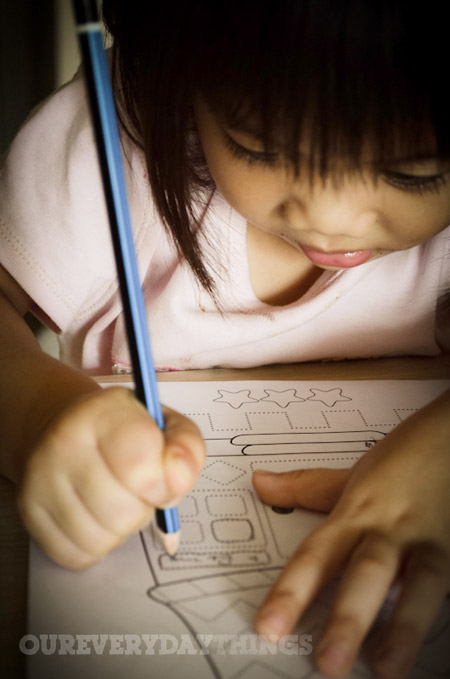 - when it comes to writing (eg. Learning to write the alphabets), she is not one who can focus for very long. Not yet so far. I mean, she'd try and write for one minute, then she'd prefer to get up and move around. More like her older brother in this case.
… recently, Brie can get extra tantrum-y. She'd cry over… over I-don't-know-what. Can be countless times a day. It is quite mind-numbing when such episodes happen. May God help me.
… when interacting with others, I notice she often displays quite a 'confidence & persistence' in what she wants, eg. Brie can insist on something (when arguing with another girl her age – a good friend) and the other girl could end up crying for not getting what she insisted on Brie. Found out about this from the girl's Mom. Interesting discovery of Brie's character.
- Loves to play with her sister and brother. Anya and Vai lately have this 'urge' to be Brie's teacher at home! They'd teach her alphabets, maths, chinese and all sorts of other 'school subjects'. Quite cute to watch, though I'm not sure if Brie 'gets it' though haha.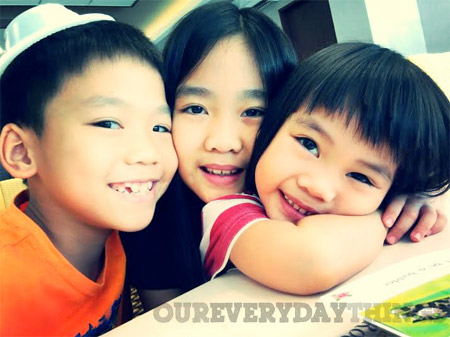 Well.
I say, Brie is this happy, smiley and chatty little girl who likes to dance and move to the groove.
How we thank God for this.
(Because we can't 'make her grow'. Her health and life is in God's good care and grace)
She's such a blessed little girl.
And we feel blessed too that she's in our family.
Looking forward to going through her growing up journey together with her.