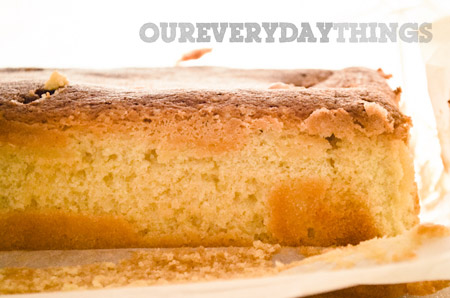 The day that our little man has been waiting for finally arrived!
Two days ago, Vai turned EIGHT! =)
He's been talking about it since last month.
What kind of cake will Mommy be making? Can I please have a Lego cake? What will be the cake inside? Can I get a present too? Can I give my friends some goodie bags? Can I see how the cake look like at home? When will you start making the cake?
Exciting times for the young man! =)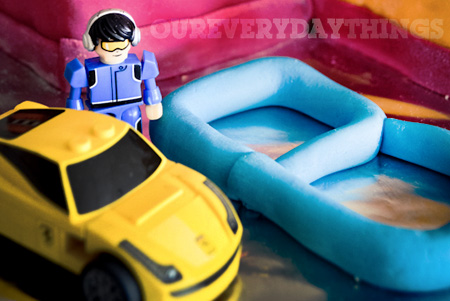 But, here's my confession.
I had very, very little time to prepare for the cake.
The goodie bags, plates, and everything were done the day before the little celebration at his school.
But, not the cake. Not the fondant.
I've been so busy (and physically drained) that whole week that I only managed to bake the 2 rectangular cakes some 8 hours before the celebration itself!
I mixed the coloured fondant and prepared the cake some 2 hours before I left for his school.
And.
Just so happened, immediately after the birthday celebration, I had two scheduled interview shoots.
Which meant, I had to prepare the questions and everything for the production too.
While having a 3yo girl with me throughout the rush (and all three of them throughout the shoot)
Seriously. It was beyond what I imagined I could do, and I just shrugged, laughed it off and tried to clear one thing at the time.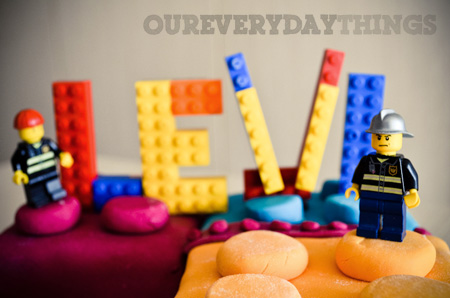 So, I baked the butter cake using the recipe I tried before.
I made the letters 'L', 'E', 'V', and 'I' using his Lego bricks. Grabbed some other Lego from his box as cake decorations.
Twirled the blue fondant and made an '8′.
No butter cream. Just some strawberry jam between the fondant and the cake.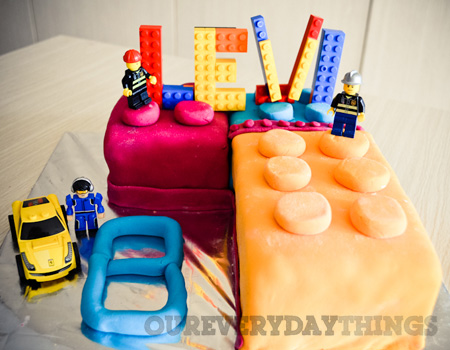 Deep inside, I felt a little guilty because the shape of the 'Lego bricks' are not 'nice and square'. The colours are not exactly Lego brick colours too.
But, as I rushed everything and reached his school, as I went into his classroom and opened the cake box, I saw the birthday boy's eyes widened when he saw the cake for the first time.
He then looked at me and smiled.
I gave him a big hug, and felt it was all worth it.
(Thank God that everything went well, including the shoots too =)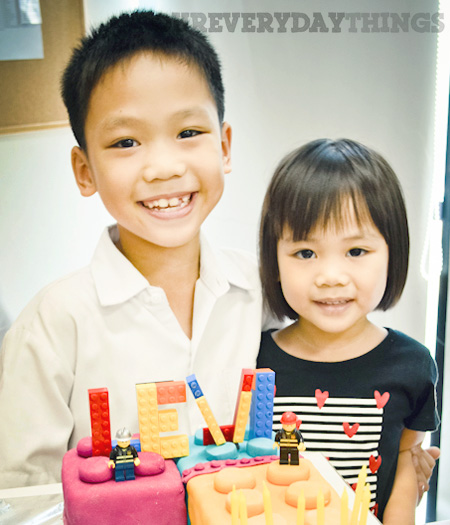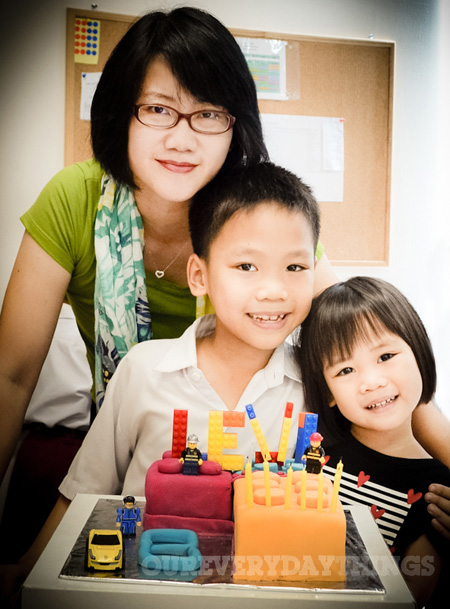 Note to our birthday boy:
Vai,
You love to make people laugh and smile. You can easily make new friends, anywhere.
You're the joker in the family. That's you, and that's your strength for sure.
You are progressing so well in tennis too. You beat bigger and older players in tennis games and competitions, and we're so proud of you.
As we have always shared with you, in everything you do in life, do your best.
It's not about getting any medals or trophies. It's more about developing and maximising God's given talents. About being responsible with what we've been blessed with.
And, just like how you focus on doing your best in tennis, learn to do the same in other aspects in life. The skill to focus, concentrate and pay attention to smaller details is something that we all need to have.
Also, don't forget that we always pray for you too.
Our prayer is that you'll grow and become a man who's after God's own heart, someone who personally experiences God's goodness, strives to be Christ-like, and becomes a blessing to many.
(I always look forward to the day all five of us can serve God together as a family!=)
Anyway.
Happy Birthday, Vai.
Always remember, that whatever happens, we all love you very, very much.