Home » Daily
Looking back at the Year 2011, and Gearing Up for Our Next Family Adventure!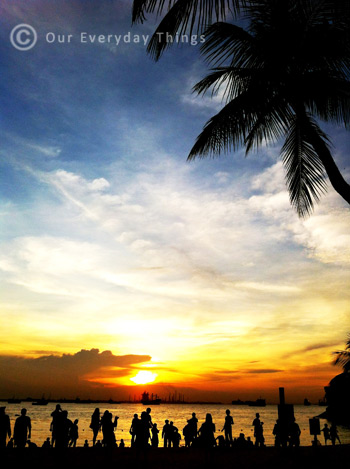 [The sun sets everyday, but a new day filled with new hopes begins the next day. Photo was taken at Siloso Beach, via iphone]
…
I have been wanting to write this post for the longest time.
But each time I wanted to sit and pen down my thoughts, there seemed to be 1001 other things that I felt I needed to do.
Perhaps it's my mind's way of avoiding something.
This is one tough post to write. And I really don't know how to start.
Umm. Okay.
Let me try. .
(I think it'll be a rather long post. Hope you're willing to sit and read for a while)
…
Some of you may know that my hubby has been traveling overseas for business, since the beginning of last year. He flies back to Singapore every weekend to be with us, and flies overseas again on Monday or Tuesday morning. It's been like this, every week.
Last year was a tough year for our family, because we had to be away from each other so much.
Hubby and I struggled day in and day out, in our own areas of responsibilities.
In two different countries.
Last year was especially challenging because it was the year when I was pregnant and had a newborn baby Brie too. It was also the year when Anya entered Primary One.
The coaching, sending and picking up from school, managing our home and housework, handling the day to day activities, dealing with tantrums and attitudes, while being heavily pregnant and then caring for a small baby.
Frankly, now, when I look back, I can't quite imagine how I managed to get through the whole of last year.
All I know, we did sail through it all. And hey, we did have fun too along the way! =)
…
Many did ask, 'How did you do it?'.
Well, frankly though, there's no straight answer.
I only know of these TWO things:
1. I know I would NOT be able to cope one single day with three kids and no helper / family support and my hubby being here only over the weekend, IF I were to depend on my own strength and capability. It's a tough reality and I'm definitely not a super woman!
2. I know I sailed through only because of God's grace, mercy and strength. Everyday, I humbly asked God to give me the needed strength, patience and endurance that's enough for me to go through the day, and HE did give what I needed.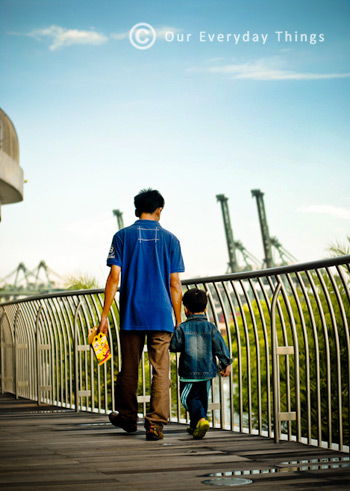 [Spending my days and growing up with Daddy? Yes please! Here is 3-year-old Vai hand in hand with Daddy at VivoCity, back in 2009]
…
It took us one whole year of praying and really seeking after God's will. Do the kids and I stay here while Daddy continues to travel in and out of Singapore? Or perhaps, we should move and stay together as a family?
I guess, like most people, I personally prefer to stay in my comfort zone. I prefer familiarity. I'm settled here in Singapore. I've built my home, my family, friends and community here. From zero. I like things the way it is.
The question is: Is it all about me and what 'I' want?
Could there be wonderful and bigger plans ahead of us that we're not yet aware of, waiting to unfold, when we ourselves are willing to 'enter the unknown'?
…
We have recently come to a decision.
And, we have chosen to stay together as a family.
Yes, I'd like to stay put, but given the option, I much prefer to stick together, and face challenges TOGETHER. To be with each other in whichever country God wants us to be.
Anyway, my hubby and I also believe that God's plans are always good for those who place their trust in Him. We also believe that if we ourselves are willing, God can use our family as a blessing too in our new place, new community, new surroundings.
(It won't be easy for sure. And we know we'll need to go through a whole lot of learning journeys ahead!)
…
PHEW.
There. I've finally managed to pen down our family's big adventure!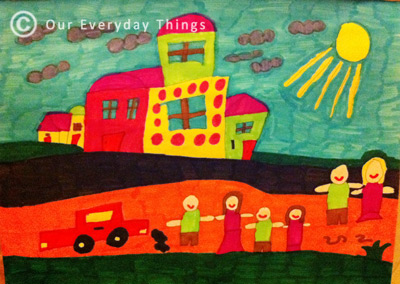 [We shared with the kids our plans from day 1. Together with them, we prayed and asked for God to clearly show us what HE wanted us to do. When we finally decided to move, Anya drew this, the surrounding of her home in Jakarta]
…
So where is this city we'll be heading out to next?
It's JAKARTA!
Yep, the city where I was born and raised for over a decade.
And, errr … it's been TWENTY TWO years since I last lived there, so ummm, yep, it'll be an adventure alright, adjusting to life WITH THREE KIDDOS there this time round! =)
…
When are we leaving?
Eeeks, … in three-and-a-half weeks!!
(I'm still trying to get the idea to sink in my head that our little family will start a whole new adventure in a different country in less than a month!)
…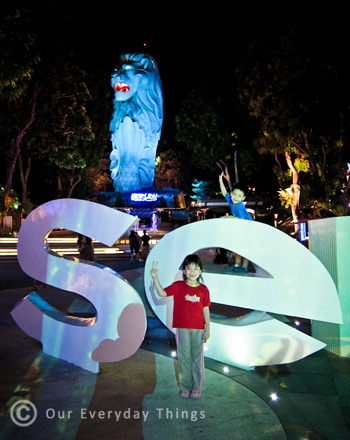 Am I sad? Am I excited?
I DEFINITELY am missing Singapore already!
I can't help but feel sad about leaving Singapore!
Career, marriage, friendships, children, and millions of other memories were built right here in Singapore!
Thinking about leaving my home, my friends, my neighbourhood, and everything already makes my heart ache and feeling all emotional! SO, I've been trying to not think about it much all this while, and just face the fact when the day comes! I'm sure I'll look like a wreck at the airport! *Arrrrgghhh*
On the other hand though, I am also excited about the new adventure our family will be having together in Jakarta! I know, it's a HUGE move for us! Lots of adjustments too! Imagine ME, driving the 3 kids around in the jam-packed streets of Jakarta! And btw, the last time I drove a car was back in Australia, THIRTEEN years ago!
(Oh btw, there are also other big plans that I'll be doing in Jakarta this year! Am super excited about those as well!)
Ah. It's a weird mixture of feelings, really!!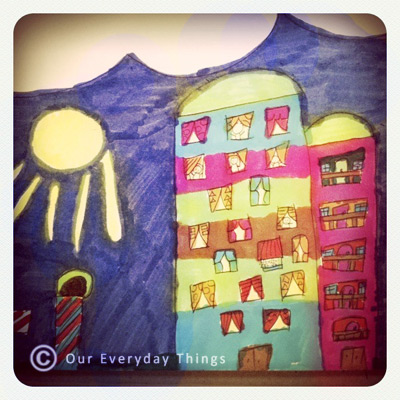 [Anya's drawing of our new home in Jakarta]
…
Anyway, I'll sure keep on blogging away! Hope you'll continue to follow our family's big adventure in the city of Jakarta! =)
(Most welcome to follow my daily updates and add me on Facebook and follow me on Twitter! If you're an Indonesian, you can follow me on Twitter/MomLeonny too =)
And Jakarta oh Jakarta, … hope you'll welcome our little family there! =)
*Okay, I think I need to get back to spring cleaning and packing our stuff. Have a wonderful weekend, everyone!*