Home » Inspirational, Parenting
Parenting : When we feel our children grow, too fast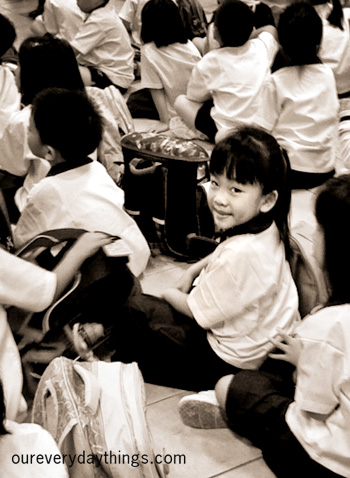 I still find it hard to believe that our Anya is already in Primary One.
I mean, we have a PRIMARY-SCHOOL-GOING daughter!
Already!
AND, Vai is now in K1 as well!
(Btw, that's Kindergarten 1, ie. two years before he goes to Primary one here in Singapore)
…
In my head, I know that we need to face the fact that time flies, and that our children WILL grow up.
That they WILL spend even longer hours AWAY from us parents.
That they WILL be exposed to more and more external influences.
That they WILL see more of the world, the good and the bad, WITHOUT us by their side to guide them.
But in my heart, I still … wonder. About many things.
I wonder if they'll cope well in their new environments, and with whatever academic expectations the school has on them.
I wonder if they'll make new friends. Friends who will be of positive influence to them.
I wonder if they will be blessings to others themselves.
I wonder if they'll pick up bad habits.
I wonder if we can continually maintain an open communication, where they get to openly tell us about school, about their worries and joys, and everything.
…
Really.
Now that they both are back at school (with Anya spending 5 – 6 hours away from us each day!), I too wonder if we've done our best in preparing them (especially Anya) for the challenges ahead. Morally, spiritually, emotionally, cognitively, psychologically. Everything.
Sometimes, I feel I haven't done enough.
Like, I should've done … more. Or something.
Hmm. But then again, I guess it's part and parcel of being a parent.
You know, that as parents, we most likely will feel that we should've done more of this and more of that, when we're reminded of how fast time flies and how fast our little ones grow right in front of our very eyes.
…
I personally am very glad though that I'm yet again reminded of :
… how I need to be there for my children as best as I can. Because they grow up in a blink of an eye.
… how being a parent is a privilege (as well as a huge responsibility).
… how although I can't always be there for my children, God can.
… how I need to continually pray for God to watch over these little ones, every moment of the day, like He has always been from the very moment they were entrusted in our lives.
…
Hope the year starts well with you and your family.