Home » Daily
The Story (and Plans) behind Vai's 4th Birthday Cake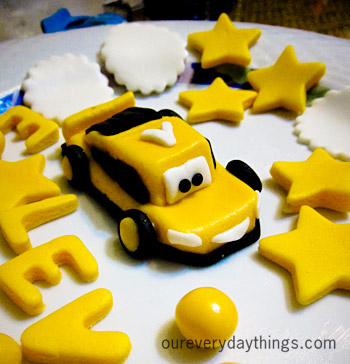 [Second attempt in making a car out of fondant. Tried a different approach and I was happy with this one! Oh btw, that's 'V' for 'Vai' on the car's rooftop! Haha]

Okay.
This post is SO long overdue!
…
[Get ready for a very long post! If you're not into baking or birthday planning, you may want to skip this one!]
Hmm. Let me start with this:
For those who are new to my blog, my son just had his 4th birthday two weeks ago.
I decided to make him a birthday cake, using fondant. Which probably was seen as a little mad by some because I'm a total beginner when it comes to baking anything. Let alone using FONDANT.
You see, about 2-3 weeks before Vai's birthday, I thought to myself, if the birthday cake is covered with fondant, it'll look 'nice and neat', so why not give it a go anyway! (Especially since I've experimented on using fresh cream on Anya's 6th birthday cake earlier this year!)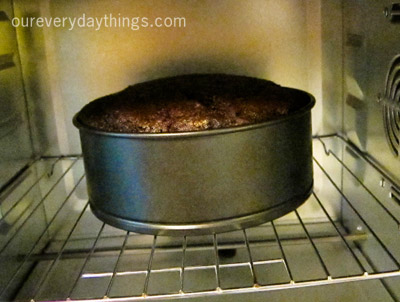 [Our one-month old oven]
And so the week before Vai's birthday I experimented on making chocolate cakes. And settled with one particular chocolate cake recipe.
I then went to Phoon Huat store to get some alphabet cutters and stuff.
When I was checking out, I asked the store assistant if they have any 'fondant packets' or something (at the time I had NO idea what to look for or how the 'package' would look like). She replied, 'I don't think we have any left in stock'.

[Making my first marshmallow fondant!]
On my way home, I remembered about seeing a Youtube video on marshmallow fondant, and I thought, 'I should just make my own Marshmallow fondant then'
And so I stopped by a supermarket and bought 5 packs of 'mega marshmallows' and a few packets of icing sugar.
Now. The planning part.
That weekend was actually a busy one for us (ie. We're NOT home the day before Vai's birthday celebration on Sunday):
Friday, 20 Aug : Actual Birthday
Saturday, 21 Aug : Off to stay overnight at Holiday Inn Hotel by 11.30am
Sunday, 22 Aug : Return home by 2.30pm, leave home at 4pm for church WITH the cake as Vai's birthday celebration was at 6.30pm
…


[My arms and fingers did feel a little sore from all that kneading and folding. You can tell how I SO need to exercise regularly!]

Looking at that busy birthday weekend schedule, I knew I had to plan ahead and make my fondant and birthday cake a few days EARLIER.
So this was the plan which I actually carried out:

Monday, 16 Aug :
– Made Marshmallow Fondant.
I made my first fondant 'creation', ie. THE blue-coloured Dinoco Lightning McQueen and a few 'balls' (that will go around the side of the cake)
Tuesday, 17 Aug :
– Made yellow-coloured car and 'cut out' a few stars and shapes, the alphabets (L, E, V, I) and made a few more 'balls'.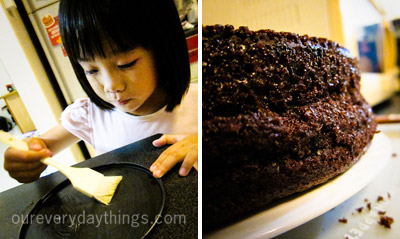 [Anya helped and spread some butter on the baking pan]

Wednesday, 18 Aug :
– Made chocolate cake (bottom tier) at night, wrapped it in cling film and put it in the fridge
– Made a 'traffic light' and a little 'boy' figurine!
It's supposed to be 'Vai' wearing his blue top, btw. Hehe. It was my first time making a 'person' out of fondant, and it took me a VERY LONG time. A pro would probably get it done in 10mins or so.
But. I was very happy with the result! I went to bed in the wee hours, but with a big, satisfied smile! Haha!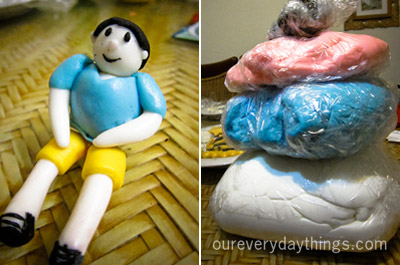 [Keep fondant at room temperature, wrapped in cling film and stored in an air-tight container. Do NOT refrigerate as it'll melt!]



Thursday, 19 Aug :
–  Found the 'wires' I needed (to stick the fondant stars onto the cake) at a neighbourhood hardware store! YAY!
– Cut the wires into shorter bits, and made more 'marshmallow fondant'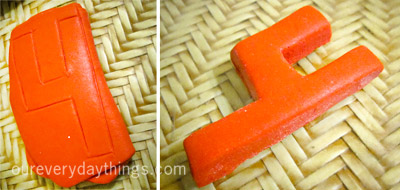 [I 'sliced' the number with a knife, inserted the wires and left it at room temperature to 'harden']


Friday, 20 Aug :
– Made the number '4' (above photo)
– Made buttercream (to go all over the cake, before you place the rolled fondant over it. After I put buttercream all over the cake, I put it in the fridge)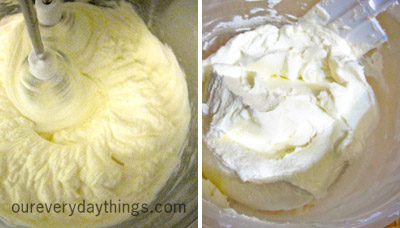 Btw, as you can see, my chocolate cake 'crumbled', and was all over the buttercream!
And I was like, 'Uh oh! Why does the surface keep on coming off? Bleh. It's going to be covered with fondant later, anyway!'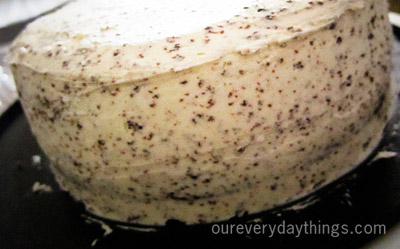 – Made more chocolate cakes (the 2nd tier for Sunday, and another small cake – photo below – for Vai to cut and share with his friends that day, since Friday, 20 Aug was Vai's actual birthday)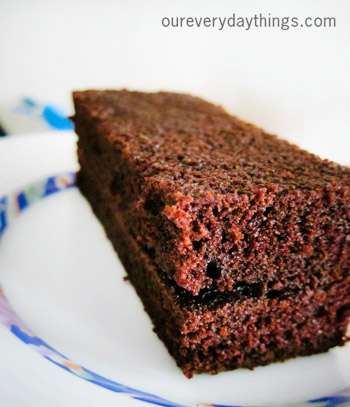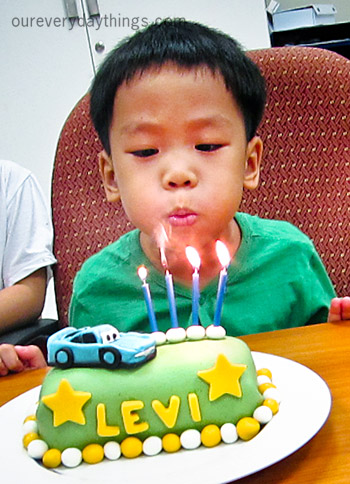 On that same day (Friday, 20 Aug), I put some buttercream on the chocolate cake, rolled out the green-coloured fondant and put it over the small rectangular cake.
[I thought the fondant layer should be a little thinner though]
Vai LOVED how the cake turned out, the car and everything that was on it! He could NOT wait to bring out the cake that night and share it with his friends!
YAY!
*One happy Mommy upon seeing one happy birthday boy!*
…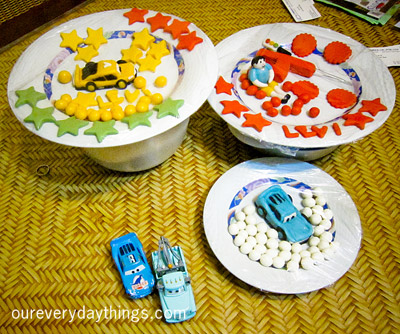 [Those two cars – bottom left – are REAL TOY cars. We put them on Vai's cake just before we brought out the cake at Sunday School]

By the time we all left on Saturday morning to stay overnight at the hotel, all 'necessary materials' to make the bigger cake on Sunday were done and prepared.
Well, at least I thought so.
I was like, 'Wow! I don't need to RUSH like I usually do!'
Errr … but then again, things were different from what I expected when Sunday came.
We reached home at about 2.45pm, and within 1.5 hour, I was supposed to:
– get myself and both kids ready to go out again
– take out the 2 buttercream-covered cakes from the fridge
– roll out the fondant
– decorate the cake, etc
And I was rushing like MAD.
[Soon after, the kids left the house with Daddy so I could concentrate – and RUSH – better. Thanks Daddy!]
First, I estimated wrongly : I didn't prepare enough coloured balls to go around the two tiered cakes!
And so I rushed and made as many balls as I could!
After making enough to cover the smaller cake at the top, I decided to just make a 'blue ribbon' to go around the bottom cake!
Second, I didn't know that I needed to put the fondant in the microwave for a few seconds to 'soften' it! (I found out about this from a friend only afterwards)
So I did spend quite a bit of time trying to re-knead the fondant (and applying more shortening) to make the surface 'smoother' before rolling it out.
[The RUSH was unbelievable!]
But finally, I got it all as ready as I could!
I was so relieved.
And happy!
*smile*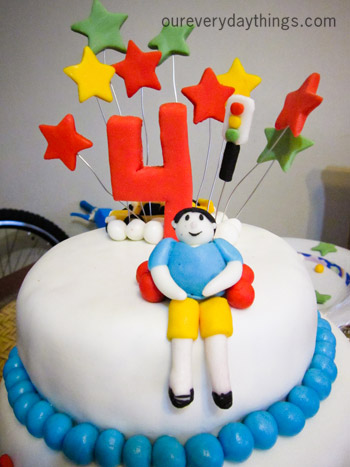 [Took a quick shot of the cake before heading out!]
…
When it was finally 6.30pm, it was time to bring out the cake.
And here's the rewarding part: Vai was surprised and SUPER-HAPPY when he saw HIS cake!
And right there, at that moment, I felt everything that's been done was so worthwhile!
The little guy was very happy, and the cake was lapped up by everyone!
One satisfying experience!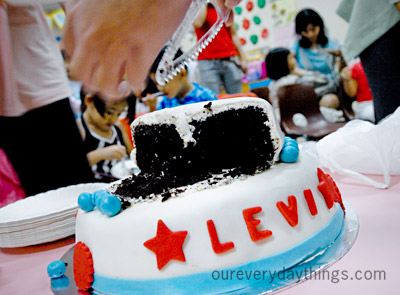 [The layers : chocolate cake, buttercream and fondant]
…
I must say, this whole experience was again another adventure for me.
An experience where I learned new things and learned from mistakes.
And, I'm thankful to God that I have a hubby who was supportive from the moment I told him I wanted to try something new for Vai's birthday.
I'm thankful for the many friends who shared their inputs and baking advice with me (So glad that these days we have the internet and heaps of insightful youtube videos too!)
I'm glad I went ahead with this 'attempt' to make Vai's cake using fondant too, because:
– Again, I get to share with my two kiddos how we should never say we can't do something IF we've never given it a good try
– I learn how 'determination + a bit of planning + hard work + love' matter, and how these factors do help in achieving a goal and getting things done

– I can encourage others out there who're thinking about giving it a go to ACTUALLY give it a try too!
…
Anyway, here are two more photos to share!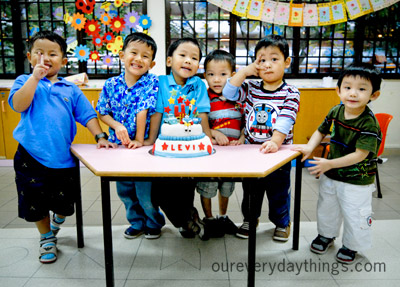 [Vai and the boys in his Sunday School class]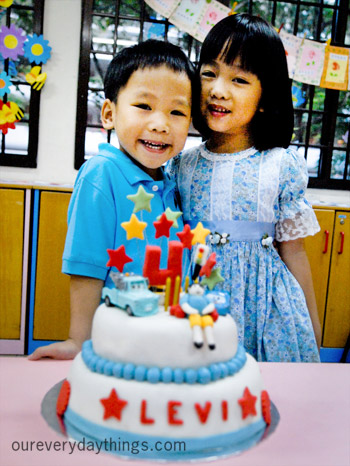 [With big sister Anya]