Home » Daily, Food & Health
Vai's skin problem : What it is, according to our dermatologist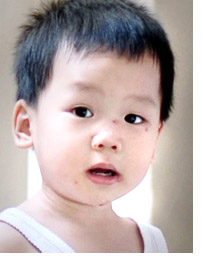 Two weeks ago Vai had a tiny scratch on his nose tip, and since then he's been having 'strange sores' appearing on his face.
First, his nose looked as if it's been burnt, then as the scabs slowly came off, little red blister-like dots appeared here and there.
We suspected cold sores. We even assumed it's actually some sort of an allergic reaction to this medicated ointment called 'Zam-buk'.
Since his skin condition didn't get better, we went to see a dermatologist at National University Hospital to find out what it's all about.
[We saw Dr. Seow from clinic D]
And we're glad we saw a skin specialist because within 3 minutes of seeing him, he told us it is NOT an allergic reaction to Zam-buk!
He said Zam-buk contains Eucalyptus oil and it's actually alright for kids' skin.
Hmm.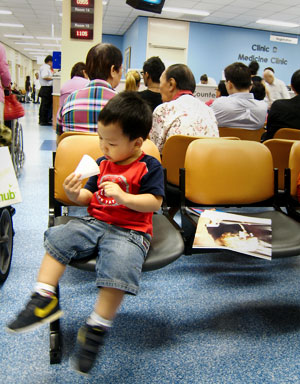 Vai apparently has this skin condition called 'Impetigo'.
[And here's more info about it for everyone's reference, just in case you encounter anything similar in the future]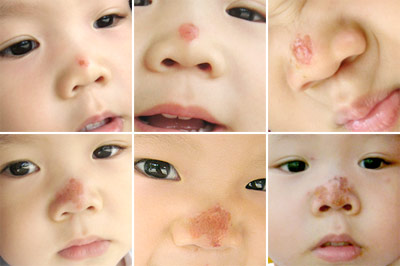 It's a skin infection that happens when a certain type of bacteria enters the skin, eg. through a cut or scrape, and it's common among children between the ages of 2 and 6 years.
It is contagious if the infected skin touches another person who has a cut too. Otherwise, our healthy skin is well designed to resist all sorts of infection, keeping billions of bacteria from entering our body.
[Photo sequence above : how it all started and developed over six days]
For Vai's case, then apparently the bacteria got in through that tiny little scratch on his nose.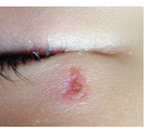 There are two types :
crusted and fluid-filled blisters, and apparently Vai got the crusted type.
Though in some cases they do get itchy, for Vai's case he doesn't feel the itch at all. There's no fever and he's as normal as he can be.
And here's the good news:
however 'scary' the skin may look when one has impetigo, there'll be no scarring (Phew!). And with antibiotics, it should all clear within three or four days.
[And really, after a quick check on the internet I saw how 'bad' the skin condition can get when one comes down with Impetigo, and I'm VERY glad Vai's condition is still considerably mild when we saw the doctor!]
Frankly, with Vai touching 'everything' in public, playing and even lying on the floor in public places at times, I do wonder if I can actually 'protect' him from getting bacterial infections again in the future.
I don't think I can though.
On one hand, I obviously don't want him to get sick or infected by anything (no sane parents do).
On the other hand however, I never want to be a parent who carries antiseptic wipes everywhere, always wiping my kids hands and face every time they've played and touched something in public. That'll be too paranoid for me, and my husband and I don't want to have such an attitude when it comes to kids and play.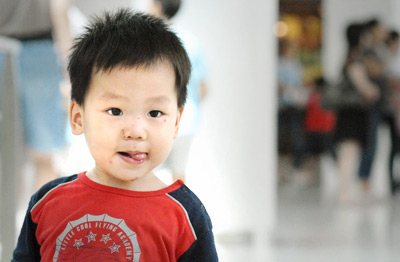 And so having gone through this episode with Vai, this is what we'll most likely do :
Try to immediately (where possible) apply antiseptic cream when our kids get scratches or cuts while in public, to prevent bacteria / germs from entering the body through that cut.
BUT. Even if we practice such a habit, I know there's no guarantee that our kids will be 'protected' from sickness though (eg. if he's gotten the bacteria on his skin right BEFORE he gets a cut, or when the scrape is simply not noticeable)
In the end, it all comes to down to one thing I think :
If our children are healthy, if we're healthy, if our other family members are healthy, it's not because we can protect ourselves 100% from sickness (because nobody can ever do that).
It's only because of God's grace alone that we have good health.
[One more good reason why we should always live a grateful life, counting our 'uncountable' blessings we've received from above]
Now. I do look forward to seeing Vai's skin getting the 'all-clear' condition real soon!
………………………………………………………………………………………………………………………………………
Click the links below to read more on IMPETIGO :