Home » Giveaways, Awards & Reviews
Giveaway : Let's Rock Elmo!!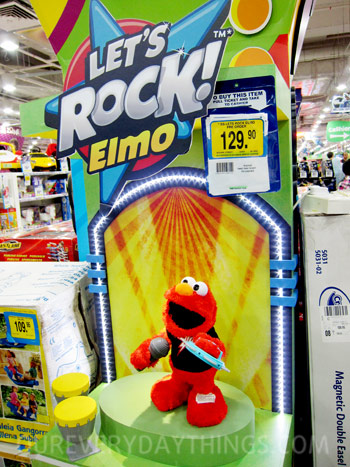 If you've recently visited Toys 'R' Us at VivoCity, you'll definitely spot THIS as you enter the store!
A booth specially made for Let's Rock! Elmo toy (so that customers can pre-order the item!) that will officially be launched in Singapore next week, 21 September!!
(It's a big hit elsewhere around the world, btw!)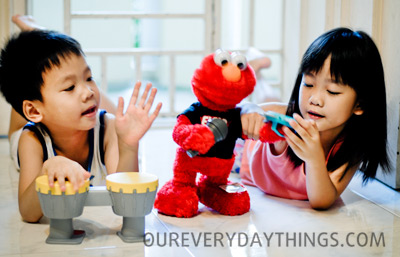 The kids and I have personally checked out this Elmo, and here's what we think:

– It's a super smart toy! I'm impressed! It can move, it can sing 6 different songs, it asks questions!
– The item comes with a microphone, a tambourine and drums, which you can place on Elmo, and he'll respond differently to each item!
– I thought Anya (who is 7yo) will be 'too old' for this (especially when it states that it's for 18m – 4yo), but … she plays with it as well! I mean, hey … it's a toy that talks and responds to different approaches, who wouldn't be drawn to play with it? =)
…
Click on the video to take a look at Elmo in action =)


…
ANYWAY.
Here's the good news!
Thanks to Hasbro, I have ONE SET to giveaway!
Yes, one brand new set for you to win!!
…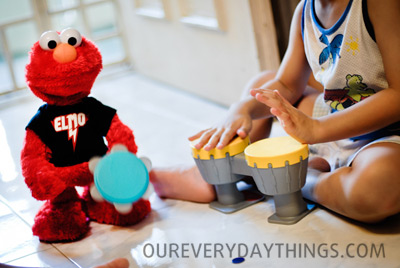 Three simple steps to enter the contest:
1) 'LIKE' the Our Everyday Things Facebook Page, if you haven't already =)

http://www.facebook.com/oureverydaythings

It's where regular parenting tips and thoughts are shared (and discussed!)
2) Share this contest on your Facebook, Twitter or via email to friends
3) Click THIS LINK (it'll take you to Hasbro.com website) and name ONE item that's being featured on that page! Leave your answer in the comment section of THIS blog entry please =)
And that's it! =)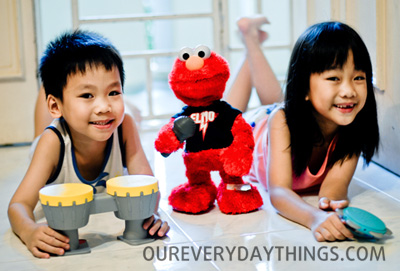 Here's a few other important info:

1) Contest ends next Wednesday, 21 September, 11.59pm (on the day this Let's Rock Elmo toy is officially launched in Singapore)
2) One winner will then be randomly selected, and announced the very next day (Thursday)!
3) Contest is open to everyone who can collect the item personally if he/she won!
(Note: If you're overseas, and you have someone here in Singapore who can collect it on your behalf, hey … go ahead and enter the contest! =)
4) Maximum 2 entries per family please =)
…
Can't wait to pass this cool toy to one lucky winner!
All the best, everyone!
…
[Added : 22 Sep 2011] And the winner is :

Lynn
Congratulations Lynn!
Thanks Hasbro for sponsoring, and thanks everyone for participating!
…
A 2nd Chance

To those who ALREADY left your comments : If you'd like to be in the 2nd draw where we'll be giving OUR set of Elmo to YOU (We still have the box and Elmo's still very new, just that Anya and Vai have played with it for a while =), please click the 'REPLY' button under your own comment and say, 'Yes, 2nd draw please', or something like that =) I'll be picking another winner using a random number generator tomorrow, Friday, 12pm, Singapore time!
…

[Added: 23 Sep 2011]
I asked Anya to pick a number – to determine the 2nd winner – and she said the number 7, because she's seven years old =)
So we counted the '2nd draw entries' from the top of the comment list, and … the winner of the 2nd draw is : Yuli!
Congrats Yuli! Your little ones have won Elmo!! =)
Thanks again everyone for participating!
If you haven't won anything this time round, here's some news to share : There'll be another giveaway next week! Stay tuned! =)