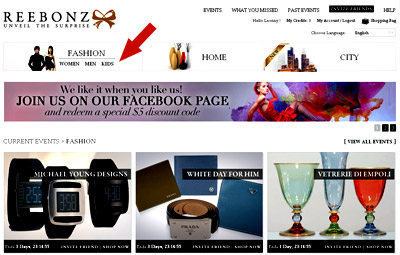 I've heard of Reebonz from friends. I know they sell good stuff at a fraction of the original price, and the stuff are available only for a short period of time. I'm familiar with its cute little ribbon logo. And yes, I've seen Reebonz ad from time to time on the right sidebar of my Facebook too.
But frankly, I've always associated Reebonz with adult fashion and accessories.
Well, until they got in touch with me recently and shared how they now have Reebonz Kids as well!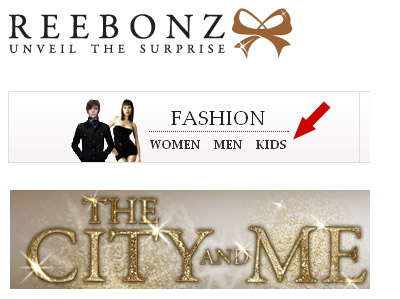 And, Reebonz Kids offers much more than just kids fashion.
Every week or so, they also offer fun and educational crafts, toys and games, ie. Quality brands that are NOT found in Singapore (but are sold by Reebonz at a cheaper price than those in retail stores!).
[Btw, you need to be a member to shop on Reebonz, and membership is FREE. I created my account in a few seconds! Just click this INVITATION LINK to sign up!]
…
Today they're launching a range of Beleduc items on its website and thanks to the Reebonz Singapore Team, they sent this Beleduc-TORRETA games for Anya and Vai to test out!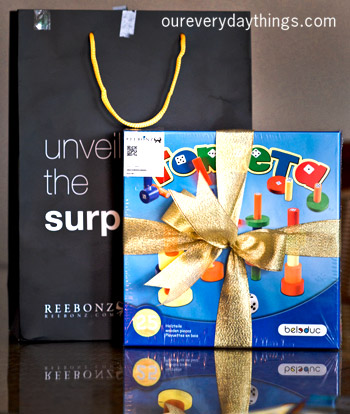 Here's my first impression when I received the parcel : NICE presentation! I love the carrier and how the box was nicely wrapped in gold ribbon! A great looking gift if you're getting it for someone special, for sure.
Anyway.
I was really keen to see how the kids would react when they got the games in their hands.
Anya is 7yo now. Vai is 4.5yo, and … the box says that it's for kids aged 4 and above (and it's for 2 to 4 players).
Well, I wanted to see whether they'd like it. Whether they'd find it fun. Whether they would play with it in any other ways (you know, kids are kids, and they're capable of creating new 'rules' and games using the same toys!)
…
So, here's what happened when they got their hands on the gift from Reebonz!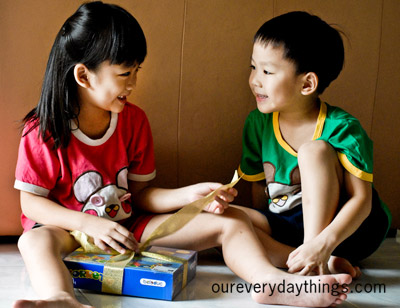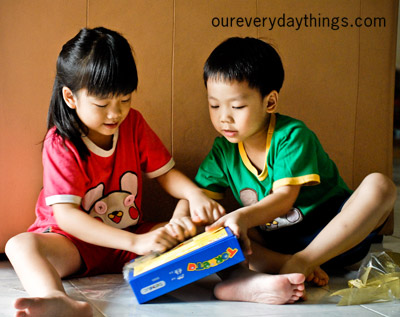 [Unwrapping a gift is always so much fun!]
…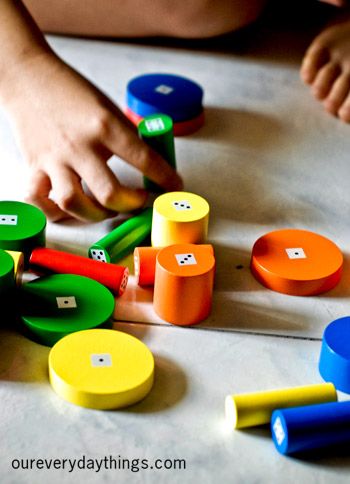 A total of 25 colourful bricks and 2 dice. And the kids are challenged to build towers with them!
[Ah, I KNOW the kids would LOVE this!]
You see, they can either use the dice with colours or the dice with dots. Then, depending on the colour OR number of dots that come up when the dice is thrown, the kids need to stack the 'bricks' accordingly! The winner is the one who stacks the bricks skillfully and produces the highest tower!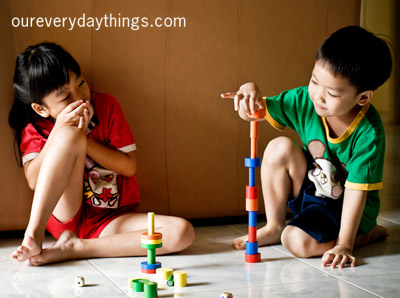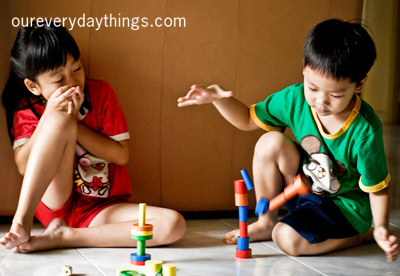 Haha. The suspense and the anticipation! The kids enjoyed the Torreta game a LOT!!
…
Personally, I like such games because it allows the kids to play together (which is a great way to nurture positive sibling relationships), AND have fun while exercising their fine motor skill too.
AND, if you ask me, I think kids as young as 2 years old can get their hands on this too because while playing, they also learn:
- to stack the bricks steadily (ie. Concentration and fine motor skill)
- the names of different colours (ie. Colour recognition)
- the different proportions in size and quantity
…
And, errr … as for our little guy, he immediately found a different way to play with the bricks so he can still play when Anya's not around to play with him!
And, I do find it amazing how he could stack all TWENTY FIVE of the bricks well! =)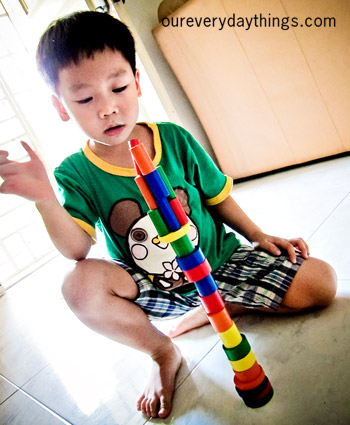 …
Btw, For Beleduc items, here're some of the ones available for sale starting today!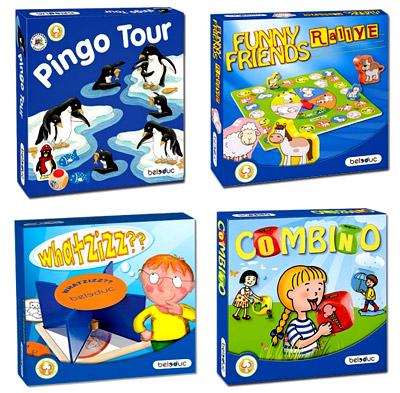 …
Anyway.
Do check out the other items available for sale on Reebonz.com!
And oh, don't forget that you need to be a member to shop. Just click this INVITATION LINK to sign up for free!
…
And, do 'LIKE' their Reebonz Singapore Facebook Page too, coz you'll then get $5 off your next purchase!
Happy browsing and shopping!
Hope you'll find something special for your loved ones!