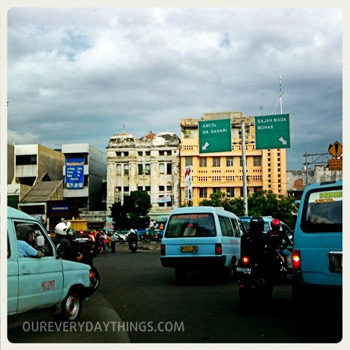 [Busy street of Jakarta]
One of the things about Jakarta that I feel is good for the kids is, they get to see many 'REAL' children who are less fortunate than them.
They don't just hear about them, or see them on TV or on Youtube.
Here in Jakarta, they can actually see many other little ones like them out in the streets.
Children their age who live in cardboard houses.
Toddlers playing by the roadside with no shoes or sandals on.
Babies sleeping in their moms' 'small wooden cart shops' by the roadside.
…
Our family has received so much from others. Help, hand-me-downs, toys, gifts, books. And we're very grateful for them.
But, I strongly feel we really shouldn't just keep on receiving.
The kids especially, I feel they should also learn the importance of sharing and giving back. And really, there's no better way than actually doing the act themselves.
And. The more exposure, the more opportunities to give and share, the better.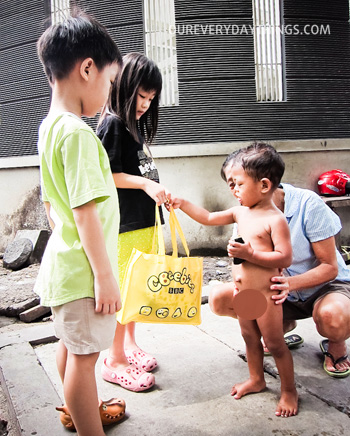 The other day, as we reached our home, we saw a toddler, a completely naked one, playing with a bucket of water near a motorbike, by the roadside.
And I asked the kids, 'Hey, why don't we get some of our boy clothes and share them with him?'
[For this trip, we brought along quite a number of toys, books, and children clothes that are too small for Anya and Vai]
Then we packed a bag of clothes for the little boy, and the three of us went outside to meet him and hopefully his family too.
I chatted with his grandma and his mother (who later told me that her son's name is Tommy, he's 2 years old and he doesn't like to wear any clothes throughout the day =)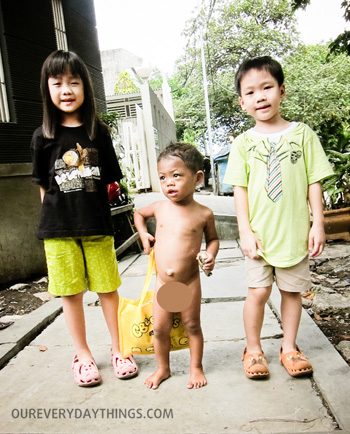 Then I let Anya pass the bag of clothes to the boy herself, while Vai gave him one of his toy cars.
The little boy smiled and was too shy to say anything =)
…
Some people may feel that such an act is 'useless', because there are just SO many poor and underprivileged people in Indonesia. To them, we can't help 'everyone' anyway, AND, even IF we do give, share and help, it's not like their lives will be improved afterwards? They'll still remain poor, won't they?
To that, I'd say, it's true that we can't help everyone. And, it's true too that even if we've given a few children some clothes and toys, their lives will probably 'stay the same' as before. We can't lift them out of poverty by what we do.
BUT, I believe it IS still better to have given and shared something with a FEW, than NEVER sharing anything with anyone.
And, if what we do can give a little hope, a little joy, or even a feeling of 'hey, there's actually someone out there who cares for me?', … then it makes the whole act of giving and receiving even more worthwhile.
Because, yes … we can't help everyone, but we CAN help one, two, three, or four, can't we?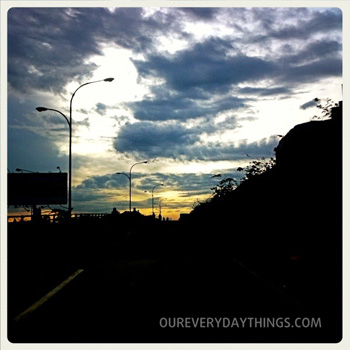 [Sunset over the streets of Jakarta]
…
We still have children clothes to share with others. And I hope Anya and Vai will have the chance to share them with more children we meet on the streets.
I hope too that through exercising the act of giving, they gradually experience the joy of giving too, and the joy of seeing others who joyfully receive what they give and share.
…
Let's encourage our little ones to give and share, by letting them do the act themselves.