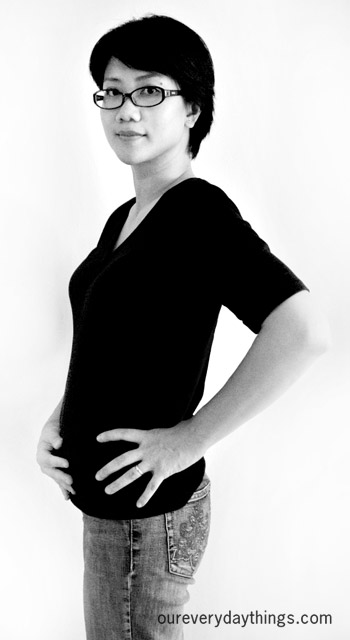 [Tummy at 4.5 weeks pregnant. Basically it's taken after I double confirmed that I really AM pregnant]
I've been feeling nauseous, bloated, and sleepy since the beginning of last week (and that's when I was about 5 weeks pregnant).
I've lost my appetite, and I have little energy.
I don't feel like eating, but yet I feel hungry.
And when I do eat, I can't quite taste anything. My taste buds are mostly gone.
I feel like my 'stomach' goes all the way up towards my throat, making me feel like gagging.
And you know, just yesterday, when we had our first check up, my doctor asked, 'So, how are you feeling?'
And when I told him how things are, he smiled and said, 'Oh, that's GREAT! It means the pregnancy is going well! And it'll get worse, peaking at around week 10!'
Gee.
…
Oh btw, I went through a similar phase when I was pregnant with Anya and Vai.
I actually kept a journal on how my pregnancy was and the changes in my tummy size, week by week, on my old website. Those pages are still 'active' and I thought of sharing them with you today, as they'll probably be somewhat useful to some of you.

Click HERE to see my FIRST pregnancy days.
Click HERE to see my SECOND pregnancy days.
…
Anyway, I'm still thankful that I'm not bed-ridden or anything. I know many others who go through much worse morning sickness phases.
I mean, at least I only gag, and don't actually vomit. I can still send my kids to school and occasionally force myself to cook something simple for the kids.
AND, at least I'm not like this lady I know who felt sick and nauseous … whenever she saw her husband! Haha. I thought that was funny! She had to stay with her mom during the weeks she had her morning sickness. And this happened when she's pregnant with her THREE kids! Imagine that!
Oh well.
Still, I'm SO looking forward to the days when my morning sickness phase is over for good.
…
Btw, if you're a mom, how was YOUR morning sickness phase? I know some lucky ones have NO morning sickness at all!