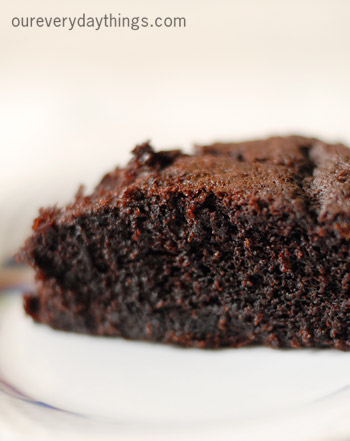 I tried, tested and liked this chocolate cake recipe. And so I made this for Vai's birthday cake the other day.
If you'd like to test this one too yourself, here's the recipe.
Hope you enjoy it!
Ingredients
250 g cake flour
1 tsp salt
2 tsp baking soda
1 tsp baking powder
3/4 cup (69 g) unsweetened cocoa
380 g sugar
170 ml vegetable oil
240 ml hot coffee
240 ml milk
2 large eggs
1 tsp vanilla
1. Preheat the oven to 180 deg Celsius
2. Sift together flour, salt, baking soda, baking powder, cocoa and sugar in a large mixing bowl
3. Add the hot coffee, oil and milk and mix it for about 2 minutes
4. Scrape down the sides of the bowl and add the eggs and vanilla. Beat for 2 more minutes. The batter will be quite 'runny'
5. Pour batter in prepared pans and bake for approx. 30 minutes. It's ready when you poke with a skewer and it comes out clean
…
Notes:
- You can't taste the coffee at all, btw. It's just supposed to simply 'heighten the flavour' (Anyway, I used very little coffee powder for my cakes)
- The oil is supposed to keep the cake soft and moist, even when you've just taken it out of the fridge.
This btw, was the reason why I chose to test out this recipe. You see, Vai's birthday celebration was on a Sunday, and because we stayed at a Hotel the night before, I needed to bake it on Friday (2 days in advance), keep it tightly wrapped in the fridge, bring it out when I reached home from the hotel (ie. at 2.45pm!), get it covered in fondant and decorated in 90 mins, and leave for church.
[I'll write a blog post on Vai's birthday cake preparations soon!]

…
Anyway.
I thought the cake was a little 'porous', ie. crumbles rather easily. Now, if you know the reason WHY, or HOW to make it 'more dense', please share with me! I'd love to know and learn from you!

Thanks all! Happy experimenting!