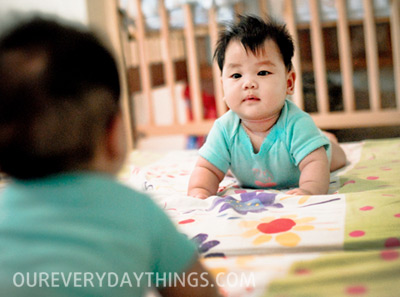 Brie is so much more mobile these days.
No, she can't crawl just yet, but she can push herself forward and roll over towards her right (from her back to tummy, and to her back again).
So we now place her on the lower bed a lot, which we position next to our wardrobe (one with mirrors on the sliding doors)
This works out great for us, because while Brie is there (and Mommy gets to do things around the house, attending the older siblings, etc), she gets to look at her reflection and see 'another baby' in front of her =)
You see, as a 4-month-old baby, she's starting to learn about the world around her, and she gets to observe the different moves and expressions 'this baby in the mirror' makes =)

(I read somewhere that babies will only realise that it is their own image in the mirror when they're close to turning two =)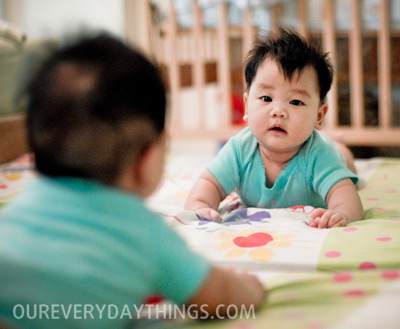 … 
Here's an article in whattoexpect.com that talks about 'Why Babies Love Mirrors':
What's the point of looking in the looking glass?
The mirror game helps your baby learn how to focus, track images, and explore the wonderful things a face can do. Plus, it promotes social and emotional development as she interacts with you (and maybe her siblings). Eventually, she'll learn that the friendly face she's been looking at all along is none other than her very own. Now that's a powerful lesson in who's who.
…

Anyway, I recently read that apparently there are those who believe letting babies look at their own reflection in the mirror is a 'bad' idea though.
Hmm. Interesting.
Have you heard about this?