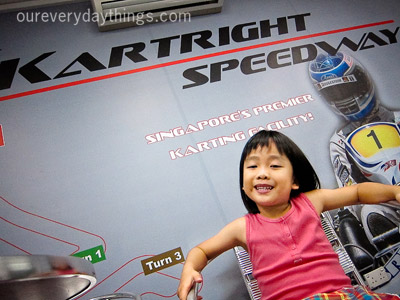 The other day the four of us went to check out Kartright Speedway.
(it's about 10 mins walk from Joo Koon MRT station)
You see,  Wilson found this great deal online at catchoftheday.com.au, where we needed to pay S$21 per person (for a 10min go-karting session) instead of the usual S$32 – S$45 per person (price varies depending on the day and time of your session). What a sale!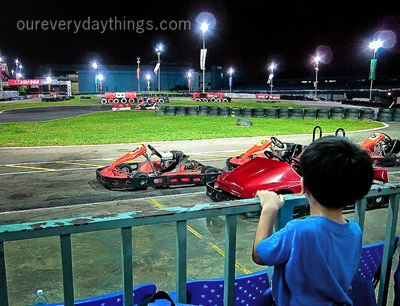 It's been close to two years too since we both had our go-karting session (it was in JB, Malaysia), and so when we found this deal, we went, 'Hey, OK! Let's get those online vouchers!'
It's nice for the two of us to have a little break from our daily routine too.
So we went with the kids to Kartright Speedway when the weather was clear and great!
(Btw, the circuit here is better and bigger than the one in Kart World, near Lakeside MRT Station, and was officially opened in January 2010!)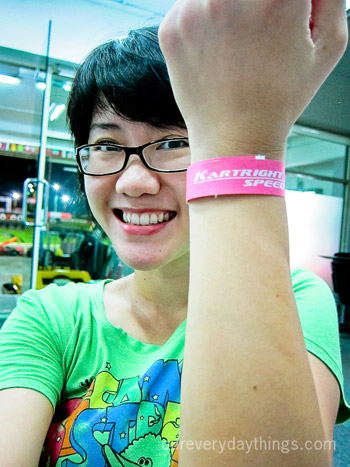 After getting ourselves ready (read: filled necessary forms, got our wrist tags, etc), the kids officially became our 'photographers'!
One held a Canon Ixus and the other, my Canon Powershot S90, hehe.
Photo below was taken by Anya before we left the pitstop.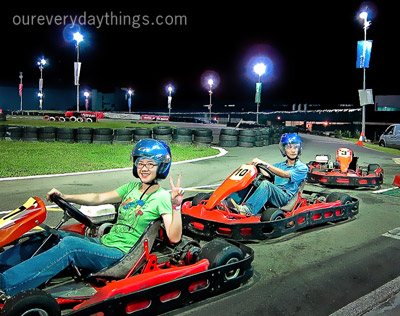 Oh. How I love the speed and adrenaline!
Really. To a mommy and a housewife like me, it's refreshing to put 'household chore thoughts' aside for a while and just enjoy stomping on the gas, haha
It was a good 10 mins!
Errr … my shoulder and right arm were all sore the next day though, AND my right knee got all bruised.
Not that I mind, of course *smile*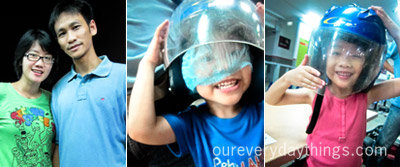 [Anya and Vai checked out the 'hair covers' and helmets afterwards. And as you can see, Anya wore the hair cover and helmet correctly, while Vai went to show us how to NOT wear them!]
…
[Info]
- The circuit is closed every Monday!
- Do check out their schedule and track availability before you come down, because it's often booked by others and is not open to public
- Minimum height to ride the go-kart is 1.40m
- Wear 'covered shoes' (read: no sandals, heels)
- Click HERE to check its rates
- There's a hawker centre and Burger King near the circuit, if you're thinking of getting some food or drinks