It's Chinese New Year (CNY) next week!
Let's take out the hong baos we've been keeping in our drawers, and MAKE something with our little ones! =)
[For our case, we're recycling our old 'goat' ones!]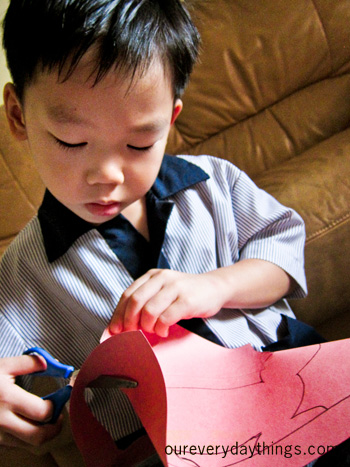 What we used:

- Coloured paper (Red colour would be more 'CNY' =)
- Old hong baos (ie. red packets)
- Scissors, pencil and glue stick
…
What we did:

- I drew an outline of a rabbit inside a 'box' (see the cutout image below)
- I reminded Vai to NOT cut the parts where the rabbit touched the frame (he accidentally cut the two ears, but it's okay. You'll see why)
- I created little slits so that Vai could insert his scissors and start cutting out the outline (from the inside of the frame) all by himself
- Once done, it looked this the image below
[It's okay if the cutting is not smooth and 'nice'. After all, it's done by a kid. This activity btw is great for exercising a child's concentration and fine motor skill]
- I placed the cutout red-coloured paper onto a piece of white drawing paper, and I used a pencil to roughly mark the parts where there's NO red paper. This way, when I lifted the red paper, Vai could see visible marks on the white drawing paper (ie. the areas NOT covered by the rabbit cutout)
-  I cut out the hong baos into small pieces
- Using a glue stick, Vai stuck the hong bao pieces and COVERED those marked areas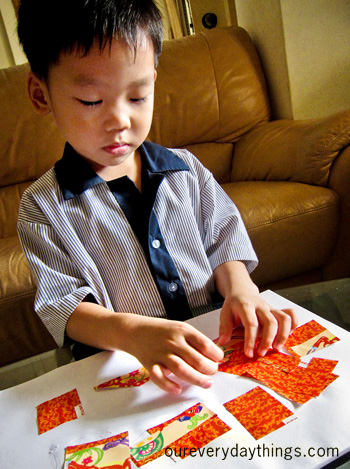 - Finally, we stuck the rabbit outline back on the drawing paper
[Note: Since the rabbit cutout is glued to the drawing paper, it's OK if your child, like Vai, accidentally cut out the rabbit parts off the frame]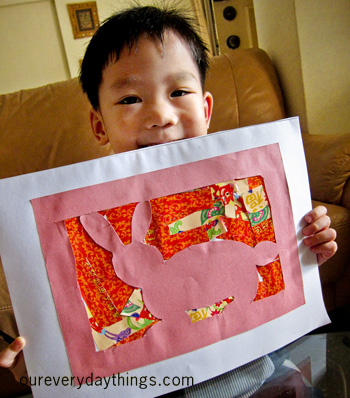 VOILA! This is what you'll get!! =)
[As you can see, the 'uneven' cutting doesn't appear too obvious because it's placed against the hong bao patterns!]
…
Vai then added his finishing touch and drew the rabbit's eyes, nose and mouth!
Have fun making CNY crafts, everyone!
Gong xi … gong xi! =)