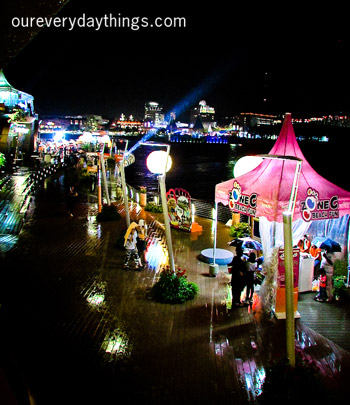 There's a new way to get to Sentosa now!
It's via its new Sentosa Boardwalk.
It's officially opened today (Saturday) and entrance to Sentosa via the boardwalk is free today and tomorrow (Sunday).
[It would otherwise cost $1 per person, and you can use your EZ-Link card]
So with a few of our friends, we checked it out! We went from Vivo City (level one) and crossed over to the Boardwalk. Quite a few signages around Vivo City to let us know where to go.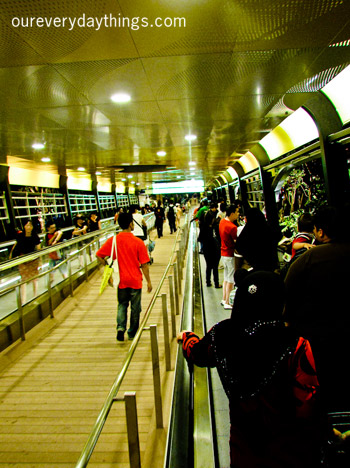 As I crossed over from Vivo City to the Boardwalk, there's one thing that I feel was 'missing' though.
You see, Sentosa Boardwalk is covered, and has travelators too. Excellent and so convenient, I think.
But there's NO covered walkway between Vivo City and the Boardwalk.
So if it happens to rain or drizzle when you cross over, well … just be prepared to get a little drenched. Unless you have umbrellas or raincoats with you, of course.
[Read: It will not be too convenient if you're pushing a pram or a wheelchair]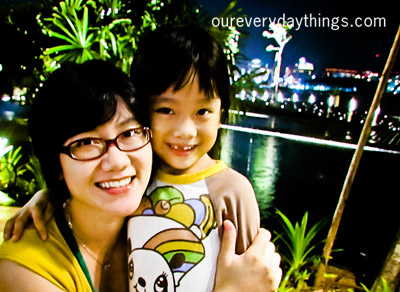 Anyway. It was the official opening night when we were there. And it was very festive and happening! Music, lights and activities across the Boardwalk.
Lots of free stuff for the kids too (Tattoo stickers, balloon sculptures, mascots, etc).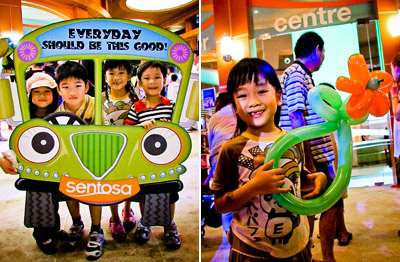 Frankly, we were looking forward to the fireworks show, BUT, since it kept on raining heavily, the fireworks went off sometime after 9pm for just a few seconds. We did manage to see bits of it from the Visitor Centre's side. But it was mostly blocked by the trees.
I was told that there's a second round of fireworks show a little later that night. We missed that one though!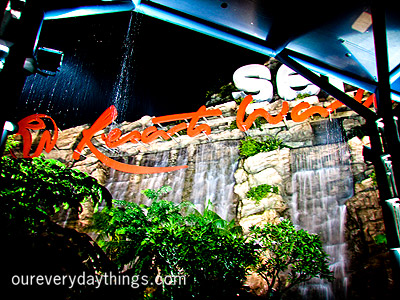 Despite the heavy rain, the festive feeling was there. The activities, the music and all were nicely planned and organised, I think. It was a nice Saturday night out.
And, going back home was btw very convenient for us!
I mean, there are apparently quite a few public buses available from the Resort World Sentosa side! (ie. I thought we had to take a shuttle bus back to Vivo City or hop on a taxi)
Basically we went down the escalator from the Universal Studio level, walked across the carpark towards Resort World Sentosa's main lobby, and we could see the bus stop signs already!
Click HERE to see the list of public buses.
Hmm. I think we'll check out the Boardwalk again sometime soon!