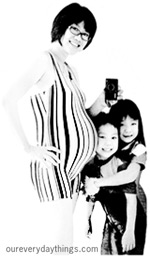 I'm 36.5 weeks pregnant now.
So, if baby chooses to follow big sister and big brother's timing (ie. At 38 and 37.5 weeks respectively), it'd mean baby no.3 will actually be in our arms … NEXT WEEK?
Can't wait!!
[Yep, IF I could choose, I'd prefer to deliver sooner than later =)]
Anyway.
With regards to THE BIG DAY itself, I've always wondered about this question – How do YOU know that it's time to go to the hospital?
I know that this is my THIRD time round, and some people feel I should really know what to expect and all, yes?
Noooo.
Each child birth story can be totally different.
…
The stories of my first two 'child births' were pretty much 'similar' :
> Anya
Water bag broke (ie. trickled down my legs) at around 10am when I was at home. No spotting. No contractions. Called the hospital and was asked to come over. Casually showered, ate breakfast, then Wilson and I took a taxi to the hospital. Reached the hospital at about 1pm. Contraction started to get worse at about 5pm, I think. Anya was born at about 11pm.
> Vai
Water bag broke at about 6am when I was in bed (more like a 'mild gush'). No spotting. No contractions. Dropped 2yo Anya to a friend's place, took a taxi with Wilson to the hospital. Contractions got really intense after the nurse 'completely' burst the water bag at about 9.30am. Vai was born at about 1pm.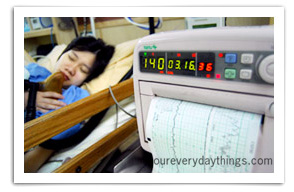 [Me holding onto the 'laughing gas mask', in 2006, a few hours before Vai was born]
…
You see, I'm hoping the water bag would break again this time round, just so that it's obvious enough for me to know that it's time to go to the hospital =)
BUT, things can always be different this time round.
I mean, how would I know if the contractions I'm getting are the REAL thing? (ie. NOT just the usual Braxton Hicks contractions that I experience every so often these days). Because the contractions will be increasingly intense, longer in duration, and the 'intervals' get shorter each time too, yes?
If it's THAT obvious, well … then I guess, it's okay (because I know I can be a bit 'blur' when it comes to such situations =)
Thing is, I've also heard of stories where the mom only experienced 'discomfort' on her lower 'area'. Water bag didn't break. No spotting. No contractions. And when she casually went to see her gynae because she happened to be near the clinic, she gave birth TWO hours after that!
So, out of curiosity, I asked this question to the moms on my Facebook today :
"How did YOU know that it's time to go to hospital? Did your water bag break? Spotting? Heavy contractions?"
Check out this blog post's comment section to read what many moms have shared on my Facebook!
[Btw, if you're not yet on my Facebook, you're most welcome to add me =)]
…
And, I would LOVE to hear MORE stories from the many moms out there!
How was it for you?
Please do share yeah! I'd love to hear them!
Thanks, everyone!