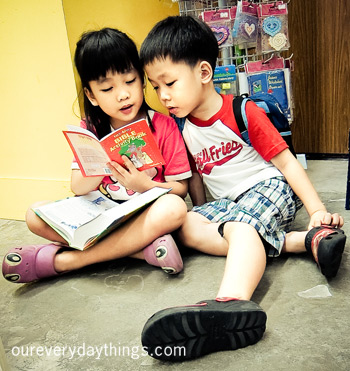 Now that Anya is in Primary One, she has weekly spelling tests. Usually one for English and another one for Chinese. Prior to each test, she'd learn and prepare herself at least a day before and she usually does really well for English and makes one or two mistakes in her Chinese tests.
Now.
Sometime last month, Anya said to me, 'Mommy, why do I find English spelling tests easy? It's so much easier than Chinese spelling tests.'
And I said to her, 'It's because you're so much more comfortable with English and it's something that we've taught you since you're little. As for Chinese, we can't speak Chinese with you, and so you need to learn the language yourself from school and your Chinese teacher.'
I didn't stop there though because I feel she needs to learn about being responsible with her God-given talents.
You see, Anya has this love for learning and writing. She looks forward to our bedtime story and book-reading time. She knows how to read before she was five. She loves to read and write stories.
…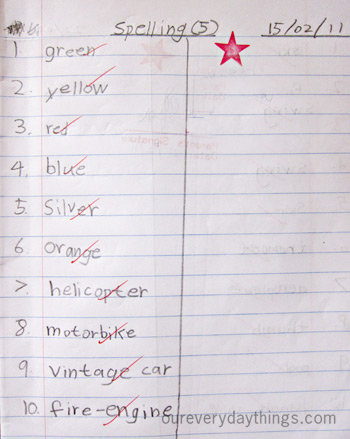 So that day (and at other instances when I feel the timing is right), I share with her and remind her of these:
- You find reading and writing 'easy' because it's your strength. It's a God-given talent. And if we've been given something extra compared to other people, we have to use it for God's glory and as a blessing to others. Not to 'glorify' self.
- If writing is your strength, then perhaps you can inspire others through your writing and reach out to many. Pray too that those who read your writing will be blessed by this God-given talent that you have.
- If you know how to read / write / do something else much earlier than others, then God wants you to help other people, and not to be impatient or to look down on those who have yet to learn what you already know how to do.
- I shared with her how everyone is unique, how everyone has different strengths and how we need to share and use our strengths to help and bless others.
I then used the example of her and her little brother.
I told her how she could read and write better than Vai when she was at Vai's age (ie. He' s 4.5yo right now). BUT, Vai already knew how to ride a two-wheeled bike since he was around 3yo, while she is still NOT yet able to (and she's 7yo next week!).
…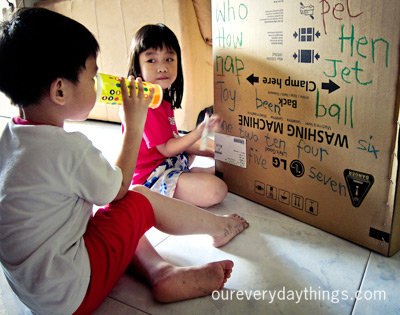 [Yes, that's a washing machine box that we 'converted' into a 'board' before we threw it away. It stayed in our living room for a few days, but it was pretty 'well-used', which was the good thing about re-using recyclables =) ]
So you can see how glad I felt, when I saw Anya teaching Vai how to read the other day. She slowly went through simple 3-letter words with him, and taught him how read them in phonics. At other times, she'd also take out some simple chinese storybooks, and teach him how to read them =)
At times like this, I just feel … happy.
And I guess, it's not really because I now have an 'assistant teacher' in teaching Vai how to read.
But it's more about the joy of seeing our children gradually grow in their characters, in their understanding of what's been 'given' to them, and in their love for each other.
And I hope and pray that they (me included!) continue to learn to be a blessing to others too.