Brie is exactly FIVE months today! And um, I still owe her a proper 'Birth Story' blog post. I mean, another post on TOP of the one I wrote when she was about one month old.
Anyway, before my memory gets too rusty, I better write it all down.
This was what happened before Baby Brie was born into this world =)
…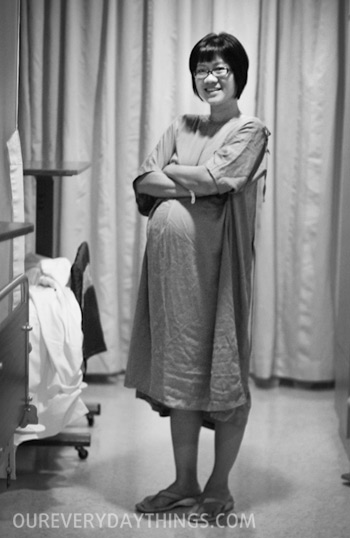 Friday, 20 May 2011
11.50pm
38 weeks pregnant, and in my attempt to 'encourage labour', I've been scrubbing my bathroom tiles every other day! (I know, it's probably a myth, but I didn't quite care. I like my bathroom floor clean! =)
Then I suddenly noticed some 'pinkish discharge'. Wasn't sure if it meant labour was starting, because when I was pregnant with Anya and Vai, my waterbag burst first.
Saturday, 21 May 2011
12.05am
Called Thomson Medical Centre (TMC) and the nurse asked me to come to the hospital to get myself checked. Since it's my third baby, labour could happen FAST, she said.
12.45am
After dropping both Anya and Vai off at a friend's place, Wilson and I went to TMC by taxi. Was asked to go to the Labour Ward and put on their purple hospital robe.
1.30am
Had straps put around my belly to monitor baby's heartbeat and contractions. But when the nurse finally checked my dilation, she told me I was only 1cm dilated! Was sent to my hospital room to get some rest, while Wilson waited and tried to get some rest in the 'waiting lounge' (ie. No one is allowed to sleep in the same room, unless you've booked a one-bedded room)
10.15am
My gynae came and did a check. Apparently I was only about 2cm dilated! He asked if we wanted to go home and wait. But you see, Wilson's parents were already on their way to Singapore that very morning, and my mom-in-law, our only help this time round, could only stay for 10 days with us. So, since I was already in my 38th week too, we decided to just go ahead and get myself induced.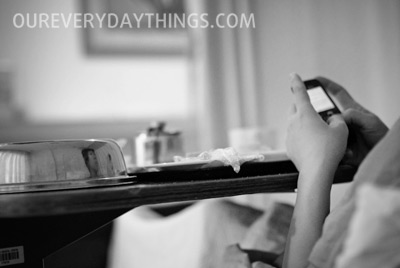 11.45am
A 'pill' was inserted to ripen the cervix (so that it'd dilate to 10cm faster). No painful contractions YET, and I happily tweeted and posted updates on Facebook =)

3.15pm
My Doc came to see how I was doing, and when he saw me still looking happy and relaxed, he said, 'Oh, that's not good!' (read: No contractions after being induced). He then 'manually' dilated my cervix to 3cm (yes, OUCH!). And from then point on, contractions were strong and only got stronger by the hour! They were consistently strong and the intervals were very close together! The nurses decided to wheel me back to the labour ward.

5.10pm
Managed to see Anya and Vai (who came with Wilson and their grandparents to the hospital) before I was wheeled to the delivery suite. So happy to see them! By then I was about 5cm dilated and contractions were consistently strong and painful. Earlier on, the nurses asked if I wanted epidural and I replied with a no thank you. Instead I asked for Entonox (Laughing gas) to help relieve a bit of the pain.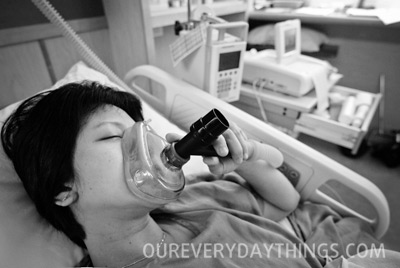 [My mask, my friend]

6.10pm
Managed to occasionally post updates on Facebook with my right hand when the contractions were not so strong, haha (Somehow this 'FB update' thing managed to distract me from my labour pain, a LITTLE bit)
9pm
My gynae came to check on me and decided to burst my waterbag. And I was like, ah … finally! This meant baby's coming real soon, but it of course also meant contractions became SO MUCH stronger. I held on to my mask with all my might each time the waves of contractions came. I was about 8cm dilated.
9.30pm
Guess what? I suddenly felt this super strong urge to PUSH. We told the nurses and they immediately called my gynae. He quickly rushed back to TMC, but he was about 8-10 minutes away at the time. Every single second was tough for me because I had to keep on breathing in and out to overcome the urge to push. The nurses were telling me, 'Don't push! Breathe in and out! Doctor is coming! Doctor is coming!'
9.38pm
Finally, my gynae arrived! And in about three strenuous pushes, baby was out! My whole body ached (from enduring the pain for hours), and my left arm and fingers were extra sore from gripping the mask with all of my strength. I was completely and UTTERLY exhausted beyond words.
Was very glad that it's all finally over, there were no complications and that a baby girl was all healthy and well!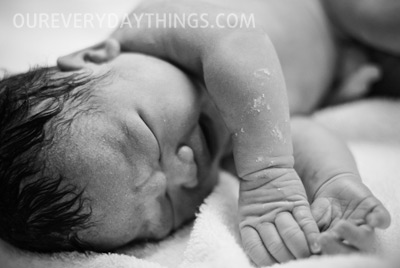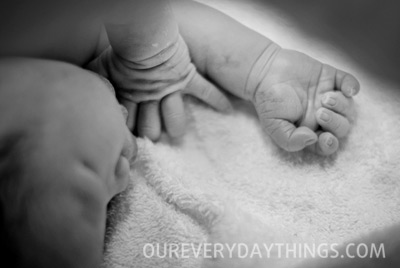 Birth Weight : 3.220kg
Length: 49cm
Head Circumference: 34cm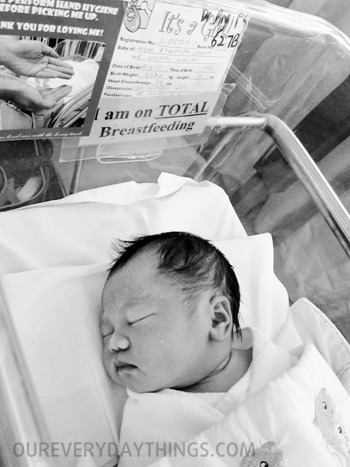 We decided to name our baby girl : Labrielle Hidajat.

'Labrielle' means 'God is our strength'.
[When the thought of having another baby crossed our minds, we prayed and said,  'God, if You really would like to entrust us with another little one, then please teach us to have faith, and to be ready to learn to walk the faith and see how You sure would give us the needed strength everyday too']
And, she'll lovingly be called 'Brie' for short, which in Indonesian, the word also means 'given' (ie. 'Beri'). She is indeed 'given' to us from above.
…

[Exactly one week old baby Brie in my hands after her bath. Still sooo tiny!]
Ah anyway. It's amazing how time flies SO quickly.
The tiny baby girl is already FIVE months old today!
Thanking God endlessly for watching over her faithfully, every day.
We feel very blessed.