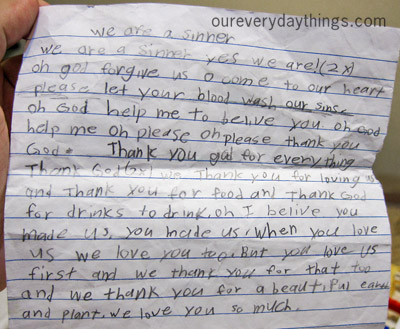 I've been randomly spring cleaning our home for the past two weeks.
And as I cleared stacks of stuff here and there, I found this (amongst many other scribbles, drawings and stories!)
I didn't know when she wrote it, nor what caused her to write it.
And so I casually asked Anya what 'the writing' was, and she (shyly) said that it was a song that she wrote.
I asked if she had a tune in mind when she wrote it, and she nodded.
She somehow felt shy about singing the tune out for me (or anyone) though, and so I didn't press her for it.
[Nor did I laugh or make much 'comments' on it - for I knew it could potentially discourage her from continuing with what she had explored and started on her own]
I did tell her though that there are many ways to thank God for the blessings we have received, and one of it is through songs, like this one.
And she smiled.
…
I have no idea what she'll become when she grows up, nor the kind of life that she'll have some ten, twenty or thirty years from today. My prayer is for her to continually explore her God-given talents, for God to use all our children in His works to glorify Him and to bless others, and for God to give the needed wisdom to us both as parents, so we can raise our little ones according to His ways – because without His help, we're completely unable to.
It'll be a tough challenge. And, an honour, at the same time.