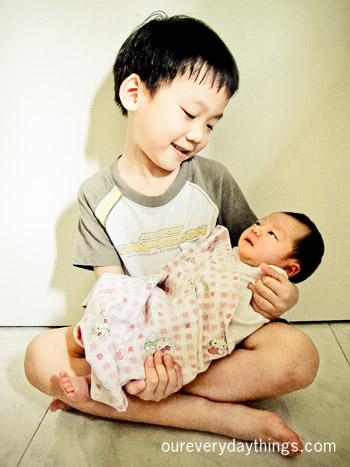 Someone recently asked me about Vai and how he's doing, especially now that he's 'the only boy' in the family (read: the middle child who has a big sister and a little sister).
My reply was, 'He's doing great. He really loves his baby sister, and he's the usual silly self who likes to hug his big sister and annoy her too with his little antiques, … the usual things siblings do to each other' =)
I must say though, that such a relationship doesn't happen overnight.
Because I believe some 'preparations or subtle interventions' from us parents do make a difference. However little. However much.
Okay. Perhaps I should explain myself a little.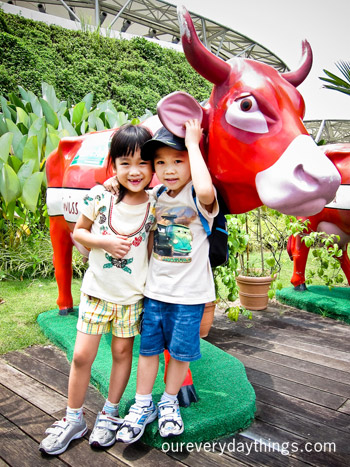 You see, one of the magnets on our fridge says, 'Children see themselves through OUR eyes'
And out of the many possible interpretations of that statement, I personally understand it as, 'At a young age, children believe in our words, and they see / interpret their world according to how WE see it.'
Well.
Ever since I was pregnant with baby no. 3 (we didn't know the gender for sure at the time), I often shared with him these two different scenarios.
If it's a baby boy, then his little brother and he will be the ones who'll protect Anya and me, especially in the absence of Daddy.
And if it's a baby girl, he'll be THE boy in the family.
I casually shared with him how he'll grow up and be a man just like Daddy, how he'll be physically stronger than Mommy and his sisters one day and how he'll be THE young man who will look out and look after his sisters and me too, especially when Daddy is not around.
I told him how God loves us and HE has special plans for each one of us (ie. The fact that he's given another little sibling in the family means that there'll be even more wonderful things that he'll discover, as well as things that he'll need to learn too).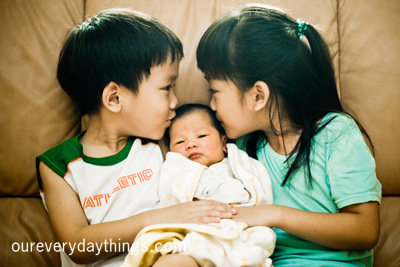 When Brie was born, Vai knew how he IS the 'only boy' out of our three kids, and whenever I casually tell him how he'll be the one protecting his sisters, etc, … he'd smile.
And I can see from the twinkle in his eyes how he likes that special role.
…
Of course the 'opposite' could have happened.
Adults (including us, his parents) could've jokingly teased and told him how being the only boy, he's 'stuck between two girls!', how he'd 'lose out whenever the two sisters gang up on him!', or how he's got 'nobody, … unlike Anya who has another female sibling to play with!', etc.
Personally, I believe there will always be two different ways of seeing / saying / conveying things to others, to little ones especially.
We could make things sound negative. Or, we could say / view things in a positive light.
I'd choose the latter.
And deep down, I do hope and pray that I too can influence my family in a positive way.