[Kids in their Batik clothes. Photo was taken and posted in July 2010]
Today Vai and I made Crayon Batik together before he left for school!
[My kids know what 'Batik' is. Well, perhaps not THAT well, but at least they know what they generally look like and that Indonesians make Batik clothes. Anya and Vai wear them too once in a while]
Anyway, this is a simple and fun activity!
Here's how you can make one with your little one too!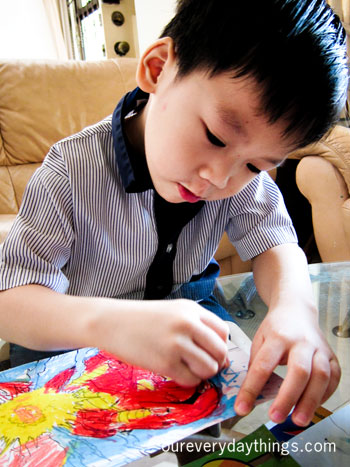 What we used:
- Paper
- Crayons (ones that give THICK colours)
- Water and Container (to soak the paper later)
- Newspaper (for you to place your wet paper)
-  Brush and Watercolour
- Paper Towels (to blot off excess water)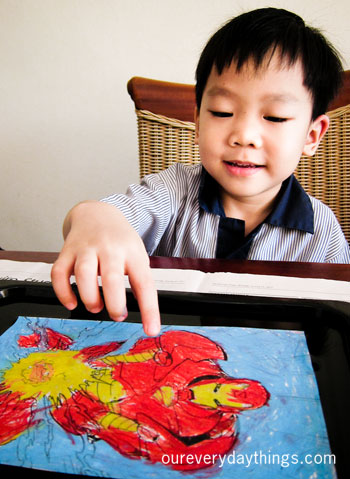 What we did:

- With crayons, Vai FULLY coloured the drawing
(He recently got this Iron Man toy from McDonald's and asked us for an Iron Man black&white printout for him to colour. And so, since he already had this drawing, he simply made the whole page more vibrant with thicker crayons. And btw, just in case you're wondering, no, my kids don't watch Iron Man the movie =)
Note: Going for white-coloured paper will make the colours stand out better
- We soaked the drawing in water, for about 2 mins
Note: Make sure the surface is all fully soaked
- Crumple the wet paper into a ball, and carefully uncrumple the paper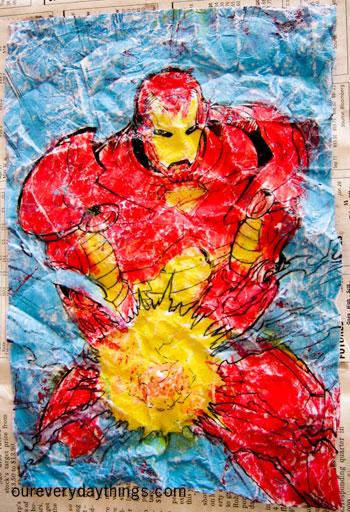 - Flatten and place the paper on a piece of newspaper
- Using a brush, Vai painted the whole surface with green watercolour (choose darker colour)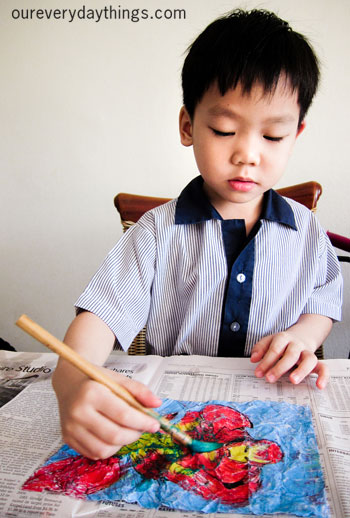 - Blot off excess watercolour / water with paper towels
- Put aside and let it dry completely
That's it!! =)
…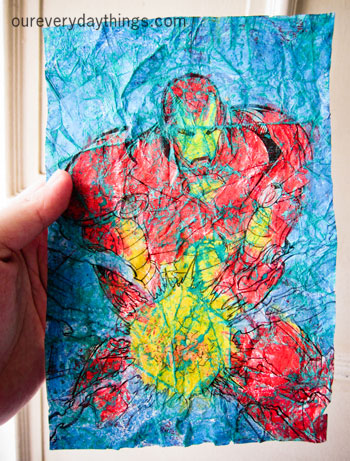 [All dried up]

By the time Vai was done with his watercolour, it was time for school. So he placed the still-wet paper on the table to dry.
As soon as he's back home, he immediately went to check his 'Batik Iron Man'!
He liked.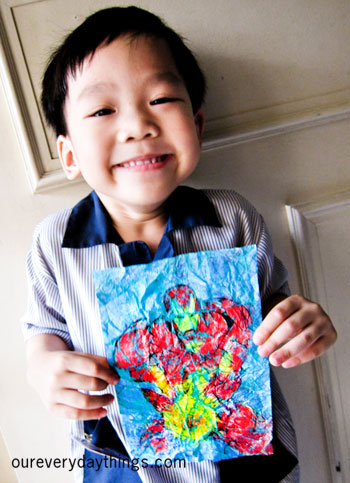 Looks like we'll be doing this activity again =)
And we'll experiment and use a different kind of paper, drawing, colour and size next time!
…
Have fun giving Crayon Batik a go with your little ones!