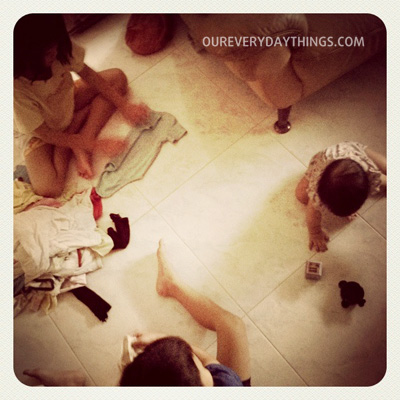 [Laundry-folding time]

… possible.
As long as the little ones are trained, since very young, to be involved – in however small ways – and to help out around the house, I say.
(Of course our home is not as clean, tidy and neat as others who engage a live-in helper, but then in the end, it's a choice, and our family chooses to not engage one, and involve our children as much as they can instead)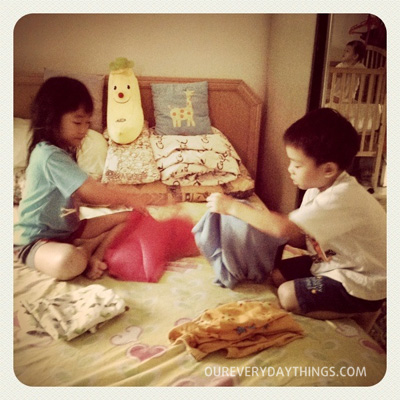 Some of the things that Anya and Vai do everyday that I personally find helpful because they somewhat lessen my 'burden' are:
– Return plates, glasses and cutlery back to the sink after mealtimes
– Shower, brush teeth, pick and put on home clothes all on their own
– Get ready when we're going out (put on shoes, clothes, etc) on their own
– Babysit Brie
– Take out and throw rubbish bags out
– Tidy up the shoes area
– Bring dirty laundry from our bathroom and place it in the laundry basket
– Clear toys *more or less* after play
– Fold their own clothes after wearing them
– Tidy up our beds and fold the blankets (something they both need to do together)
– Help get selected groceries during our supermarket trips
– Occasionally help and fold our clean laundry (I'd put aside home clothes and baby clothes for them to fold)
…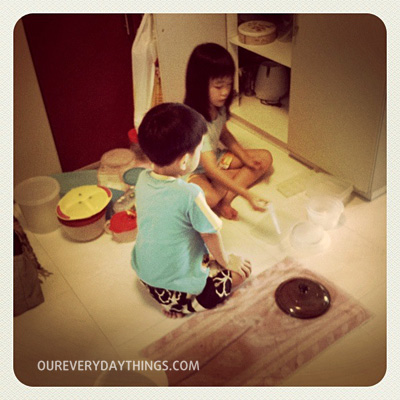 [Helping to clear and sort our plastic containers from the kitchen cabinets]

No, they're not always willing to help 'happily'.
And yes, they'd often prefer to delay or play elsewhere than to clean up their mess after playtime.
But anyway, I still thank God for our little helpers.
Their involvement around our home does make a difference.
And I always tell them too how I appreciate their help, … however big, however small.