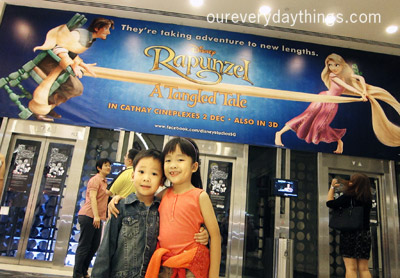 These days, we've been seeing lots of 'Rapunzel' around. On public buses, posters, etc.
And the kids (especially Anya) pointed it out to me each time and went, 'LOOK! It's Rapunzel!'
Frankly though, when I saw the posters, I never quite thought about bringing the kids to watch the movie somehow.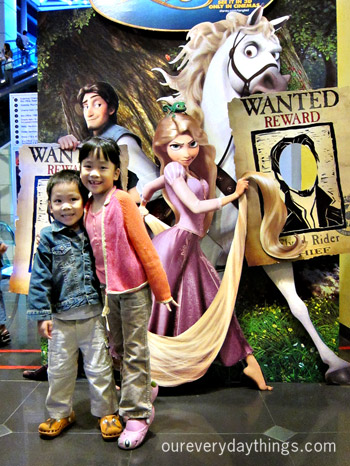 I don't know.
I guess, I somehow assume that it'll probably be another lovey-dovey movie (you know, one with many kissing scenes between a boy and a girl who've just 'recently met'). And, I'm one parent who's not too keen on letting my two young kids watch movies/cartoons that focuses on 'romantic love between teens or young adults' (My kids are 6.5yo and 4yo).
[If a married couple love and care for one another, like in the movie 'UP', I totally am fine with that]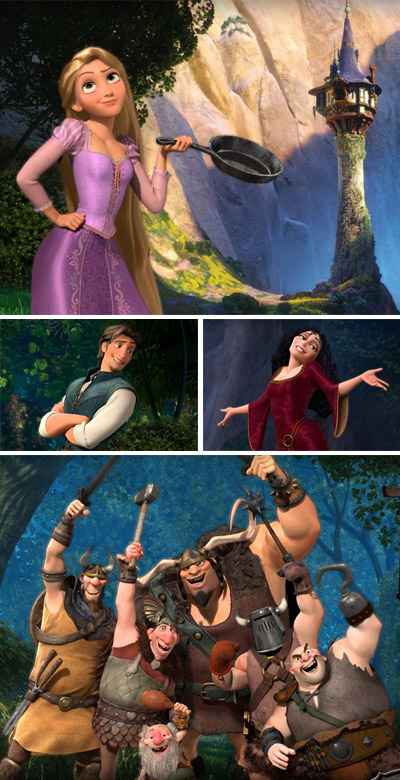 So. When I was invited and given tickets to catch the movie premiere of 'Rapunzel: The Tangled Tale' before it's released to the general public, I frankly was a little … unsure.
What if it's not quite 'age-appropriate' for my two kids? What if the storyline focuses more on romantic scenes? What if. What if. What if.
Hoping that the movie 'should be okay', I told the kids about our 'movie night outing together'.
And they were like, 'YAY! We're going to watch Rapunzel!!!'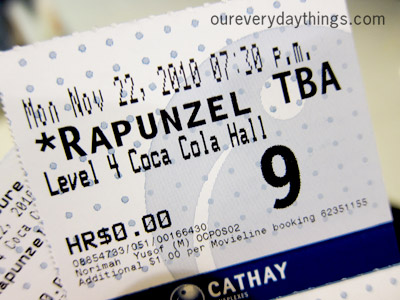 And you know what?
The movie was totally NOT like what thought it would be.
It was funny. Cute and lovable characters too!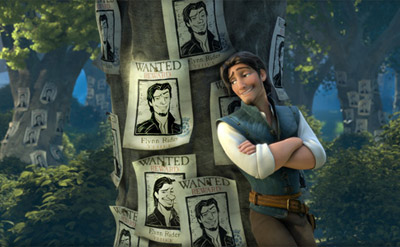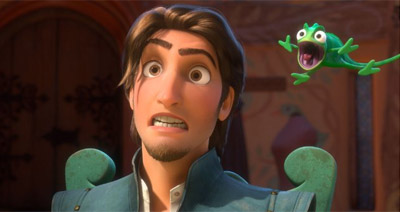 The storyline was not like the traditional Rapunzel story, and the fact that it's unpredictable was great, I thought!
[Tips: Do NOT read too much about the plot or what the movie is REALLY about. Just go and watch it, and be nicely surprised, is what I'd personally recommend, hehe]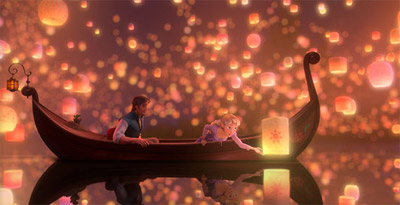 Oh btw, I love the many visually beautiful scenes in the movie too! (Vai was like, 'Whoaaaaaaaa!' when he watched the scene above, hehe)
AND, the hair, gee … I must comment on this one. Rapunzel's hair really looks nicely life-like! I mean, we all know it's animation and all, but the strands of hair, the lusciousness of it, look VERY real! I was impressed with the details and the graphics!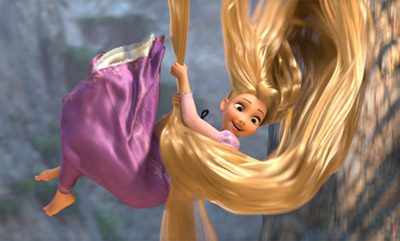 [Rapunzel's hair is said to be 70feet long in the story, which btw is a bit longer than the length of a volleyball court. Haha, yeah I know, I googled and checked as I was just curious!]
…
And oh, about my 'kissing scenes' concern (read: romantic love that develops too fast between two young people in the movie), here's what I can share with you: they do kiss and all, but it's way towards the end.
I personally thought children movies can always do without such scenes, but then again, oh well at least it's not too bad (And I did casually whisper to the kids at the time how Rapunzel and Flynn, the two main characters, are about to be married there *smile*)
I was glad that the focus is more on their adventure together, and their growing trust and friendship with one another.
[And due to its many 'adventures' and 'actions', I'd personally not recommend this movie to kids below 2.5yo]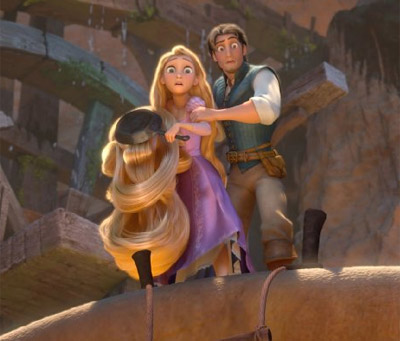 Anyway, here's the official movie synopsis:
When the kingdom's most wanted—and most charming—bandit Flynn Rider (voice of Zachary Levi) is taken hostage by Rapunzel (voice of Mandy Moore), a feisty teen with 70 feet of golden hair who's looking for her ticket out of the tower where she's been locked away for years, the unlikely duo sets off on a hilarious, hair-raising escapade filled with adventure, heart, humor and hair—lots of hair.
…
Here's the link to check out the official Disney Homepage: www.disney.com.sg/rapunzel
And click HERE to watch the movie trailer on youtube!
NOTE:
The movie is officially released to the public on 25 November (3D only) and on 2 December ISLANDWIDE.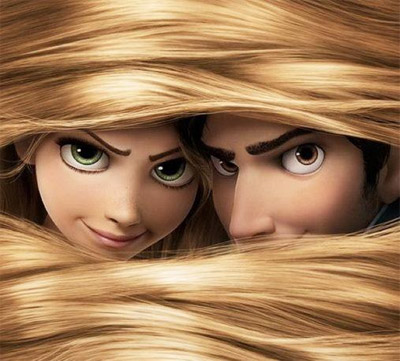 One last thing.
There's a 'MAGICAL HAIR' contest going on!
Basically, you simply need to share whatever tricks / techniques you usually use to craft, sculpt and shape your hair (or your kids'!). Upload a photo of the hairdo and get your friends to 'LIKE' it!
That's it.
And the top ten people with the highest number of 'likes' will win exclusive movie premiums!
Go, check out the site!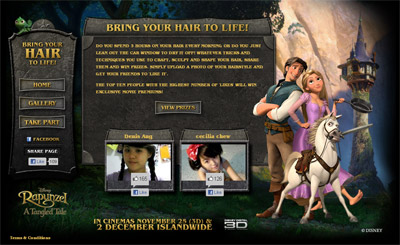 …
And to end the post, here's Anya and her 'super braided hair', hehe.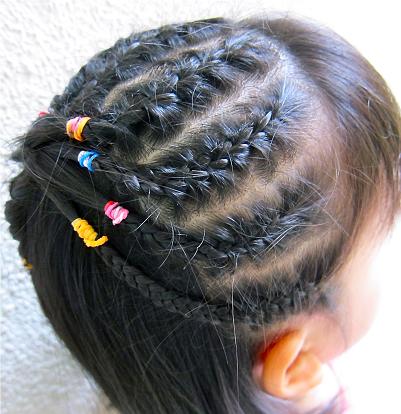 Here's how the hairdo was done:
- Start from the middle of the head, start braiding half way down and tie it with something colourful
- Do the same towards the left and the right
- Gather all the ends of the braided hair together and do a final braid.
It does take quite a while! *smile*
…
Have fun with your own (or your kid's!) hair yeah!
And don't forget to enter the contest too!