Home » Daily
When Mountain Climbing: Is There a Toilet?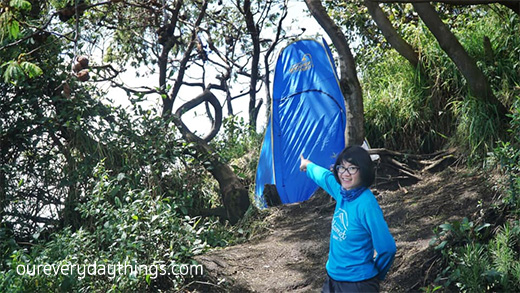 *Warning: This post may not be nice to read during mealtime ☺️*
…
One thing about mountain climbing is, you need to be mentally ready to NOT have the usual luxuries, as simple as a toilet ☺️
Our team brought that 'shower tent' when we recently went to Mount Slamet, Central Java.
It's not for us to have a shower, obviously =)
…
Once you are 'done' with your business, cover it with earthNow you see, there's 'nothing' at the bottom part of the 'tent'.
So, upon arriving at the area where we'd build our tents, someone would DIG deep into the soil with a spade, and THAT is where everyone would do their heavy business.
Once you are 'done' with your business, cover it with earth, so the next person can be spared from seeing what you have left behind.
…
What if you prefer to do it elsewhere?
That's OK, too!
Up on the mountains, we have a super hugeeeee toilet … 😁
Just make sure you:
– find a spot that's a little further from the crowd
– watch where you step (someone else – BEFORE YOU – may think THAT's a good and safe spot, too😎)
– cover it with leaves when you're done (just to be nice and polite to others)
…
One fun fact:
your poop is good vitamin to the soil, hehe.
…
OK, that's all from me. Bye.