Home » Daily, Giveaways, Awards & Reviews
My First 'Go-jek' Experience!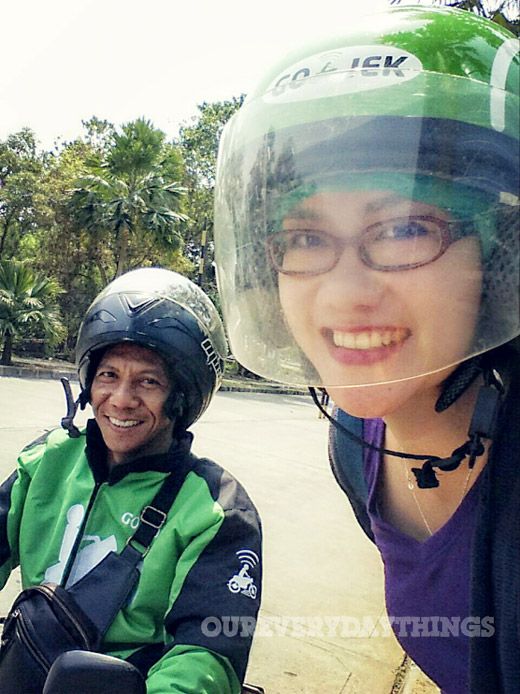 First thing first.
What is 'Gojek'?
Basically, it's this company that runs 'motorbike taxi' services, and you can place bookings via your phone app!
'Gojek' has changed the way I see 'motorbike taxi' services!While 'making a booking via our phone app' may sound very normal in other countries (like Singapore), it is a wonderful technological BREAKTHROUGH for us who live in Indonesia!
Really, I must say, 'Gojek' has changed the way I see 'motorbike taxi' services!
Imagine this : all my life, I've only got on a motorbike taxi ONCE, which was early this year.
And, it was to go to another place some FIVE minutes away by motorbike!
I mean, if I had other options, I would've avoided taking those 'motorbike taxis', because to me, it just seems dangerous to get on a bike with a total stranger, who could possibly be a … criminal or a kidnapper?
(okay, I'm exaggerating, but seriously these drivers are not licensed or registered. They could be bad people, riteeee …. ?)
…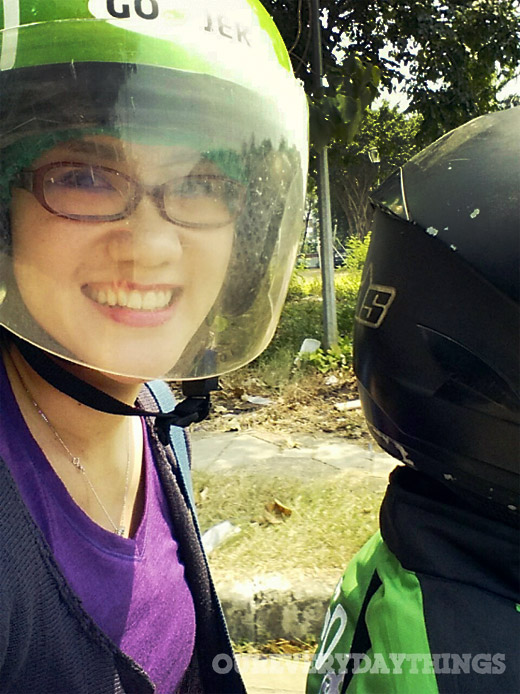 Anyway.
Here's my Gojek story.
(Btw, this is NOT a paid review. I am just happy with their service that I'm sharing it with you all =)
I should check out this Gojek service and use my free credits!Last Saturday, I had a meeting at church and Wilson was away with the kids, sending our car to be serviced.
When I wanted to go to them after my meeting, I had two options in my head : grab a taxi from the street side, or try this 'Gojek' service =)
You see, I had this not-yet-used Rp50,000 FREE credits in my Gojek account when I first downloaded the app and created an account with them.
So I thought to myself, I should check out this Gojek service and use my free credits!
Plus, I've heard so many good reviews, like :
– Price is very competitive
– They give you free head cover and mask
– If you use their courier service, you can even track your package (where the driver is) via your phone app
– Other than taking you from A to Z and send your packages, they can also buy your groceries or your meals!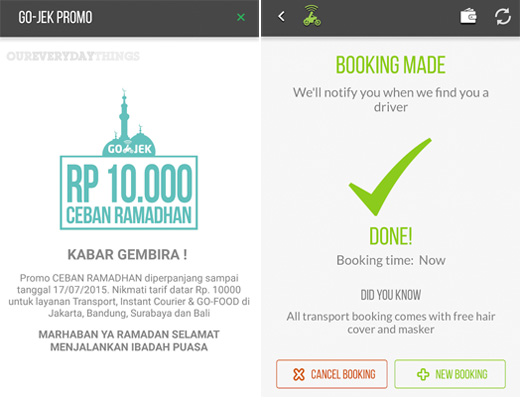 And you know what?
I then found out how they're having this Rp10,000 promo rate for the Ramadhan period (till 17 July)
Like, only SG$1 for their 'instant courier', 'meal collection' and transport services!?
They're mad!
…
To cut the story short, I made a booking through their Android app, and it was so easy!
I was impressed!
It was so convenient, and it felt similar to making a taxi booking back in Singapore!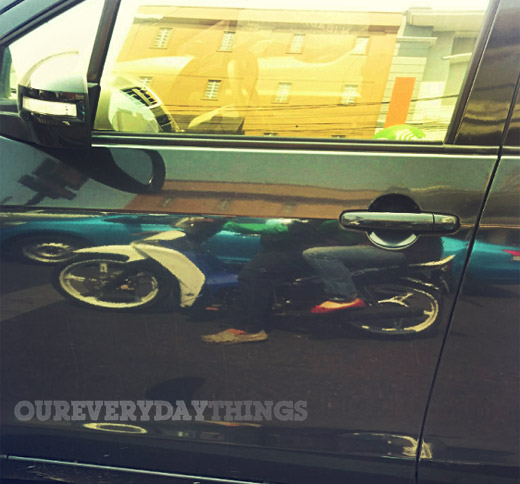 When the booking was confirmed, the motorbike driver's name and photo was sent.
There's an option to call him too, just in case there's anything.
The driver was friendly and he arrived in 8 minutes, instead of the stated 15 mins of arrival.
It was a cashless trip, because the Rp10,000 was deducted from my account.
And when I got to my destination, within 2 minutes, I received this message below, asking me to give some feedbacks on their service.
I was a satisfied customer.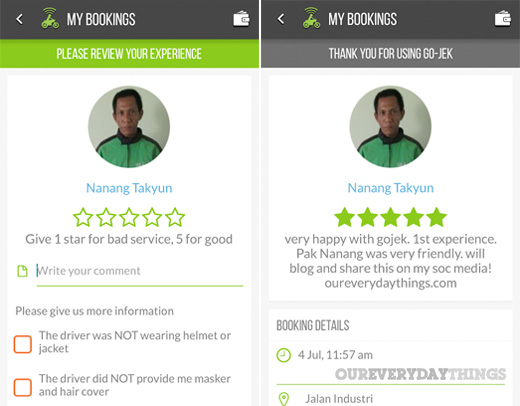 Well, I did ask the driver about his job as a Gojek driver.
He joined 2 months ago, he said.
I asked if this job is better than being a 'freelance motorbike taxi driver'.
And he said, yes … as long as you're hard working (taking on the 'job orders').
…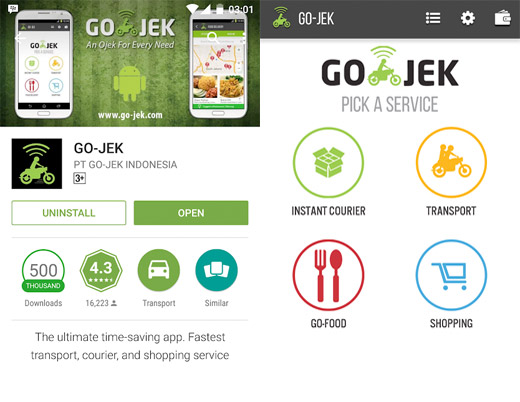 Anyway.
If you're thinking of downloading the app and creating an account with them, here's a referral code for you to redeem your free Rp50,000 credit at Gojek : 542989605
I downloaded the app from 'Play Store'.
Enjoy! =)
…
And, my hopes for Gojek?
Well … I hope they stay good and reliable!
We in Indonesia NEED good and reliable services!
Looking forward to seeing more and more improvements in Indonesia!