Home » Daily, Giveaways, Awards & Reviews
Brie : For the Love of Shoes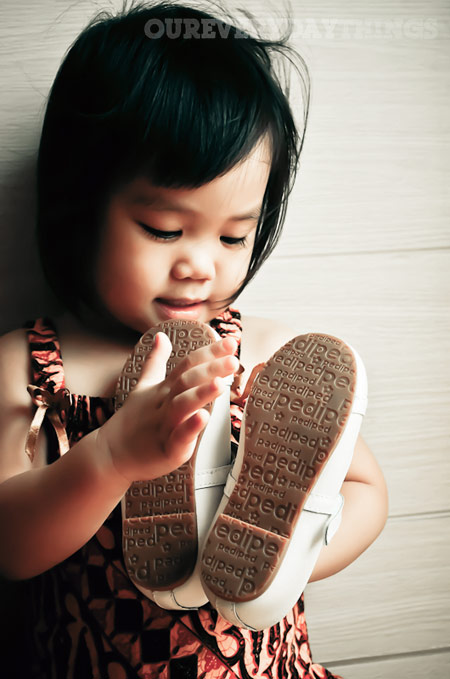 Is it just Brie, or do your toddlers also love to put on shoes (and sandals), even when they're at home?
Brie is now 2 years and 3 months old, and as far I can remember, she's been into trying out shoes and sandals (hers and other people's).
Since she's about one year old, I think.
Other than her own, she'd go for my shoes, her dad's, Anya's, Vai's, and even my friends' and her friends' shoes. You know, if we happen to have a playdate or something, and there are other shoes around =)
(Oh btw, she could put on her shoes, all on her own, since she's about 14 months old)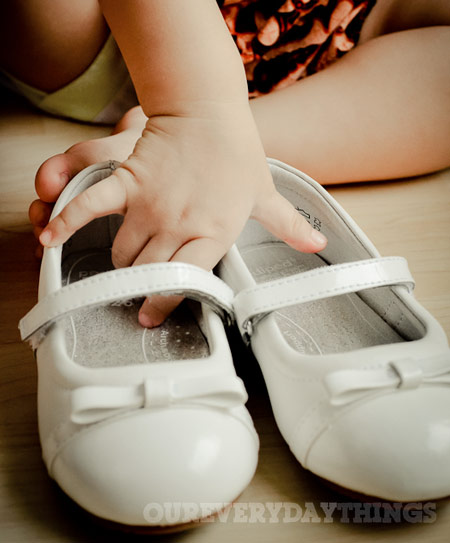 She'd put her tiny feet into them, and walk around.
Sometimes, she pretends she's going out to work in them.
"Brie pake sepatu, mau pegi kerja", she'd say to me  (that's Indo for 'Brie puts on shoes, goes out for work')
Other times, she tells me that she's going out to play tennis (and grab her brother's shoes and racket).
And she'd say, 'Brie pake sepatu Koko Vai. Brie mau maen tenis" =)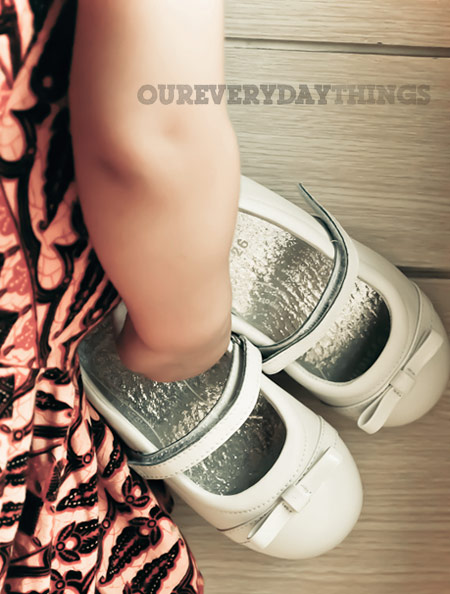 Out of my three kids, I notice that Brie is the one most 'interested' in shoes and all kinds of footwear.
(Okay, our son, Vai, also liked shoes when he was a toddler. The difference is, instead of his feet, he liked to put shoes and sandals into his mouth! Like, seriously! Thank God he survived all the dirt and germs!)
And I can't help but wonder sometimes, … if it's just a thing with curious little toddlers.
Or is it more like, a girl thing?
What do you think?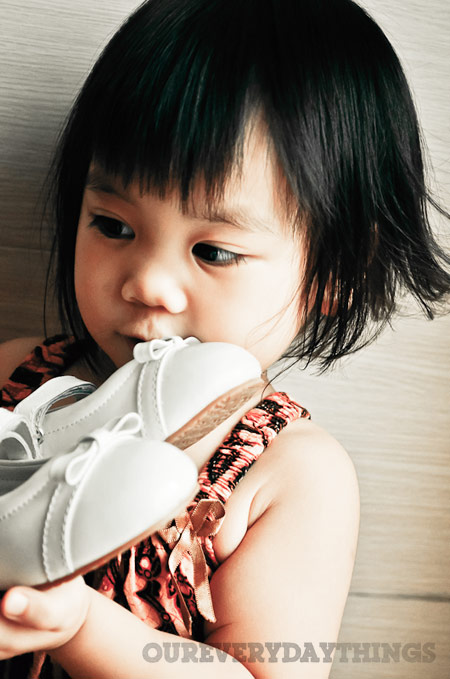 Note:
In this post, Brie is walking around with her cute Pediped shoes in her hands.
Ccomfortable and pretty ballet flats, I thought =)
…
Btw, if you're thinking of getting little shoes for your kids, you may want to check this sale out – up to 70% discount off Pediped Shoes in Singapore!
Here's a bit more info on it:
From 15 August to 15 September 2013, Pediped footwear Singapore will be hosting a 'Purchases with Purpose' Fundraising Sale on www.pediped.com.sg to provide help to the less fortunate kids (including kids with life-threatening medical conditions). 
Pediped Singapore is partnering with Make-a-Wish Foundation in Singapore, the sole beneficiary of this fundraising sale. Which means, half of the sales will be donated directly to the foundation. Shoes are available in EU sizes ranging from 20 to 33.  Selected styles are marked down as much as 70%!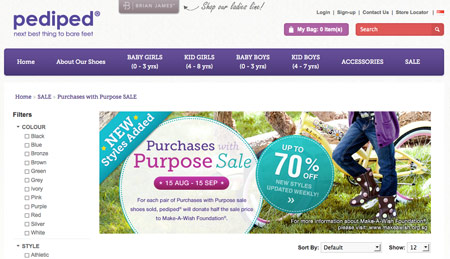 Just check out their website to find out more about it and browse around yeah! =D
Have a great weekend, everyone!