Home » Daily, Places to Visit
Checking Out : ITC Mangga Dua, Jakarta – Wholesale Shopping Place!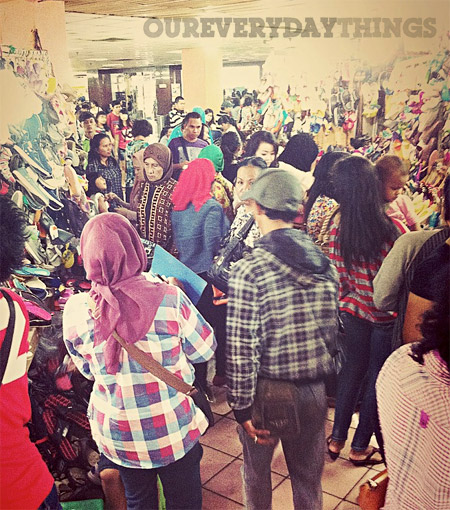 If I'm looking to get a dozen of my kids' underwear, half a dozen of sleeveless shirts for Brie, or a school bag or something, this is the place I'd check out!
It's called ITC Mangga Dua.
And, it's SUPER crowded.
Every day.
(Somehow the ground level is the most crowded. The higher floors are not as packed.)
Anyway.
In this 'mall', you'd see piles of sandals, shoes, and handbags.
Lots of fake branded goods =)
You'd hear salesgirls referring to you as 'sister', 'mommy' or 'dear' in their attempt to 'connect' with you and get you to buy stuff from their shop =)
…
I went there today with the 3 kids.
Yes, just the four of us.
And, I did my 'homework' =)
ie. I told Anya and Vai:
– Stay with me at all times, to avoid getting lost (or, emmm … kidnapped)
– Not to walk behind me, and not to walk way ahead of me. Hold on to me even though I can't hold their hands (because I'd be pushing the pram)
– And, not to make any comments whatsoever, when I do my bargaining thing with the sales people =)
…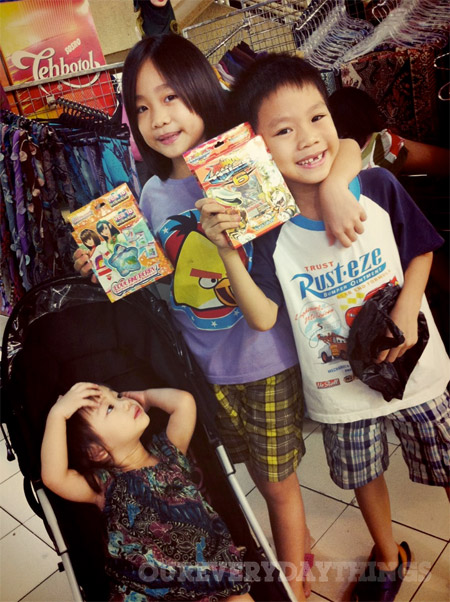 After a good 3 hours, we found the stuff we wanted to get, and everyone was happy. Tired, but happy =)
And, to those who're planning to visit ITC Mangga Dua for some 'wholesale' shopping, here are some tips for you:
1) Watch your belongings (including your precious children =). At all times.
2) Dress casually. Avoid accessories or dressing up unnecessarily.
3) Check other shops and compare prices BEFORE buying anything.
Because most likely, you'd find another shop selling it at a much cheaper price.
The downside: You'd need to spend 'more' time looking around, and going back to the previous shop if you can't find any better deals elsewhere.
4) Bargain. Bargain. Bargain. Nicely.
It'll go something like this:
You : How much is this bag ?
Sales: Oh, it's Rp400,000  (and she'll then tell you how great a product it is)
You : Can it be lower ?
Sales : Yes, by a little bit. I'll give it to you for Rp350,000. Special price!
You : Rp250,000?
Sales : No, we're making very little profit already.
You : How much then can you offer me?
Sales : We can't go any lower than Rp, 325,000.
You : Okay. Rp300,000 ya  *pretends to want to browse and leave the shop*

Sales : *looks at boss. Boss gives a nod* Okay. I'll get a new bag for you.
PS: Don't be surprised if you somehow ask around AFTER buying it, find the exact same product, and the salesgirl's starting price (before bargain) is at a lower price =)
…
And, here are a few more tips shared by others on my Facebook =)
a) Be there at 10am
b) Wash your hands before eating, esp. After touching dusty stuff.
c) Avoid weekends. Super crowded.
d) Eat their Soto Betawi at those food stalls where they display all the yummy stuff on the counter
…
Happy bargaining! =D