Home » Crafts & Activity Ideas for Kids, Daily
Brie at 20 Months : Why She's Not Doing Much Crafts Just Yet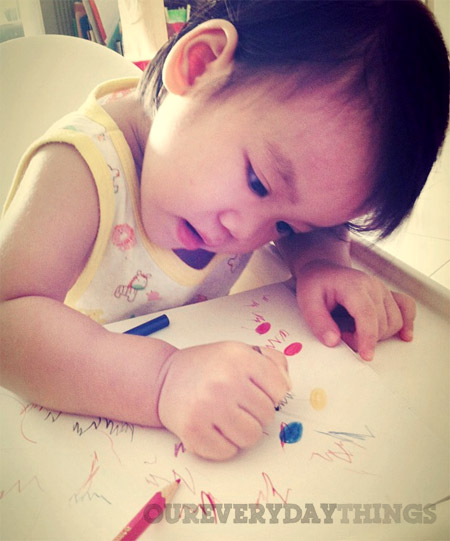 Brie is now 20 months old.
And as far as I can remember, I think my two older kids – when they're around Brie's age now – have done more crafts / artsy activities than this 3rd child of mine.
I wondered why this is so the other day.
I mean, why does Brie do less crafts / drawing / pasting than her siblings when they were her age?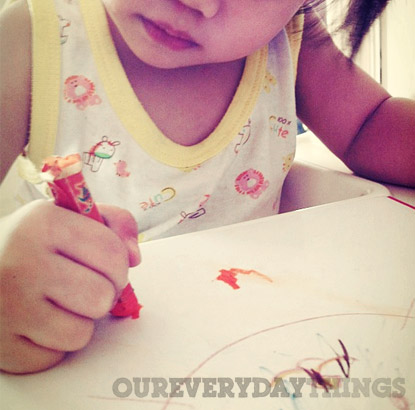 Well, I finally thought of these three main reasons.
Reason #1
Now that we're in Jakarta, somehow our current (rented) home is not so conducive to us doing activities in the living room like we used to when we're back in Singapore. Plus, my crafts stuff are still … well, inside our big boxes (read: not yet unpacked!)
(Can't wait to finally move into our own apartment in less than 3 months time, and unpack everything!)
Reason #2
Now that I have three kids, I have less time to sit down with the kids to do crafts regularly.
Note:
I'm now working (mostly is done from home). My eldest is attending Primary 2, the other is 'learning from home' till this July when he enters Primary 1. And, I spend quite some time 'on the road' as well, driving the kids from A to B and not to forget, getting stuck in traffic jams here in Jakarta.
Reason #3
This is probably the 'main' reason : Brie still likes to put things into her mouth! Yes, at the age of 20 months. Though now she does it less frequently, she still sometimes bites into our erasers, coloured pencils, etc.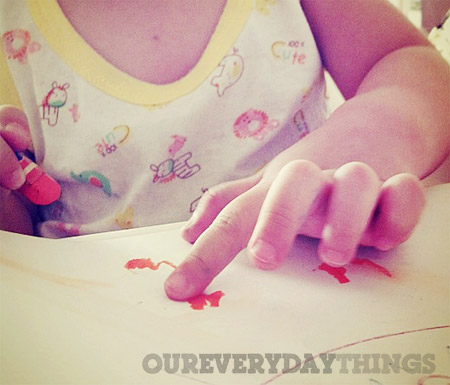 Anyway.
Here's one activity that she's been doing more of lately :  Drawing with a crayon and smudging it with her fingers.
It's do-able, because nowadays she no longer 'eats' her crayons, haha.
Look forward to doing more regular activities and crafts with the kids.