Home » Daily, Parenting
Brie : Self-Feeding and Mealtime Mess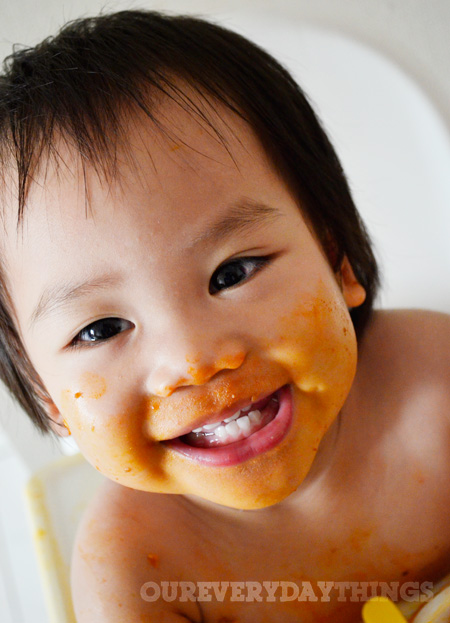 Brie is 1.5 years old now, and she's one baby who doesn't quite welcome being spoon-fed.
She'd prefer to feed herself since she's around a year old.
She'd use her fingers to pick her food off her plastic bowl and plate.
She'd use forks and spoons too.
Eg. When she eats her fruits (eg. Watermelon, apple, papaya), spaghetti, rice, noodles, bread, chicken pieces, broccoli, carrots, etc.
…
I personally don't mind because it means:
> Brie gets to learn some hand-eye coordination skill
(Bringing the spoon to the mouth with the food still ON IT is NOT easy for little hands)
> Brie is on her journey towards independence!
> I get to prepare the older kids' meals / finish cooking / wash the dishes / clear other housework, while Brie feeds herself
> I get to sit back and eat my own meal too =)
…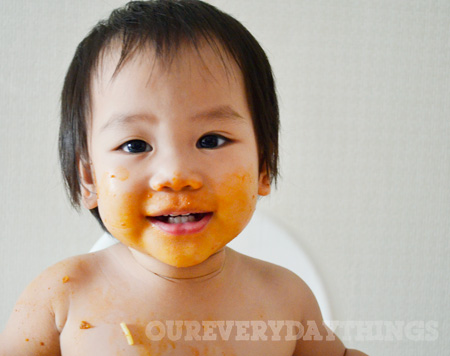 Not everyone welcomes this idea of letting a child feeds herself though.
Two main reasons I've personally heard are:
> The food is wasted (because obviously as the toddler learns to self-feed, some food will fall to the floor)
> It'll be too messy
…
Well.
To me, yes it's messy, and so when we're home, I'll just lift her up and give her a shower afterwards, hehe.
And, when we're outside, I'll simply wash her hands, or clean her hands and mouth with some wet wipes.
Pretty straight forward, yes? =)
As to the concern of 'wasting food', … well, I thought it's just part and parcel of anyone's learning journey?
Like, I'm sure a great baker has ever 'failed' in baking something when he first learned how to bake?
…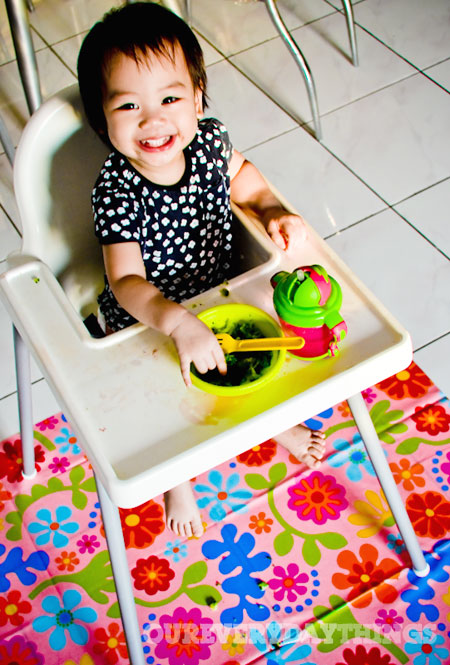 [Cute spillmat is from Tinydipity.com]

Two quick tips to share:
> Don't put too much food all at once. Add some a little more when baby is done with what's in her bowl / plate
> Place a mat or even some newspaper under the baby chair. It makes 'cleaning up after mealtime' a little easier =) Plus, since I know my mat is clean, I'd often pick up the food pieces (eg. Broccoli pieces) and place them back in the bowl =)
…
Oh well, anyway.
I guess it's my personal preference (ie. Both Anya and Vai also started self-feeding around the age of one)
What's YOUR preference?