Home » Crafts & Activity Ideas for Kids
Making : An Ocean Scene Using Paper Cutouts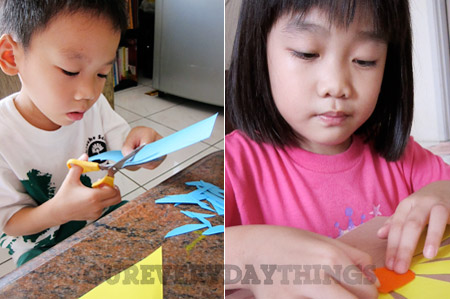 I'd like to share this activity idea with you today.
Something simple that only involves: a variety of coloured paper, scissors and glue stick, to make a 'drawing'.
…
Basically what we did was:
1. Decide what we'd like to make (In our case, we're making an outdoor scene where there're sunrays, clouds, the sun and blue waves)
2. Using a pencil, faintly draw what you'd like the scene to look like on a piece of paper (We used brown paper as our base)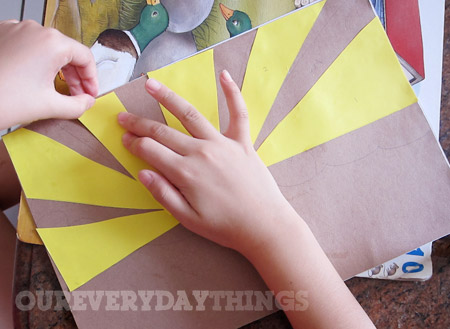 3. Decide what colours you'd like to have for each 'layer' and cut them out accordingly  (eg. Yellow paper for the sunrays, orange paper for the sun, white paper  for the clouds and blue paper for the ocean waves)
4. Using a glue stick, paste the layers accordingly, starting from those that are on the background
(For our 'scene', we pasted the coloured paper in this sequence : Yellow rays, orange sun, white clouds, blue ocean)
Note:
Create layers of clouds and ocean waves by sticking different 'shapes', one on top of another
…
And voila!
Here's what Vai made using coloured paper cutouts!
He even squeezed in a little boat origami to make the ocean scene look more 'real', haha.
Do explore the idea further and … have fun crafting with your family, everyone!