Home » Daily, Photography
Appreciating Jakarta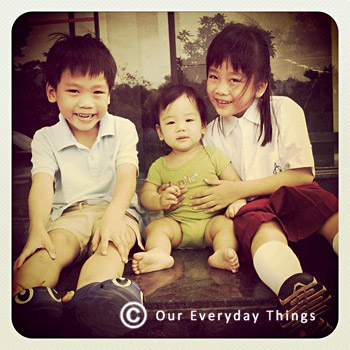 I have quite a few people asking me how it's been for us, living in Jakarta and all. Especially since I personally have not lived in this busy city for more than 20 years.
Well, it's been close to a month since we all left Singapore, and actually, … it's been okay.
Both Anya and Vai are adapting pretty well with their new environment. Brie who was clingy after we moved to our own place is now more or less okay too.
And me? Well, I think I'm settling down relatively well too =)
Plus, we're all healthy since we arrived, and I say, that's purely God's grace.

[We eat *yummy* street hawker food too, and so far it's been okay for us. Errr, just don't look at how the food is prepared, they say, hehe]
…
Someone told me recently that the first three months are considered 'honeymood period'. Reality will start to bite after that.

Some others told me to be prepared if I experience emotional downs in the first 6 months.
It's part and parcel of getting myself 'adapted' to living in a new country, they say.
(Yes, better be prepared mentally, I say. And I'm thankful for such well-meaning advices)
…
If you ask me, I think every country has its pros and cons. Good stuff and not-so-good stuff.
People can focus on the bad. And, they can also focus more on the good.
I personally prefer to go with the latter.

I choose to focus more on the good and interesting aspects of our 'new life' here in Jakarta.
I'm learning, discovering and experiencing new things everyday.
And, I have started sharing them pictorially too! =)
I've posted photos with the hashtag 'Appreciating Jakarta' on my Facebook, Twitter and Instagram.
Photos such as these: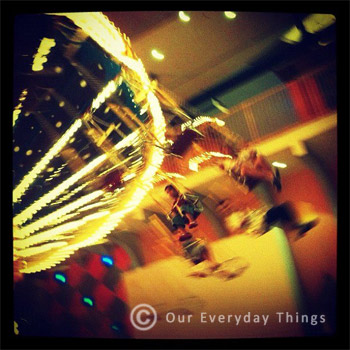 [Anya and Daddy having fun up in the air!]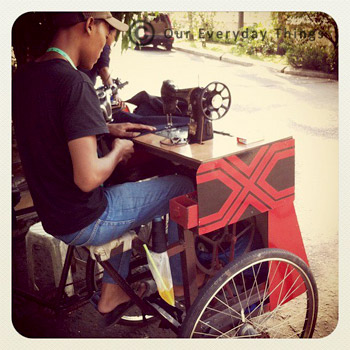 ['Sewing on the go', literally!]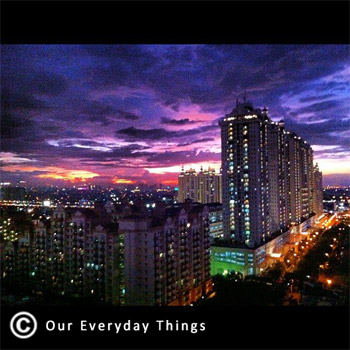 [Love the beautiful sunset!]
…
I'll continue to share with you what I learn and observe as well as how life is for our little family, here in Jakarta.
And you're most welcome to add me on Facebook, follow me on Twitter and Instagram (under 'leonny_oureverydaythings), if you haven't yeah =)
Have a wonderful week, everyone!