Home » Pregnancy & Babyhood
Breastfeeding = Faster Weight Loss is a Myth?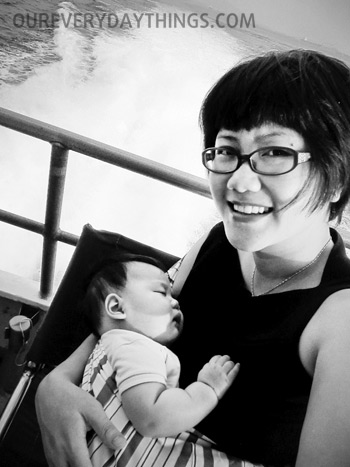 Vai, my 5yo middleborn, asked me this the other day:
(While looking at Brie who's sitting on the pram): "Mommy, you've given birth to Brie, right?"
"Yes. Why you asked?"
"Well, if she's out of your tummy, then why is your tummy still very big?"
Hah.
The reality of a breastfeeding mommy? =)
…
They say, when you're breastfeeding, you'll lose weight faster.
Here's one article I recently found that 'confirmed' the statement above:
Breastfeeding burns calories.  Over 600 calories a day for breastfeeding women who don't supplement with formula.  600 calories!  That's like getting two hours of aerobic exercise each day.  A study published in the Journal of American Dietician Association shows breastfeeding melting off inches around your hips and buttocks.

And then, I found another 'interesting fact' that says:
Breastfeeding mothers who consume only when hungry can lose an extra 0.5kg per month more than mothers who are not breastfeeding.

Many women might feel that breastfeeding is making them retain or pick up extra weight, the truth is that most moms are quite stressed out after having a baby and may resort to food as a stress reliever.
Breastfeeding cannot make you pick up weight. It may keep you from losing your last few pounds, but that's about it.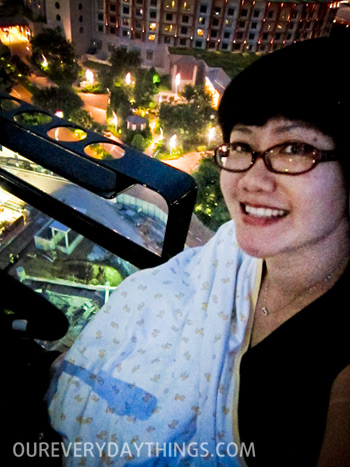 [Wherever, whenever … if need be, inside a cable car too =) ]
…
I'm writing this post today because I feel I need to share my view and personal experience on this breastfeeding and weight loss issue.

I have three kids and in all three cases, I actually GAINED WEIGHT after I gave birth.
I'd love to find out how other moms' situations are like, … because for my case, I gained about 8 kg altogether when I was pregnant with Brie, and after I gave birth, I was left with just about 1-2kg.
Brie is now 3.5 months and is exclusively breastfed, and instead of having 1-2kg of extra body weight, I now have 5-6kg EXTRA.
I mean, I seriously am 'bigger' (all over!) NOW than when Brie was 2 weeks old!
I've always known that this would happen when I breastfeed my kids, because it happened when I had Anya, and AGAIN, when I had Vai.
ie. I got HEAVIER after I gave birth, and as long as my kids are still breastfed, those 5kg EXTRA will stick around.
[The extra kilos basically go to my thighs, my hips, my tummy and my arms. Well, my torso mostly]

I knew that I'd be 'bigger and heavier' when I'm breastfeeding my babies because I get hungry ALL THE TIME!
I mean it's like : I have a big dinner, I breastfeed my baby, and I feel hungry again.
Really.
And I have NO idea how and why I can possibly feel hungry again after having such a large meal!
…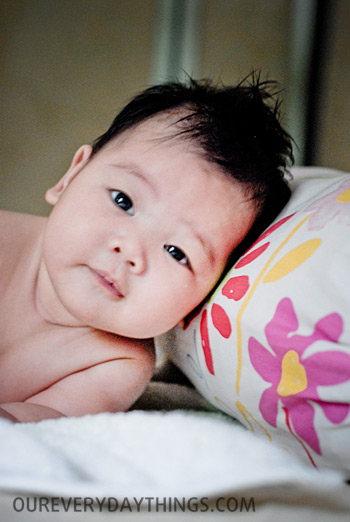 I must say, I disagree with the article above that says : moms pick up extra weight after giving birth because they are stressed out and may resort to food as their stress reliever.
Well, I'm here and I say : NO, I'm not stressed out, and NO, I don't use food as a stress reliever.
I simply eat a LOT because I feel so very VERY hungry after breastfeeding.
…
Here's what happened when I breastfed Anya and Vai.
Anya
I completely weaned Anya off breastfeeding when she was about 14 months, and I slowly lost weight. I got back to my pre-pregnancy weight (without any exercise programs) some 6 – 9 months later.
Vai
He was completely weaned off breastfeeding when he was 22 months old. I returned to my pre-pregnancy weight some 6 – 9 months later too.
So looking at those two situations, I suspect something similar will happen again with this third baby in the family, whom I hope to breastfeed for about 1 – 1.5 years =)
…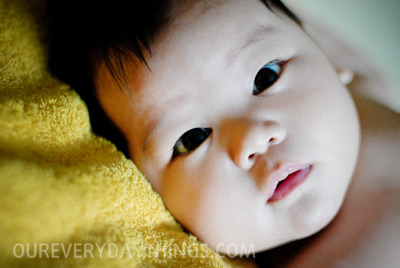 [Brie at 14 weeks]
Now, to the question : Should I or should I not breastfeed my baby then?

Well, if you ask me, I think you and I know that breast milk is best. I myself am a firm believer in the goodness of breastfeeding babies.
But, every mom has different situations. Some moms I know tried their very best to breastfeed and they simply couldn't meet the babies' needs.
Well, I'd like to share with you this article which I personally think gives a more realistic view of breastfeeding and weight loss after giving birth.
And to close, I'd like to quote the last few sentences in that article that says:
Deciding whether to breastfeed is an intimate decision.
The researchers do not recommend making weight and fat loss a priority in considering whether breastfeeding is best for mothers and their babies.
I so agree with that!
For my case, I'm so grateful to God that I 'can' breastfeed my babies, and so I definitely choose to breastfeed them for at least one year.
And, I thank God for a hubby who does not mind the extra kilos, the bulge, the big appetite … and me borrowing his tee-shirts all the time nowadays. Hehe.
…
PS: If you're heavier because you're breastfeeding, well … now you know you're not alone =)
PPS: I guess I could've gained 'less' if I don't consume Milo and other sweet stuff (like, Ice Kachang? =) and go for fruits, brown rice, and wholemeal version of everything as 'breastfeeding snacks' whenever I feel hungry. But errr … I don't think I'd like to do that though =) Cutting down on Ice Kachang and sweet dessert, … okay, but eliminating Milo and other 'not quite wholemeal' food altogether, err … not for me, thanks =) I much prefer losing my kilos later when Brie is weaned off breastfeeding =)