Home » Advertorial
So, Do You CHECK where Your Milk Product is from?
If you are a family with kids, then MILK is definitely in your grocery shopping list, yes? =)
And, if they're 'bigger kids' (like mine, who are 7yo and soon-to-be 5yo), then my guess is … you have stopped buying powdered milk in tins?
Anya and Vai have been drinking fresh milk since they're about 3 years old.
I'd usually pour some to the kids' mugs and let them drink their milk cold. They'd have it with their breakfast cereals too.
As for me and Wilson, we either drink it cold too like the kids, or mix it with Milo =)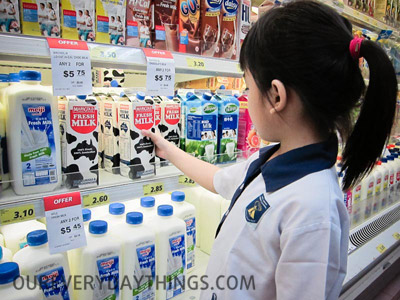 Recently, I was asked if I've ever CHECKED where the milk product I buy is actually from.
THAT made me stop and think, because hey … come to think of it, I have NEVER checked!
I know very few people who actually check the product labels (and expiry dates) whenever they go and buy something.
But err, I'm not quite like that.
When it comes to buying milk for the family, I have a few brands in mind and usually I'd just scan the rows of milk, look for our usual brands, and … grab the ones on sale, haha!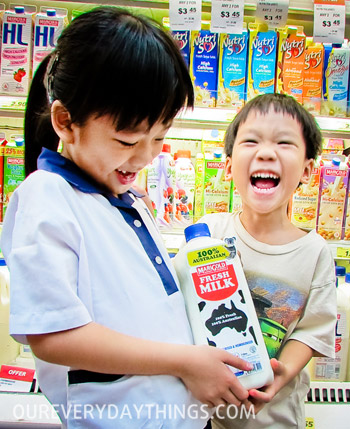 So, just recently, the kids and I spent a little more time at the supermarket.
We looked at a few different 'fresh milk' brands and checked out the labels.
And hey hey … interesting findings!
You see, I personally prefer 'Australian Fresh Milk', simply because I feel the milk from Australian cows are … better =)
I mean, the cows there are exposed to green pastures, fresh air and sunshine, and I somehow believe milk from such cows are higher in quality and somewhat tastes better! =)
Now.
After checking out the different labels, I actually found out that apparently, NOT ALL that I thought are 'from Australia' are actually '100% fresh milk from Australian dairy cows'!
Okay, check this out:
– GREENFIELDS
The pack (and its promoters) says that it's milk from Australian dairy cows. Naturally, consumers assume Greenfields milk is from Australia.
But, a closer look at the product reveals that it is in fact 'fresh milk from dairy cows IMPORTED from Australia'.
Now, I never knew that!
They ARE apparently Australian cows, that are farmed in Indonesia!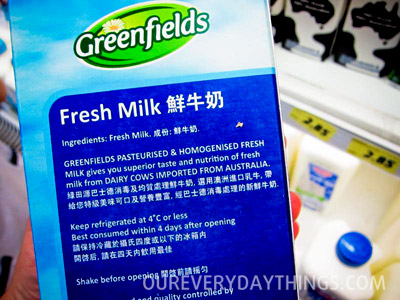 …
– I then took a closer look at MEIJI.
I'm sure I'm like many others who are under the impression that Meiji is made in Japan. But, hey hey … after a quick check on its label, it actually says, "Made from 100% Fresh Milk' and is 'Product of Thailand' (though it's under 'License and strict quality control by Meiji Dairies Corporation, Japan').
Ah. So it is NOT made in Japan then?
Interesting.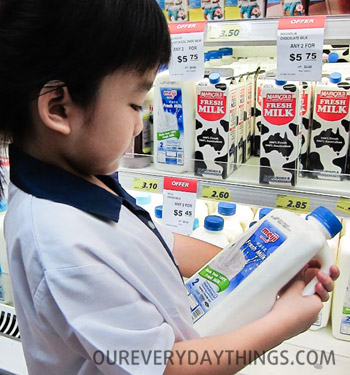 – I checked out MARIGOLD Fresh Milk as well.
Frankly, I've never read their labels closely, well … not until that day at the supermarket. All this while, at the back of my mind, I sort of 'assume' that it's probably from Malaysia or something.
But then the label says, 'Ingredient: Fresh Milk' and '100% Australian'!
.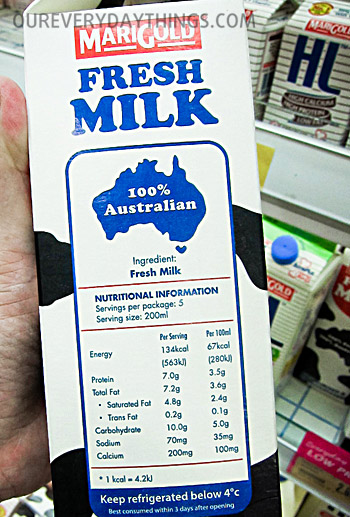 I went on to check and I found out that MARIGOLD Fresh Milk IS from Australia, and it contains 100% fresh milk from Australian cows (Click the link to read more about it)
What a nice surprise!
The ones that I thought are from Australia and Japan are not really 'fresh milk from those countries', and the one that I thought is from Malaysia actually is fresh milk from Australian dairy cows, that are farmed in Australia!
(I wouldn't have noticed all these facts / misconceptions, if I hadn't checked the labels more closely)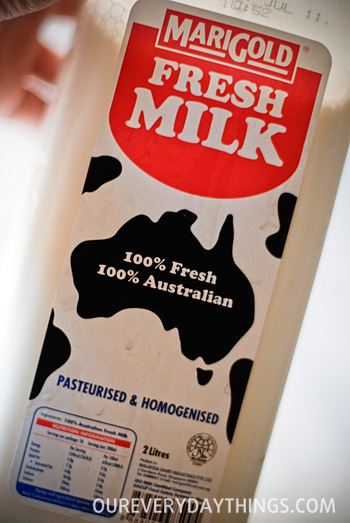 If you haven't taken a closer look at your milk products' details all this while, I'd really recommend that you go and check them out before you grab your next bottles / cartons of milk.
And perhaps, just like me, you'll be surprised too by what you'll find!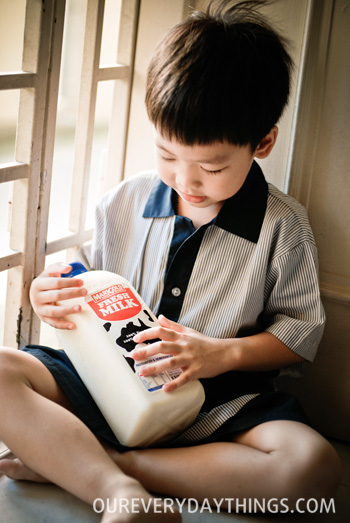 Extra info to share :

– Singapore does not have a milk farming industry apart from the goat farms in Lim Chu Kang.
– Most milk found on our supermarket shelves are apparently imported in bulk from countries like Malaysia and Australia, and packed in Singapore, while some others are packed and imported from Thailand.
– Sometimes, the same brand of milk in 1-litre cartons and 2-litre bottles may come from different countries!