Home » Daily, Inspirational, Parenting, Video
Parenting : Why We Teach Bahasa Indonesia to Our Kids (And a Video of them singing 'Indonesia Raya')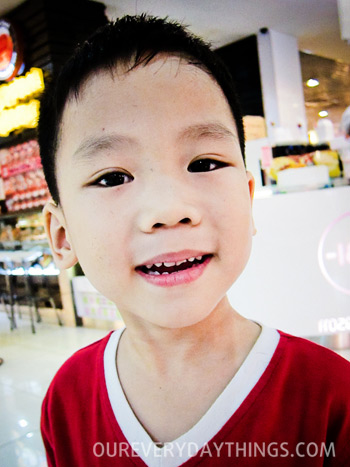 [In red and white, the Indonesian flag's colour!]
I was recently asked by at least three people about our kids and how they speak in Bahasa Indonesia to each other.
The questions were more about : WHY we teach them Bahasa Indonesia, and aren't we worried that they can't cope with the english-speaking schools here.
Since today is Indonesia's Independence Day, I thought it's 'timely' to share our answers (read: our personal take) to the two questions above today =)
Here they are.
> WHY do we teach our children Bahasa Indonesia? (Especially since they're born in Singapore and have always lived in Singapore)

I'd say, why not?
Wilson and I were born in Indonesia. We speak to each other in Bahasa all the time. We go to an Indonesian-speaking church service. We have Indonesian friends here in Singapore. We love Indonesian food. Our parents all live in Jakarta too.
So, it's only natural for us to teach our children Bahasa Indonesia.
We wish for our children to communicate and relate well with their grandparents, cousins and relatives back in Indonesia. We want them to know that their parents were born there and Bahasa Indonesia is their 'mother tongue'. We also wish for them (in years and years to come) to actually 'understand' what's being said and shared during the Indonesian-speaking service we attend every Sunday.
Wilson and I also believe that the more language one can master, the better too, as it will allow them to reach out, communicate and relate to MORE people, more communities, around the world.
[The best people who can teach them a 'foreign language' – a language that's not commonly spoken in the country they live in –  from day one are their parents, yes? =) ]
If Wilson and I could speak any OTHER languages, we would definitely pass them on to our kids too! Too bad we're stuck with just English and Bahasa Indonesia so far (Okay, and a liiiiittttle bit of Mandarin. Anya and Vai know Mandarin so much better than us though by now, haha)
…
> Are you not worried that your children will find it difficult to speak English when they enter nursery school?

We believe children are really like a sponge. They absorb knowledge and information very fast and well. When it's time for our children to enter school (eg. Nursery school, when a child turns 4yo in that particular year), we believe that they WILL learn how to converse in English, how to write in English, etc.
We saw it happen when both Anya and Vai started going to N2 (Nursery 2).
In their first 2-3 weeks of school, … yes, they spoke in 'mixed languages' =)
Vai, for example, did say something like this: 'Mommy, di kelas tadi so cold, Vai mau wear jacket besok!'
=)
But you know what, after that initial 2 – 4 weeks, our kids started speaking English at school.
With NO problems.
They continue speaking to us in Bahasa Indonesia though (and I guess it's because it's something that we do since the kids were born).
There's one interesting thing I noticed though: Anya and Vai always speak in Bahasa to each other, but somehow when they're with their friends (even if they're Indonesian friends), everyone automatically speak in English to one another.
Perhaps they kinda feel like they're with their school friends, and at school, everybody speaks English to each other?
…
Anyway.
We don't just teach our kids to speak in Bahasa Indonesia. We also introduce them to some Indonesian folklore stories, Indonesian songs and of course the National Anthem – Indonesia Raya =)
And, to close today's post, I'd like to share with you this video we made today.
It's of Anya and Vai attempting to sing 'Indonesia Raya' (only the reffrain) earlier today =)
Enjoy the clip!