Home » Pregnancy & Babyhood
Baby Brie : 13 Weeks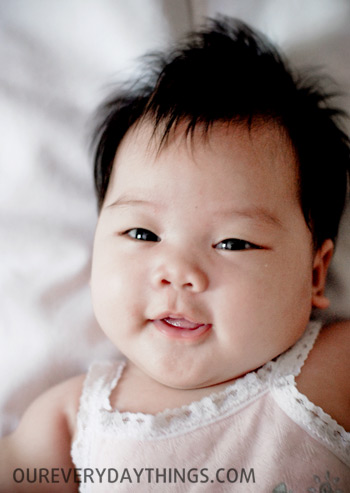 Here're some quick, interesting facts on 13-week-old babies' developments:

– Should be sleeping for about 10 hours at night
Brie >> Yes, she does now. Yay!*
– Can see objects up to 6m away! The view of baby's world is very different from ours, so it's always recommended to get down on the floor and see what baby sees.
Brie >> On this one, I remind myself to check on Brie every now and then – when we're going out during the day and she's on the pram – to see if sunlight directly shines to her face!
– Baby can sit when supported by the hips, and enjoys sitting in a semi upright position. This position is also best for learning and for play.
Brie >> She now also mostly sits in a semi upright position when on the pram.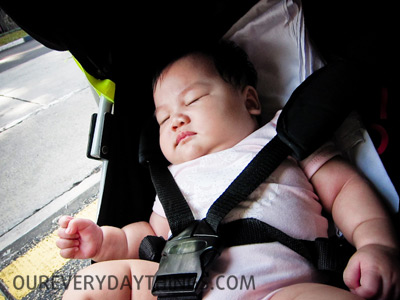 – Baby's hands are now open most of the time, and he/she will shake and hold a rattle, or grab at your hair and jewelry.
Brie >> Oh yes, she'd grab my shirt, or my necklace, but she can't quite grab a rattle for long just yet.
– Baby will smile and laugh more, cooing, whimpering and gurgling. Because you talk to him/her, baby is beginning to understand a message is made up of syllables, and that's why baby will also start making sounds such as "ooh" and "aah".
Brie >> Oh, I love this part! I love it when I look into her eyes, smile and talk to her softly and she'd smile and coo back to me.
…
Yes, I must say, it's just SO heartwarming to have a little baby around.
Love you, lil Brie!