Home » Advertorial, Marriage & Relationships
Marriage : Real Love Works!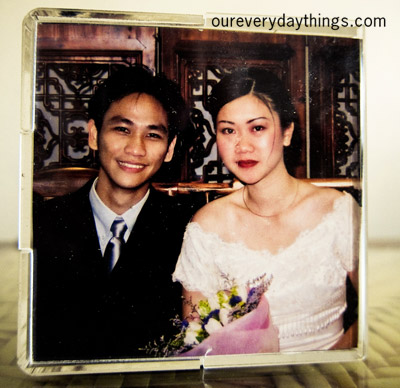 Yep, that's US close to TEN years ago!
It was when we were at the Registry of Marriage in 2001. I was twenty five, and Wilson was twenty six =)
It's a little hard to believe at times that we'll be celebrating our TENTH wedding anniversary this July. I mean, it's been TEN years? Already?
Because frankly, it doesn't feel like we've been married for THAT long. Really.
(They say, time flies when you're happy and enjoying life? =)
Anyway.
Over the years I've sometimes been asked questions on how we 'work' on our relationship.
As we all know, getting into a relationship is easy, but keeping a marriage going and fresh for years and years? Well, THAT is not as easy. It involves a lot of hard work and commitment from both parties, I must say. Especially when we include some other factors into the equation, like children, bills, work/career, housework, personal goals, etc.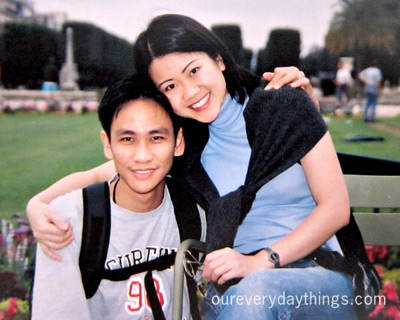 [Taken in 2002, ... that's one year after our wedding]
…
Sharing a life with another individual all these years has its ups and downs. My life , I must say, is better with him around though.
He's the one who goes all out to catch the lizards at home (I have a terrible phobia for this animal!). He helps to get the grocery when I really am bogged down with work or the kids. He's the one who reminds me of my flaws and encourages me to change and be a better person.
I remember too when I was VERY pregnant with my firstborn, he was OK with me needing to have LOTS of pillows in bed to support my body. Errr … apparently I had too many pillows at one particular night though, leaving so little space for him to sleep and he fell down on the floor in the middle of the night! Oops! =)
…
Like all other couples, Wilson and I go through the downs in our marriage too.
Times when we're physically / mentally exhausted, and impatience towards each other set in. Times when words should've been uttered in a better tone. Times when I felt he's not as helpful around the house and the kids as I had hoped. Times when I misunderstood his intentions and it led to unnecessary arguments.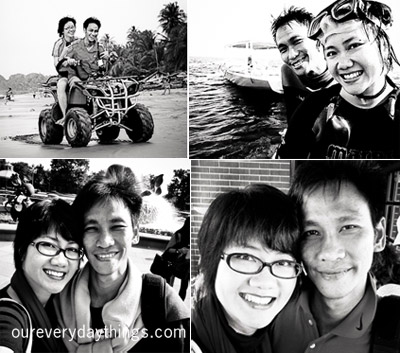 There are a few things that we both did / do, that have helped us in making our marriage work through these years though. And I thought of sharing some of them with you today. Here goes:
> Communicate
a) Misunderstandings and arguments tend to take place when we ASSUME things. So instead of 'making assumptions', I personally prefer to actually ask, 'What do you mean when you said … ?' And, I also tell him my feelings, my thoughts, my hopes, my disappointments, etc.
We try to always communicate. Like good friends do.
[Note: Obviously, it doesn't mean problems automatically disappear when we 'communicate'. But it sure allows us to understand each other better]
b) Someone once said, 'Know when to talk and when to shut up'. This 'motto' has helped her and her husband make their marriage work. And I so agree with her on this too!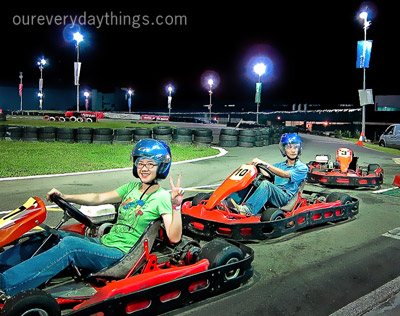 > Still do things together as a COUPLE, even when we have become PARENTS.
- We send text messages to each other when we're not together, just to share how things are going
- We chat about things OTHER than kids-related stuff
We do this when all kids are asleep, and at times it may mean less sleeping hours for us and chatting well into the night in bed.
- We watch movies together!
Again this is done when the kids are asleep at night. We'd watch DVDs together at home (Sometimes we both are exhausted – or the movie is rather boring – and we'd fall asleep on the sofa, heh)
Btw, now that the kids are both at school, we do schedule 'movie dates' from time to time (ie. We'd go after dropping them to school and before picking them up again)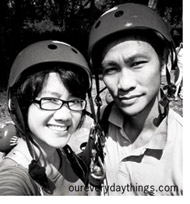 - We do fun stuff together!
When we were in Bali and had our grandparents with us, we took a 3-hour break from the kids and went scuba diving! We were both new at it and it was SO nice and refreshing! We loved our time together!
We went go-karting (while the kids watched and took photos of us!)
And sometimes, we do fun stuff together with the kids too, like going for Flying Fox rides, during our trip to Indonesia last year!
- We pray and serve together
As both Wilson and I share the same faith, we truly find praying together, attending Bible classes, serving and being in the ministry together strengthen our relationship as husband and wife too!
…
Personally, if you ask me, there are HEAPS of things that can help make a marriage work. But, they can't stay as a 'List of Things to Do and Know'. They can't just be 'theories'.
I learn that BOTH the husband and the wife need to work on the relationship everyday. Self-denials and sacrifices need to be made and love needs to constantly be 'worked on'.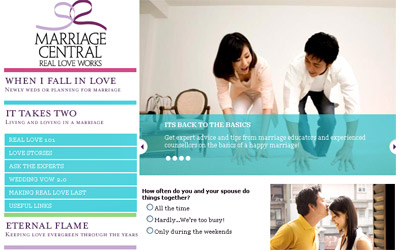 I'm glad that Singapore actively encourages couples to strengthen their marriages, through annual events and campaigns, as well as regular activities too! [I don't know how many other countries in the world actually do this. Not many, I think]
They even have a website called MARRIAGE CENTRAL for this!
And, their annual campaign is called REAL LOVE WORKS.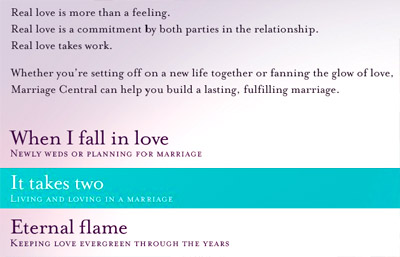 Here are the key highlights for Real Love Works 2011 that I'd like to bring your attention to:
When:
Saturday – Sunday, 26 – 27 March 2011
What it's about:
A series of public seminars for couples to gain enriching insights in building a strong and happy marriage.
Price:
$12 per pax or $16 per couple for each session, available through all SISTIC outlets.
Click on the link above to read the details.
…
b) "Marriage is no Laughing Matter"

When:
1 April – 3 April 2011 at DBS Arts Centre
What it's about:
A seriously funny comedy on the ups and downs of marriage life, featuring Selena Tan, Robin Goh, Rani Singam, Sebastian Tan and real-life married couple, Lim Kay Siu and Neo Swee Lin. Look forward to a night of endless laugher and wise insights into how to stay married to your love of a lifetime!
Price:
$15 or $20 per couple (including booking fee) from SISTIC outlets
…
c) Real Love in Action
What it's about:
A line-up of exciting events from couple cookery classes to romantic outdoor movie screening to marriage retreats organised by our community partners.
d)  Special Promotions
What it's about:

A whole list of promotions with food & beverage outlets and other retail stores specially for you and your loved one as part of Real Love Works celebrations!
…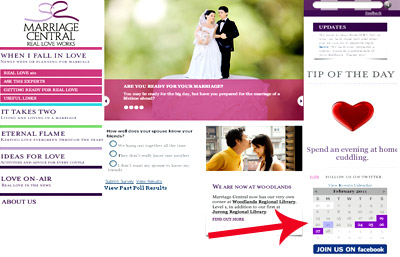 For all of the above, simply go to MARRIAGE CENTRAL website for details!
[Click on the Calendar at the bottom right corner to see the schedule events and info]
…
So there you go!
Heaps of activities, seminars (and even a concert that you and your loved one can check out in the months of March and April!

Let's work on our marriage together, and here's wishing you and your loved one a happy and lasting marriage!