Home » Marriage & Relationships, Pregnancy & Babyhood
Baby no. 3 : "What Husbands Do to Make Pregnancy More Enjoyable"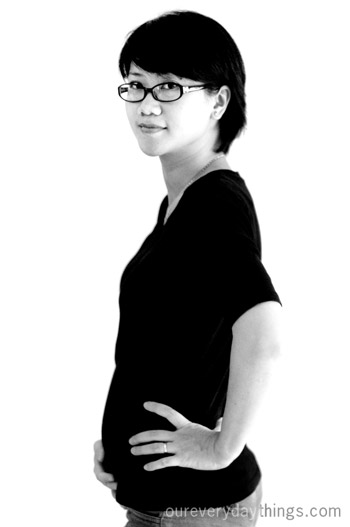 [At 9.5 weeks pregnant]

The other day I had a message from a male reader, and this was what he wrote:
I really am happy that men are unable to 'give birth' =)
Having said that the least I could do is appreciate how to care for my wifey when she does become pregnant.
I was wondering if you could share what your hubby could have done or could do to make the pregnancy more enjoyable – he must have done a good job as you are willing to score a 'turkey' or a 'hat-trick' together'

…
I thought that was an interesting question!
And I just thought of sharing my replies with you.
Personally, I think it's what a husband does in general for the family (and for the wife) that can make her feel more comfortable (ready) about having a child (or two, or three), ie. not just when she's pregnant.
I 'know' my husband has always been a supportive partner, who's willing to help out with housework, with looking after the kids when I have to be busy with other works / commitments.
Throughout our 9 years together as a married couple, I've seen how he does his best to provide for the family, without 'neglecting' us. I mean, many men work hard and clock in super long hours at work, and thus he leaves the family with minimal time, all the time. With my hubby, even when he has to work for long hours at times, he'd make sure he spends time with me and with the kids whenever he's with us.
And, when I was and AM pregnant, I can see how he tolerates my taste buds too =)
He doesn't complain when I can't cook. And when we need to go out to eat, he lets me choose and decide where we'll go (because right now, I'm still at a phase where I'm very picky with what I can eat), eg. if eating a mini pot noodle for lunch is what I can tolerate that day, then we'll look for a hawker centre where they sell it =)
Anyway, my hubby is not perfect. But, I can see he tries his best. And for the fact that we'll be at it together when there's another child in the family, I'm simply grateful. It's something I appreciate a lot.
…
Just wondering, what can YOUR husband do to make pregnancy better for you?