Home » Inspirational, Parenting
Parenting : 'So, Do Your Kids ever Yell at You?'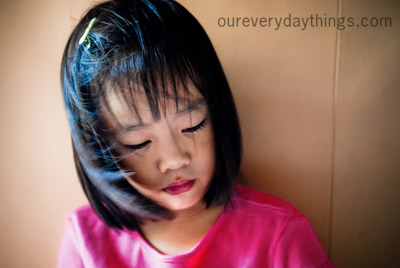 Sometimes, I get asked, 'Do your kids misbehave?'
Or, 'Do they ever talk back to you or something?'
And my answer has always been, 'OF COURSE they do.'
I mean, they're sinners just like me. Even us adults still sometimes do things that we know we shouldn't, what more little ones who're still learning about themselves, about life and its many complicated things.
…
Let me share something with you.
I always believe in communicating as best as I can with my children.
When I have to discipline them or make a particular decision as a result of their misbehaviour earlier on, I share with them (though it may not be done right there and then, depending on the situation) my reasons for doing so, what they should've done instead, the impact of their behaviour towards me or others, etc.
And afterwards, I always, always, tell them how much I love them, and how I'm sad whenever I had to discipline them.
But.
Despite all that, Anya and Vai do NOT always 'understand' what I mean or why I do what I do.
Well, naturally.
There have been phases (read: frequent episodes within a day, which take place for a week or two, or three!) where they simply are very rude towards me.
They'd scream at me. They'd cry and insist on their earlier request. They'd talk back and argue. They'd stomp their feet and leave, after rolling their eyes and raising their voice at me.
And the 'cause' of such behaviour?
Well, here're two sample scenarios that could take place just a minute before the whole episode began:
Scenario 1:
Mommy picked kids from school. Kids and Mommy hugged. Then kid asked:
Kid : Mommy, can we go to the hawker centre and eat something there?
Mommy: Today? No, we can't because we need to get back home soon. Remember I told you how we're going out again tonight?
Within seconds after I finished my sentence, this happened:
Kid raised voice, frowned, complained how I NEVER take her to any hawker centre. Kid whined and insisted to go. And when I still said no (in a normal tone), kid complained, raised voice, cried, and frowned all the way home.
Scenario 2:
Kid still coughing badly and was not supposed to eat any sweets.
Kid : Mommy, can I have one candy please? Puh-leaseeeee?
Mommy: Yes, you can when your cough is nearly gone, okay? You know that no one should eat any candy when they're coughing badly because it makes it worse.
Then, the screaming and whining episode began.
…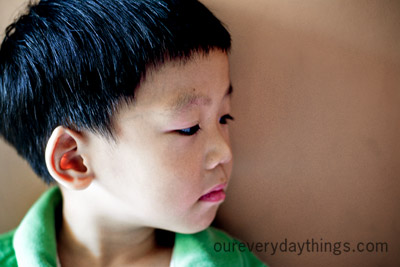 People ask me if I scold my kids. And my answer is, 'Yes, of course. But it also depends on each situation.' (read: I choose to not easily scold / raise my voice in anger as the kids can easily 'get used to' my scoldings, which means what I say to them will easily lose its 'impact' too)
Sometimes when my kids misbehave frequently and repeatedly over a period of a few days or so, these thoughts do cross my mind:
– Have I perhaps been too harsh / strict on them all this while, which resulted in this kind of behaviour?
– Or perhaps, have I been too soft that they feel they can treat / respond towards me in such a way?
– Haven't I taught them enough?
– What can I do to make things better?
…
Well, one thing is for sure, I never tolerate rude behaviours.
I mean, I always point it out and let them know whenever they speak rudely, behave in a manner they shouldn't, etc.
I'd also ask them to apologise and explain what it is that they're apologising for (ie. they need to know what it is that they've done wrong).
Sometimes I also choose to say nothing, and just give them a 'look' (that basically says, 'Look, watch your words. You're being rude')
…
In my head, I know it's just a phase. I know that they're just kids who're learning to manage their emotions. I know how they'll 'grow out of it' if we consistently and lovingly teach them well, etc.
[I know too that however bad things can get sometimes, it could always be worse when they've entered their teenage years!]
…
KNOWING all that does not automatically make facing the challenging attitudes much much easier though.
It does help in keeping my perspective of things, but it doesn't mean I feel okay when my kids yell at me over unreasonable demands.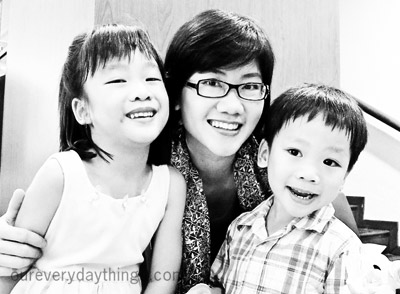 Anyway.
Things are better these days (read: I've had worse days last week and the week before)
But I just thought of sharing all this with you.
Really. I learn a lot from being a parent.
I feel my children remind me of how vulnerable I am as a parent. How there's so much about myself and my characters that I still need to change towards the better too.
And most importantly, how it's purely because of God's grace if I could enjoy my days as a parent, and if a sinner like me is entrusted with children whom I have the responsibility and calling to teach and raise according to God's ways.
Despite all the challenges I face from time to time, I know I'm blessed nevertheless.
Very blessed.
…
P.S.: Btw, so sorry for not being able to reply to all your emails and comments left on my blog or Facebook. It's been overwhelming at times. I read every single one as they come in though, and I really treasure them all. Please keep on sharing yeah. I always love to hear from you.