Home » Daily
Making: Felt Pillow Keyrings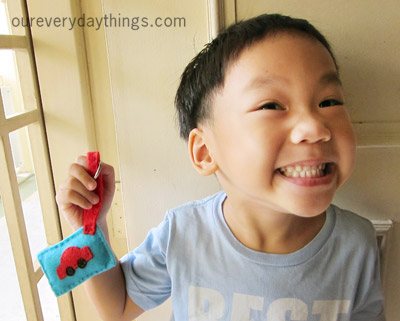 I've made at least six felt hair clips for Anya so far (Click HERE to read my post on how to make one too yourself).
And NONE for Vai.
Recently, I thought to myself, 'Hey, I should just make a keyring for Vai using felt!'
And that's exactly what I ended up making.
I made two personalised 'keyrings' for Vai!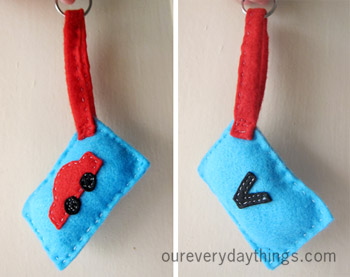 [This is one of the keyrings. Car on one side, and the letter 'V' for Vai on the other]
Here's what I did:
– Cut out TWO pieces of felt that will be the main pillow
– Cut out the shape of whatever that I'll sew on the pillow (eg. car shape in red, and two black tyres, for the above keyring)


[I scribbled the word 'Vai' on a piece of paper, cut it out and use it as a pattern when cutting out the word on a black-coloured felt above]
– Sew the pattern onto the main felt
– Sew the sides together, BUT before you sew the final side of the pillow, stuff some cotton balls into it (see photo below)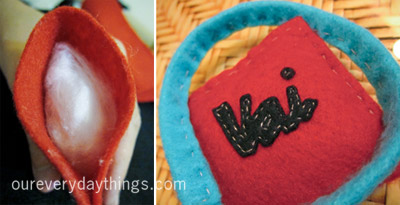 – Cut out a long rectangular shape, and sew one side of it together (ie. the blue felt in the photo above). I used it as my 'keyring handle'
– Sew the blue 'handle' on the pillow.
For the first keyring (top photo), I cut out a shorter rectangular shape because I used an actual 'ring' as well.
For the second keyring (photo below), I cut out a much much longer rectangular shape, used it as a handle and tied it onto Vai's bag's zip-hole directly.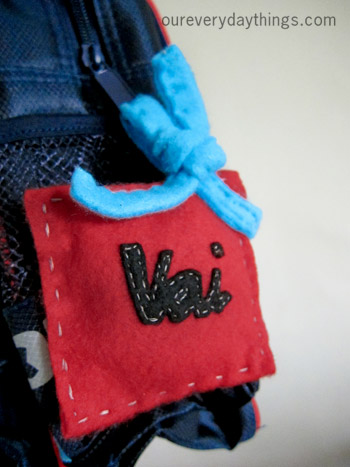 My hand-stitches are still messy. Definitely need to (REALLY) work on that one.
The little guy doesn't seem to mind though, heh.
I guess he saw the 'gift from the heart' part of the whole thing, rather than spotting the 'flaws' of the gift.
Hmm.
Time to get MORE  felt.