Home » Crafts & Activity Ideas for Kids, Daily
Checking out: Singapore's First Synthetic Ice Skating Rink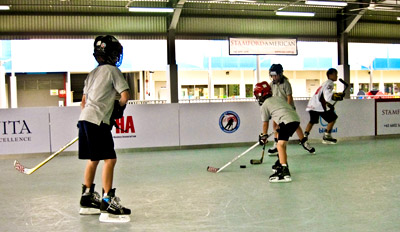 Yep, you read it right.
Synthetic Ice Skating Rink.
Singapore's first.
Last Friday I was invited to the media preview of its launch at Stamford American International School's campus at Lorong Chuan. The event was organised during both kids' school hours, and so I went to check it out by myself.
At the event, the school (SAIS) explained how it's working in collaboration with the Singapore Ice Hockey Association (SIHA) and it hopes that with the trial of this technology it can make ice skating and ice hockey more accessible in tropical Singapore, other than allowing quality ice sport programs to students too of course.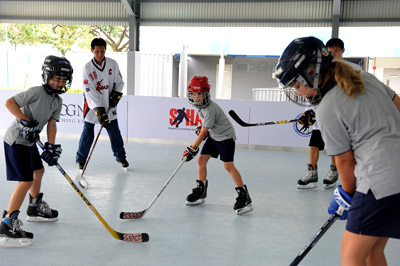 It's made of high-tech polymeric compounds which closely mimic the performance of real ice. We also learned how synthetic ice is suitable for Singapore's tropical climate as it does not require a climate-controlled environment and is much easier and cheaper to maintain compared to real ice surfaces.
Which, I guess, explains why the ice skating rink is OUTDOORS!
We watched some students played ice hockey on it, AND towards the end, it's time for us to give it a go too, if we're keen, that is!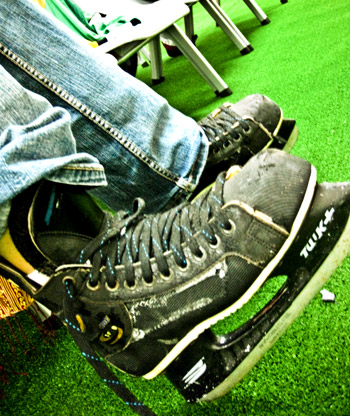 Well, I'd sure love to check it out.
I'd like to know what the surface is like and how it feels to ice skate on a synthetic ice rink. Anyway, I was already there, so I might as well try it.
The thing is, no other members of the media gave it a go, EXCEPT for another parent blogger, Ed! Phew! Was really glad that he came that day as I wasn't keen to go for it ALONE!
AND, so what do I think of it?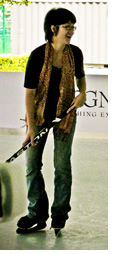 The surface looks and feels like cutting boards (you know, those white-coloured boards!). It's not slippery compared to skating on real ice, so you'd need to give yourself an extra 'push' to move around (of course, you don't think about the whole 'gliding' thing when you're already in the rink because you'd just go from one point to another and enjoy the experience!)
Now here's the good news!
You're invited to try out their new rink too over the next two weekends!
Here's more info.
> You'd need to pre-register via their online booking system, and the cost per half hour time slot is S$10, which includes skate rental
> These are the dates and available time slots:
Saturday and Sunday, 13-14 February
Saturday and Sunday, 20-21 February
2:00- 2:30 pm
2:30 – 3:00 pm
3:00 – 3:30 pm
3:30 – 4:00 pm
> The four, half-hour slots per day are available on a first-come-first-served basis through registration. Limited space available! Click HERE to register online!
> Call SAIS with any questions at +65 6602 7247 or email: reception@sais.com.sg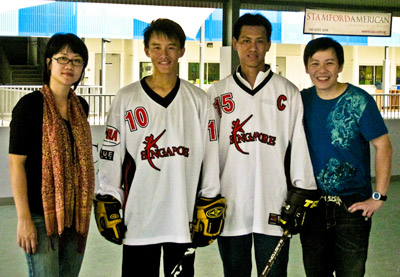 [With the Singapore Ice Hockey Team players and Ed]
> Venue: Stamford American International School (11 Lorong Chuan)
> You'd need to bring your own socks.
> It's not a 'must' to wear gloves, but you're most welcome to put them on for safety reasons.
…
Go and check it out!
Have fun!