Home » Daily
Vai and his 3rd Birthday Cake!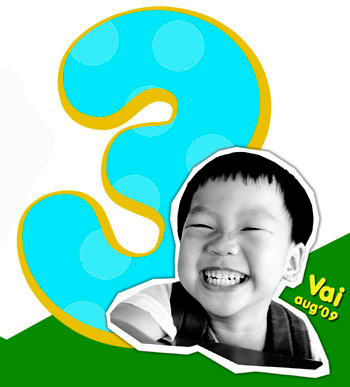 For Vai's birthday, we had a simple get-together right after his Sunday School the other weekend.
We wanted to keep it nice and simple, but at the same time we wanted to still have something special for our little guy.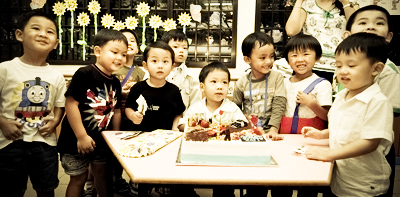 Now you see, Vai is really into cars (and motor bikes and aeroplanes and …). But recently, he's more specifically into this red-coloured racing car – Lightning Mcqueen – from the animation movie 'Cars' by Pixar.
He doesn't have any yet, and so we thought of giving one to him on his birthday.
But giving it straight to him as a birthday present would just be too … plain?
And so Wilson and I came up with this idea.
We ordered a 2kg birthday cake (one tier and square-shaped), and we asked the cake people NOT to do anything to the top flat part of the cake. This way, we got what looked more like a 'white canvas' (they placed the fresh fruits, meant to be on the cake, in a separate container)
And when the cake came, Wilson and I quickly 'decorated' it ourselves!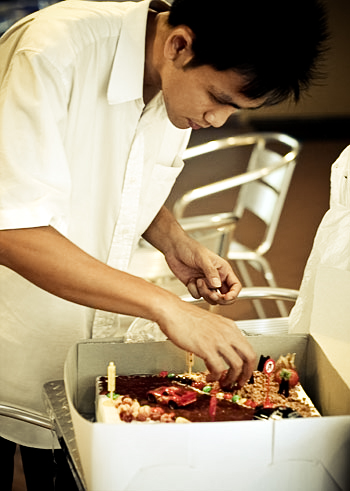 We've prepared what we needed.
Milo. Fruit loops. Crushed wholegrain cereals. Cars. Plastic road signs. M&M's. Everything.
And we created a 'scene' where Lightning Mcqueen was getting chased by Sheriff on hard gravels by the desert! Hehe.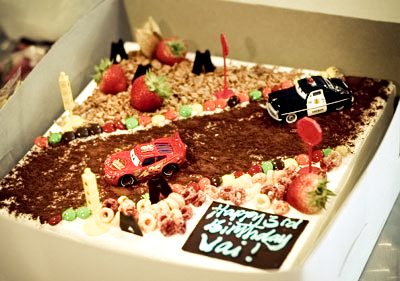 Vai's birthday cake would've looked a whole lot 'nicer' if we had a 'professional' from the cake shop to do the job. That's for sure.
But I totally LOVED what we both created for Vai.
Imperfect. Yet specially made. With lots of love.
…
And Vai … ah, you should've seen the huge smile and excitement upon seeing his cake with Lightning Mcqueen on it!
We love you, Vai.