Home » Crafts & Activity Ideas for Kids
Making : Milk Carton Buildings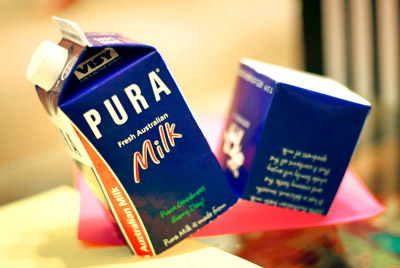 Gee. I just checked. The last time I posted an 'Arts and Craft' post was way back in May!
Not that we stopped doing arts and crafts stuff at home, because we still do. But somehow I think there seems to have been so many other topics that I wrote about and I simply didn't get around to sharing more about the crafting stuff we do.
Oh well. Anyway.
Here's one quick-yet-great crafting idea that you can try and make!
Milk Carton Buildings!
What you need :
– Used milk cartons
– Coloured Paper
– Glue, scissors, crayons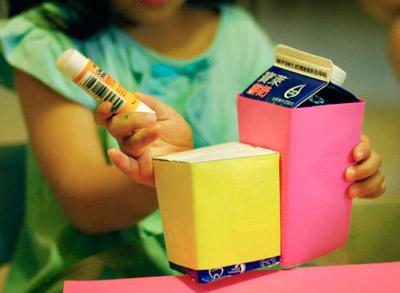 What we did :
– Cut the milk carton (see top picture), leaving the top part a little longer than the bottom part
– Cover the sides with coloured paper (to create 'different buildings' use different coloured paper)
– Glue the 'buildings' to each other (see the picture above)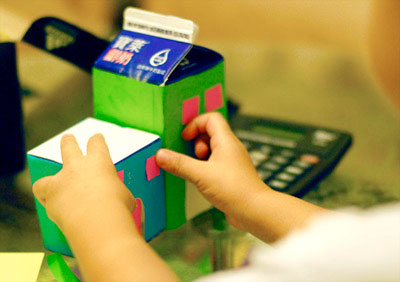 – Cut bits of different shapes and stick them on as windows, doors, etc
– Cut out the 'doors' so they can be opened and closed
– If the child can already write, let him/her name the kind of buildings they've just made
And THAT IS IT!
Anya created a house and a museum, while Vai … well, he's just happy enough to have created buildings where he could drive his little toy cars in and out of the doors!