Home » Crafts & Activity Ideas for Kids, Daily
Making : Wool-haired Face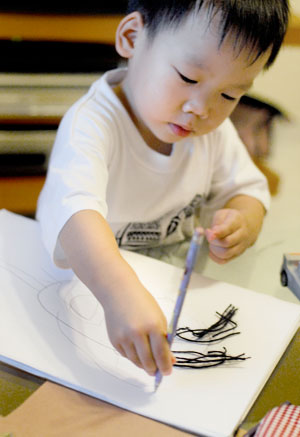 While Anya was away at school last week, Vai and I did some simple activities together using strands of wool.
We made a wool-haired face!
…
What we used :
– Strands of wool (we used our black ones)
– A piece of paper
– Pencil
What we did :
– I drew an outline of a face (from ear to ear). the eyes and ears
– I smeared some liquid glue at the top of the head where the hair strands were supposed to be
– And Vai did all the sticking and drawing
…
For the child, I think the fun part of this activity is when he gets to decide how the face will look like.
And as usual, I didn't hold Vai's hand when he drew. I just let him make the strokes and decide for himself what he'd like to draw.
To me, it's better this way (compared to us holding the child's hand and always guiding and deciding for him WHERE and WHAT to draw) as it allows the child to freely explore and create.
Anyway.
This was what Vai made.
A smiling face wearing a pair of glasses.
Err … I think he drew … ME?