Home » Crafts & Activity Ideas for Kids
Making : Nemo and Jellyfish lanterns
The Mid-Autumn festival is here for the whole month, and you get to see lanterns everywhere these days!
And so, we made our very own (non-glowing) lanterns too today!
Vai got a Nemo, and Anya made a jellyfish lantern!
What we used:
– Four paper plates (you'd need two for each lantern)
– Two styrofoam cups (actually, they can be any cups, even those from McDonald's or Starbucks)
– A pair of disposable wooden chopsticks
– Strings
– Crepe paper for the jellyfish wiggly bits
– Scissors, glue, masking tape, crayons
Nemo Lantern
(for this one, I did most of the work since Vai is yet to know how to 'properly' colour and draw)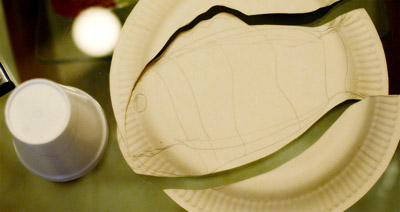 – Drew the shape on the paper plates and cut them out (I referred to our Finding Nemo DVD cover!)
(remember: the shape on the 2nd plate needs to be a 'mirror image' of the first one)
– Cut out two "fins", using leftover paper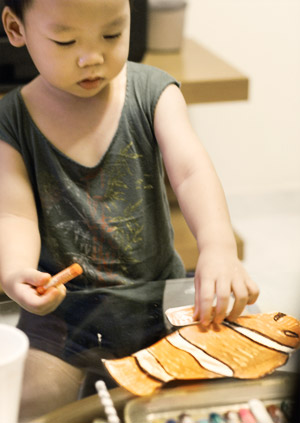 – Coloured the body and fins (I coloured most of them first and let Vai scribbled on them afterwards)
– Poked the bottom of the cup, inserted the string, tied one end to a leftover paper (so it's 'stuck' when the kids hold the lantern up), and the other end to a chopstick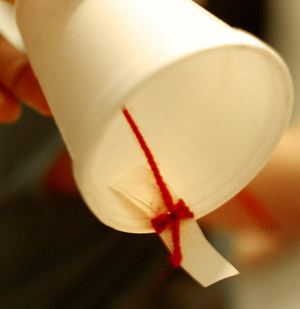 – Used masking tapes to stick the two sides of the fish together and onto the cup
And that's it!!
…
Jellyfish Lantern
(This one is simpler to make)
– Drew a roundish shape on two paper plates (these will be the 'top' of the jellyfish)
– Coloured one side of the plates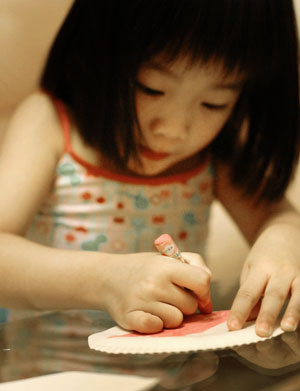 – Cut strips of crepe paper
– Stick them all around the top of the cup
– Poked the bottom of the cup (repeat the final two steps as above)
And you've got yourself a jellyfish lantern!!
The kids got pretty excited with them. And I'm happy with them too!
Anya and Vai swung their lanterns around (not that gently, I must say) and now we have chopsticks sticking out from our bedroom drawers with a little clown fish and jellyfish hanging down from them!
Anyway, happy lantern-making!