Home » Parenting
About our choice, willingness and enjoyment
Just recently I was asked by another mother,
"Leonny, are you frustrated … at being a housewife?"
And my immediate reply was, "No"
(at the time I felt slightly puzzled, thinking why I should be feeling frustrated in the first place anyway)
I must say, the reason why I didn't think long and hard for my answer was because I know my standpoint and my reasons for choosing to be a housewife, a fulltime mom.
Recently there's been so much talk (and debate?) in the media between working and stay at home mothers.
And if you ask me, I think every family has unique needs and arrangements. And one practical solution / arrangement that works well in one family, may not work in another.
I believe there's a reason behind every decision though, whether to work fulltime or to stay at home and be actively involved in raising the child / children.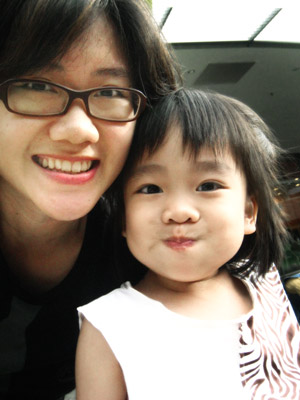 For my case, I choose
… to be a fulltime mother to my two kids
… to have no domestic helper staying with us (instead, a part-time one comes for 3 hours every week)
… to handle a client or two, working part-time from home
… to lead an active life, going out and about with the kids even when at times my husband can't join us due to work commitments
… to maintain a regularly updated site, in a hope to make a positive impact on other people's life, whoever they are, wherever they are
And as to why I choose to be a fulltime mother, I guess my 'Our time is now' post best describes the reasons behind my decision.
…
I realise that for every decision we make, there'll always be ups and downs to it.
And while I personally never regret my decisions listed above, I must say though, living (and juggling) them all everyday is not an easy journey.
There are (many many) times when I feel impatient, mentally drained and verbally tired (from all the reminding, explaining, attending to questions, etc)
And while raising the two kids fulltime means I get to closely see their growth and developments, while enjoying the opportunity to actively teach them the kinds of positive values I wish for them to have, it also means I get to encounter (and deal with) their acts of 'defiance' much more frequently and intensively too (ie. being sinners themselves just like everyone else, they are – obviously – not always sweet, caring, respectful, appreciative or obedient).
And about working part-time from home, yes it means I get to contribute some income to the family, but the other side of the coin that many often fail to see is that work is mostly done when the kids are asleep and that automatically means very little sleep and rest for me on some nights.
…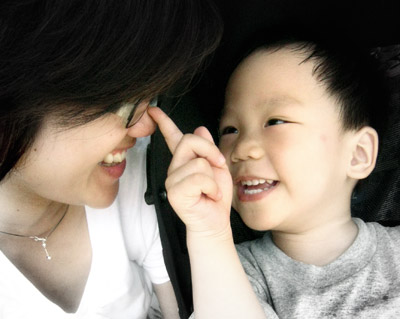 My friends and I recently discussed Rev. Stephen Tong's sermon on how "Suffering PLUS Willingness EQUALS Enjoyment".
And I completely agree with the statement.
When we're not willing to do something, however simple the task is and however 'light' the level of discomfort is, it's very tough to enjoy what we do.
On the other hand, when we do something willingly, even when we encounter 'sufferings' and 'discomfort' because of it, in the end we'd still get enjoyment out of doing it.
And I thank God (for giving enough strength and grace I need each day), the latter is what I personally experience.
……………………………………………………………………………………………………………………………………………………………………
I'd love to hear your thoughts and views on this. Do share in the comments section ya! See you in there!