Home » Marriage & Relationships
The Reality of Marriage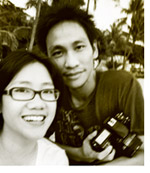 We had our seventh wedding anniversary three days ago. Right on the seventh of the seventh month!
To some, seven years of marriage may seem like a long time. To some others on the other hand, seven years is actually very short for they know there'll be many more years ahead that we as a couple need to go through together.
To both of us, we somehow didn't feel that we've been married for that long.
We enjoy each other's company. We talk. We listen. We try to always keep two-way open communications. We support, remind, rebuke and encourage each other.
AND most importantly I guess, we realise that we have to keep on 'building' and 'working on' our relationship as there's still such a long journey ahead of us that we both have to go through together.
And such a journey (realistically) will not only be filled with sunshine and rainbows, but dark clouds and storms too.
Marriage is never like a fairy tale. We both never believe in such a thing anyway.
Within the past seven years, there are many occasions when we disagree and are really mad with each other. There are times when our husband and wife days just feel so like a routine, that fun and spontaneity just seem to have gone out the window.
The reality is, as years go by, couples (unconsciously) often start taking each other for granted.
Words of appreciation may not be uttered as much. Gestures of love and affection may not be seen much around the house too. The husband tends to be busy with work and career, while the wife is busy with the kids (AND work too, if she's working fulltime as well).
Daily conversations tend to evolve around the kids, the house and work. Leaving very little time and energy for the couple to even start talking and building on their husband-wife relationship.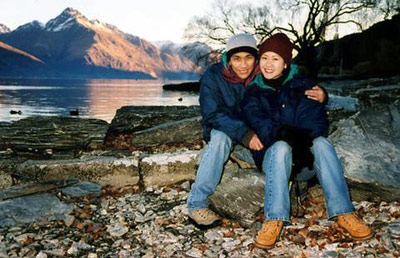 Being a good parent the way God wants us to be is not easy. So is being a good wife and a good husband. It consistently needs lots of work, contribution and commitment, from both parties.
AND for our case, lots of prayer for God's strength, help and grace too.
I'm glad we both are committed to keep on working, refreshing and improving our relationship based on mutual respect, trust and sacrifice. And of course, love.
…
To my dear husband : Happy Anniversary!
PS: That's us in Queenstown, New Zealand, in 2001. Lovely place!
————————————————————————————————————————————–
Btw, how do you work on your marriage ?
How do you keep your relationship alive and fresh ? eg. Do you have regular 'dates' with your spouse? How do you settle your disagreements? Do you find it tough (read : near impossible) to have 'couple time' after having kids?

Or, do you have any relationship tips to share?
Hope readers can start sharing and writing in! *smile*