Home » Marriage & Relationships
A little 'Me-Time' for Mom
I was reading some articles the other day on today's busy Moms and how everyone needs some 'Me-time' to recharge.
One article says:
"When we are stressed, overwhelmed and tired, we have a shorter fuse. We become irritable, and it's more difficult to handle the challenges of being with children," says Rachelle Disbennett-Lee, a personal life coach in Aurora, Colorado.
And another write-up says how "Rest and relaxation are two things that moms desperately need for sure, but often forget to put into their daily schedules. This is a must, as it not only rejuvenates a mom, but it helps to calm frazzled nerves.'
I don't know about you, but for my case, as much as I know I need a break from our daily busyness, taking some time out when both kids are wide awake is just not easy.
I mean, we don't have relatives in Singapore who can help and babysit the kids so that my husband and I can freely enjoy some 'couple time-out' (read: running our business and meeting deadlines means his working hours are naturally longer too, on average), let alone some time-out for myself.
Of course unless the kids are BOTH asleep.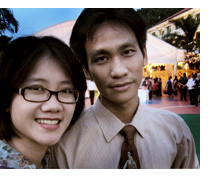 So at night time, when they both have dozed off, that's when I'd clear up my work and actually get a bit of 'me-time' – catching up on some reading and quiet time, blogging, instant messaging friends, chatting with Wilson and sometimes, watching a DVD together (or simply just … chatting and sharing) till the wee hours.
[All these are at the expense of lesser hours of sleep though. Oh well, can't always have the best of everything every time huh?]
Other than that, there are random occasions now and then too.
Like when the four of us went to a shopping centre and Wilson took the kids to the outdoor playground while I went off by myself for a good hour or so – to relax, windowshop and just unwind.
Or, if Vai somehow falls asleep on his pram after we send Anya to school (rarely happens though), I'd grab a book and enjoy some uninterrupted time-off while thoroughly enjoying my lunch and milk tea *NICE*
…
Juggling and balancing everything well is a real challenge to me. It often feels rather impossible to achieve too. But I must say, God has given me sufficient strength to go through each day, right until today, and though I'm not able to balance and juggle everything well every day and every time, I know I should always try my best to learn and do better each time.
Anyway.
Do you (or don't you) have regular 'me-time' breaks?
How and what do you do to unwind and recharge?

Do write in and share yeah. It's always nice if we can learn a little something from each other *smile*